Soloing Across the Tasman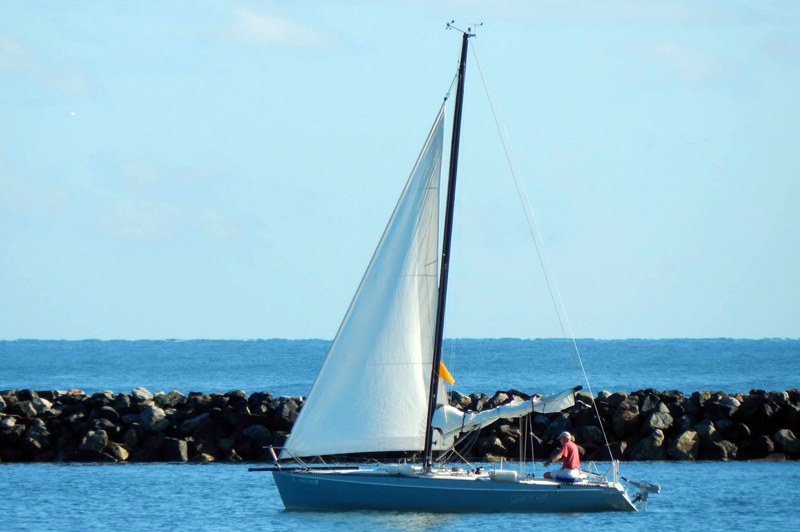 If you're a fan of sailing literature, you've probably read harrowing accounts of crossing the Tasman Sea between New Zealand and Australia — a 1,000-mile-wide body of water that's notorious for rough and rowdy conditions.
Many sailors dread the idea of making that crossing, while others, such as Webb Chiles, 74, simply take it in stride. As noted in earlier reports, he is currently roughly a third of the way through his sixth circumnavigation. This time, aboard a tiny yet well-equipped Moore 24 named Gannet.
"We arrived in Bundaberg, Australia, a few days ago," reports Webb. "On the passage, there was no drama. After a fast start with 20 to 25 knots behind us, the sailing was mostly easy and mostly slow. Still, any passage to or from New Zealand that does not include a gale is a success."
"A combination of our course to the NNW, the position of the sun, and wind direction, caused most of my six deck-mounted solar panels to be shaded by the sails most of each day and thus poor solar charging. The tiller pilot was running the battery down, so I switched to a sheet-to-tiller self-steering, which I've used for more than 35,000 miles on other boats. I knew it would work, and it steered for half the passage."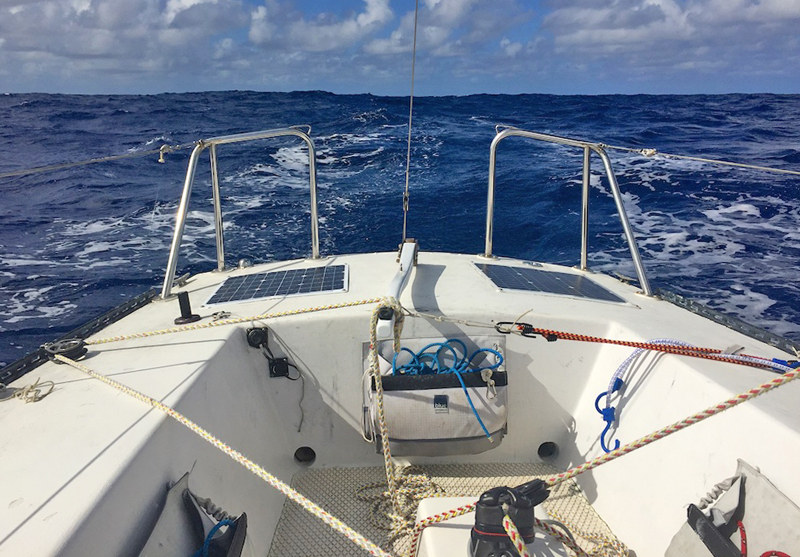 If you haven't tried this old-school technique, check it out sometime. Back in the day, before autopilots and windvane steering devices, sheet-to-tiller steering was an extremely common technique among adventurous offshore sailors — especially singlehanders.
The basic idea is that both sheets are led aft via blocks and fairleads, then attached to the tiller by simple knots or via jam cleats; thus making adjustments for weather helm or lee helm is easily accomplished. Try it sometime on your own boat, even if you have wheel steering. If nothing else, it will give you a good illustration of the physics of sailing, and you'll be able to take comfort in the fact that you now have a reliable 'additional driver' who'll always be standing by to take a turn at the helm. Needless to say, however, this simple technique will work much better on boats of 50 feet and under than it will on a megayacht. (If you want to dig deeper into this subject, check out John S. Letcher, Jr's classic Self-Steering for Small Craft.)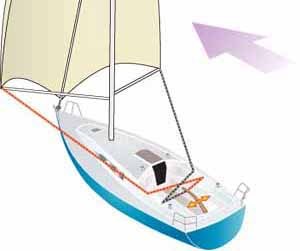 Webb Chiles isn't into posting updates from mid-ocean, preferring to relay his adventures in book form — to date, he's written at least seven of them, and his current lap around the planet will undoubtedly produce another.
Receive emails when 'Lectronic Latitude is updated.
SUBSCRIBE