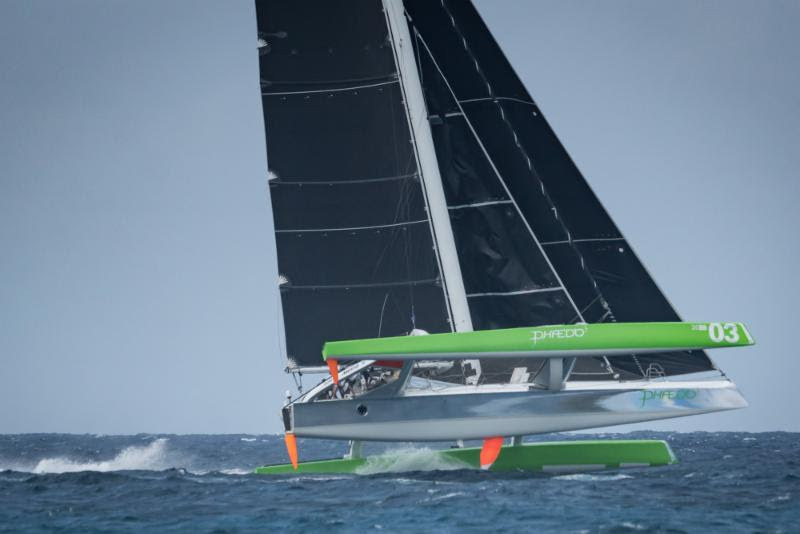 The 36th annual St. Maarten Heineken Regatta delivered a nice variety of conditions for the diverse fleet of 196 boats and crews over the weekend. But it didn't matter if it was blowing in the 20s the first day, the mid- to upper teens on the second day, or the lower teens on the third day, there was no stopping Lloyd Thornburg's St. Barth/Newport Beach/Santa Fe-based mean green MOD70 machine Phaedo3.
With Brian Thompson as co-skipper, Phaedo3 crushed the competition with speeds as high as 37 knots the first day in the process of establishing a new around-island record of 1 hour and 19 minutes. That's going to be a tough one to beat, as conditions were just right for the boat. She was impossible to beat in the light air of the third race, too, as 12 knots was often all she needed to get up on one hull and take off.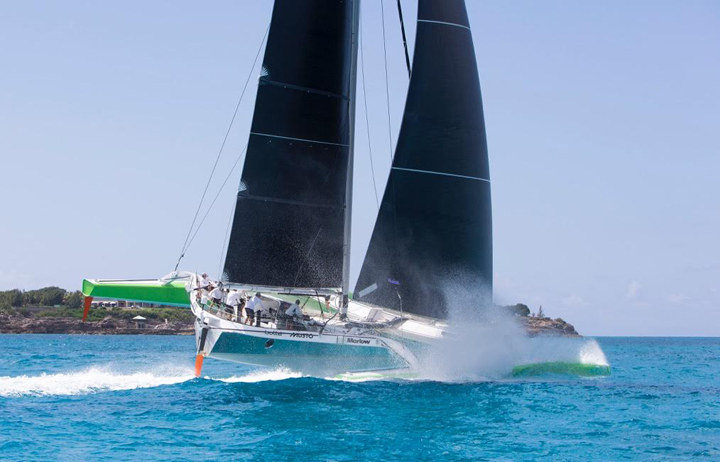 Greg Slyngstad's new Seattle-based all-carbon Bieker 53 took an impressive second in Multihull 1 in the windy first race, despite having had to replace her original mast, which had come down during an attempted crossing from the Virgin Islands to Anguilla a number of months ago. But she was bested the next two days by the Formula 40 Soma and finished third for the regatta. In all fairness to Slyngstad, his very fast cruising cat found herself in a difficult position, and she didn't really belong with the likes of a MOD70 and a Formula 40, nor did she belong racing against Catanas and other production cats.
Lord Irvine Laidlaw's latest Highland Fling, an R/P 82, set an around-the-island monohull record of 2 hours and 12 minutes, hitting speeds of up to 22 knots. Yet it was Peter Harrison's TP52 Sorcha that dominated the premiere monohull class, with four straight bullets.
The 'Heinie' is a terrific regatta, where both the racing and partying are taken very seriously. For out-of-the-area folks, it's easy to charter a performance boat or a production charter boat. If you want great racing in great conditions, the Heinie is an excellent choice. For details from this year's event and great photos — which we unfortunately are unable to download — visit their website.
Receive emails when 'Lectronic Latitude is updated.
SUBSCRIBE