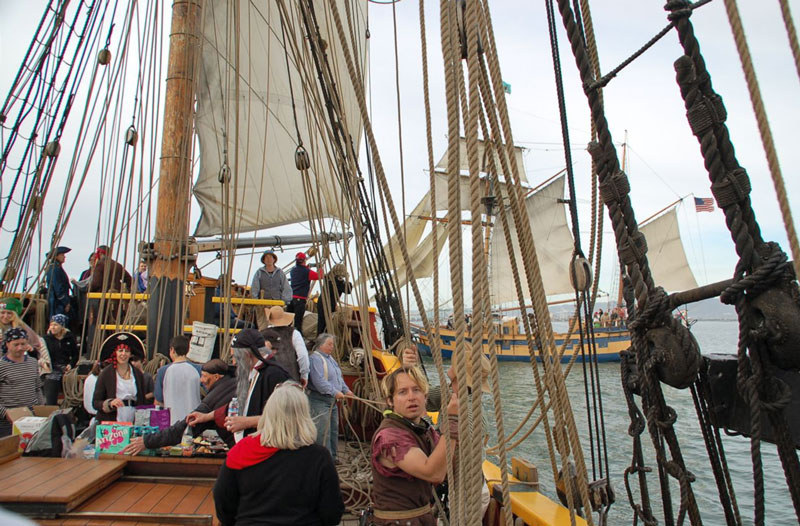 How did you start sailing? On Sunday we were invited to sail aboard the tall ship Lady Washington for a mock battle with Hawaiian Chieftain. The trip was arranged by circumnavigator Don Engle of the 70-ft Shuttleworth catamaran My Way, which is frequently seen traversing the Bay, and one of his regular sailing crew, John Cabrall. Among the many things we learned while aboard was that much of the crew were lured into sailing by these tall ships.
Many on the crew had teaching backgrounds, and, since one of the many missions of these tall ships is education, the crew was able to learn about sailing themselves, learn the history of tall ships, and offer instruction to school kids on their annual voyage from Seattle to San Diego and back. If you're a fifth-grader, learning about California history and geography, the marine environment, or the mechanical advantage achieved with a pulley is much more interesting and memorable from the deck of a tall ship.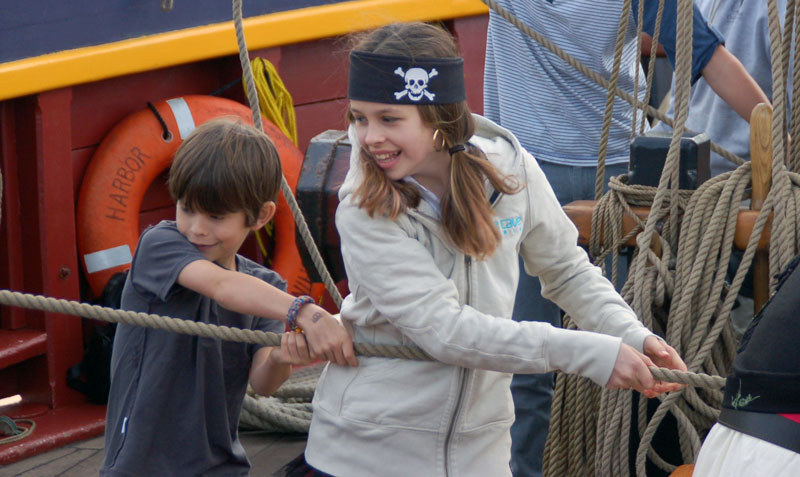 During the mock battle we were very impressed with the crew's sail handling as they maneuvered these heavy-tonnage vessels around to land the perfect shot. Backing the jib, even in the light air, helped spin the vessel for classic Master and Commander battle tactics.
Both Don Engle and John Cabrall are captivated by the history and adventures of tall ships, but they're also very modern sailors who spend most of their time sharing sailing with a wide circle of sailing friends aboard My Way. The Sunday sail was about connecting tall-ship sailors to those of us on modern 'plastic classics' and vice versa.
In the next month Lady Washington and Hawaiian Chieftain will be open for tours in Antioch, Redwood City and Sausalito, offering life lessons to kids and adults along the way. If you want to broaden your world view of sailing or get your school involved in their education programs in the future, visit the ships' website at: www.historicalseaport.org.
Receive emails when 'Lectronic Latitude is updated.
SUBSCRIBE