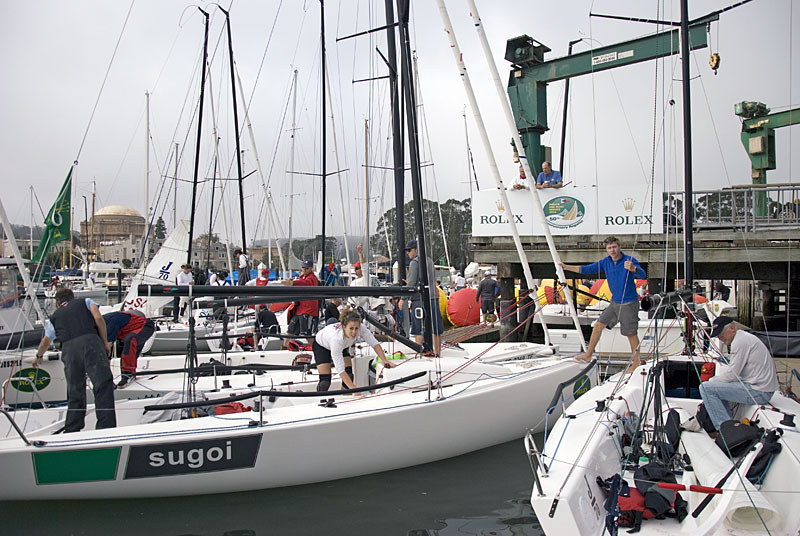 Our laptop's dictionary defines "fluky": "subject to chance, unpredictable: Sailing conditions are generally good but wind can be fluky." Day 1, yesterday, the Rolex Big Boat Series started out with just such conditions. As always, San Francisco's St. Francis Yacht Club is running the four-day regatta, with 99 boats competing in three racing areas.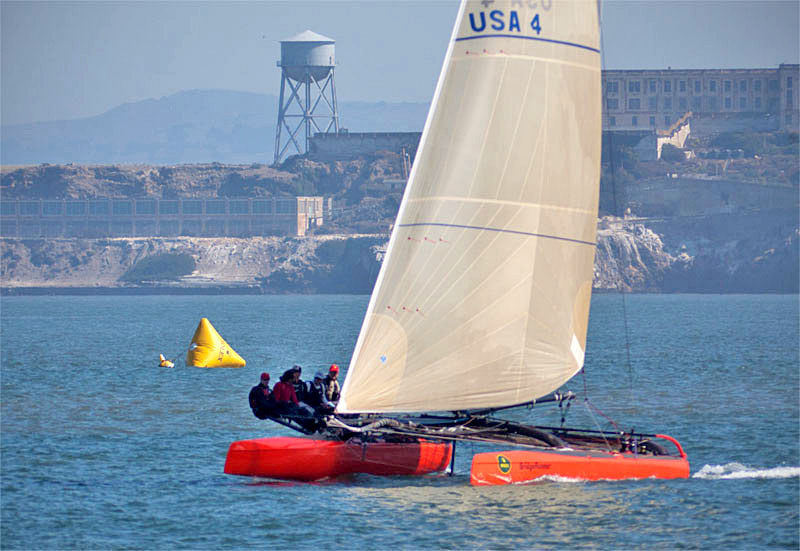 Mother Nature's Rolex must be keeping good time, however, because right on schedule, at about 1 p.m., the Slot whipped up a brisk westerly and the flood began to give way to an ebb, with white caps building. As the wind built, so did the level of chaos. By the end of racing, the gusts were topping out in the high twenties.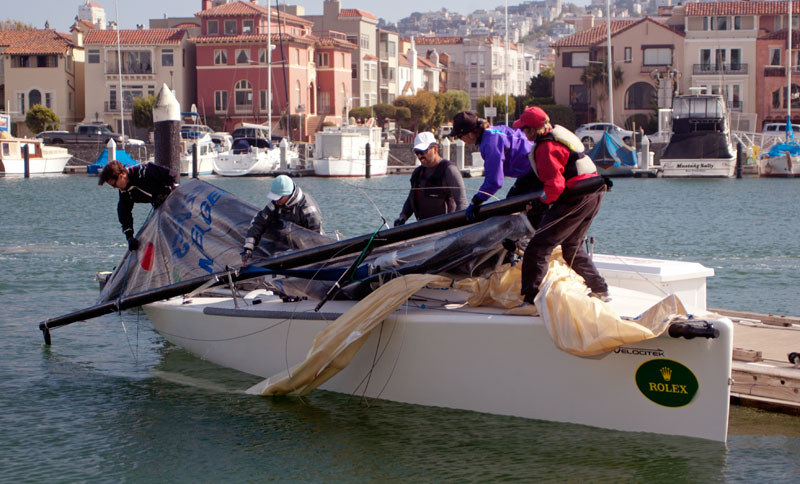 Multiple collisions were reported at the start of the second race, including one three-way involving the ORR entries Swiftsure II, Sy Kleinman's Schumacher 54, Wayne Koide's Sydney 38 Encore, and Frank Morrow's IMX-38 Hawkeye. The latter sustained so much damage that the boat will have to sit out the rest of the regatta. Both Encore and Hawkeye protested Swiftsure, which was disqualified from Race 2. Encore won both races in her division yesterday.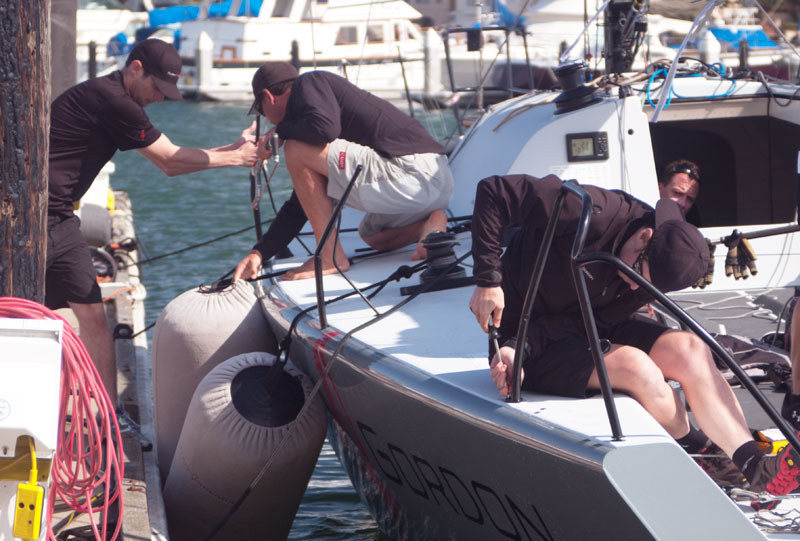 In the good-news department, most of the crews relished the breezy afternoon conditions. That's what they came here for. Kame Richards' Golden Moon continued its usual winning ways with two bullets in the Express 37 class, and long-time Melges 24 sailor Don Jesberg won both races in that one-design class. His Viva was named Boat of the Day.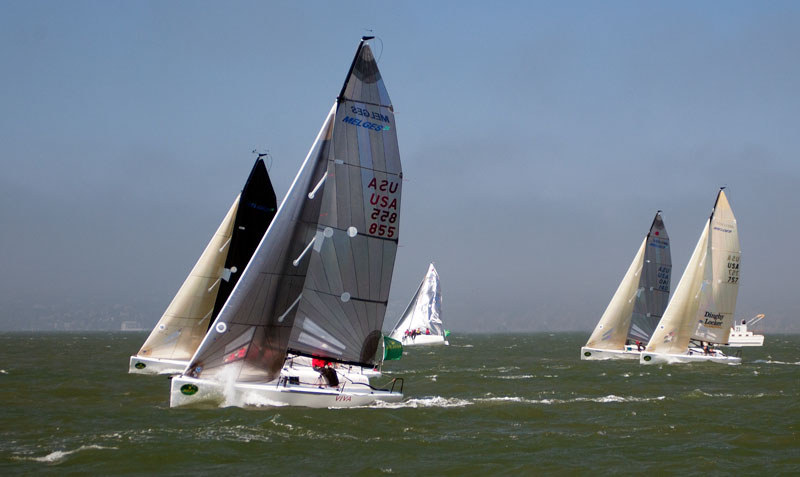 Friday morning started with a very strong flood and a moderate westerly of 10-12 knots. Two races are scheduled for today and tomorrow. On Sunday, the Farr 40s will continue with two buoy races while everyone else sails one long Bay Tour. Crissy Field is a great vantage point for watching the races, but spectators should remember to dress in layers like the sailors do! For details, standings, photos, and much more, see www.rolexbigboatseries.com.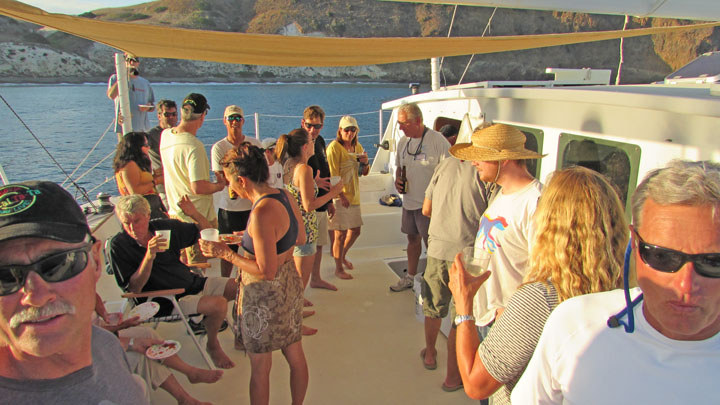 Great sailing, terrific anchorages, wonderful hosts, endless sunshine and warm water have been the bywords of the second edition of the SoCal Ta-Ta cruisers' rally from Santa Barbara to Catalina — with stops at Santa Cruz Island, Channel Islands Harbor, and Paradise Cove. Today the 44-boat fleet will sail 37 miles from Paradise Cove to Catalina's Two Harbors. And yes, as we write this at 7:30 a.m., the sun is already brilliant and once again there isn't a trace of fog.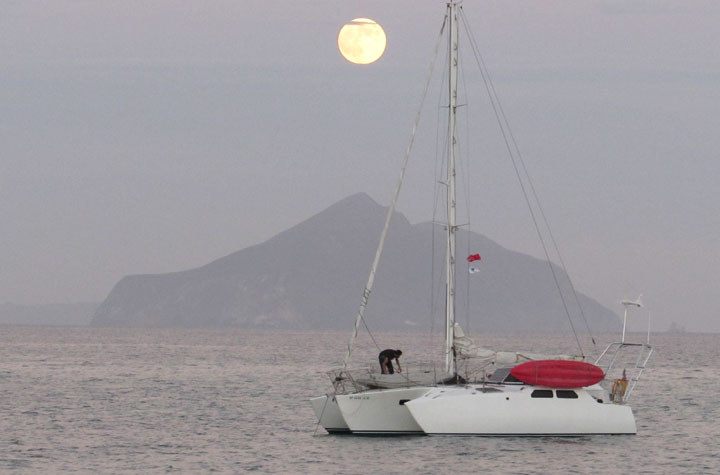 Northern California sailors sometimes mock the sailing conditions in Southern California. They shouldn't. The passages from Santa Barbara to Santa Cruz Island and from Santa Cruz Island to Channel Islands Harbor were pleasure sailing at its finest, with moderate breezes, flat seas, and warm air temperatures. Jim Eggleston and crew on his Corsair 31 tri Oragami even managed to hit 13 knots on the way to Santa Cruz. And yesterday's run from Channel Islands Harbor to Paradise Park was not only warm, it was windy, with sustained 20 knots, gusting to 30 a couple of times. That's all anyone in the Big Boat Series would have wanted. In fact, we wonder how many boat in the BBS hit 13 knots yesterday, as Origami did.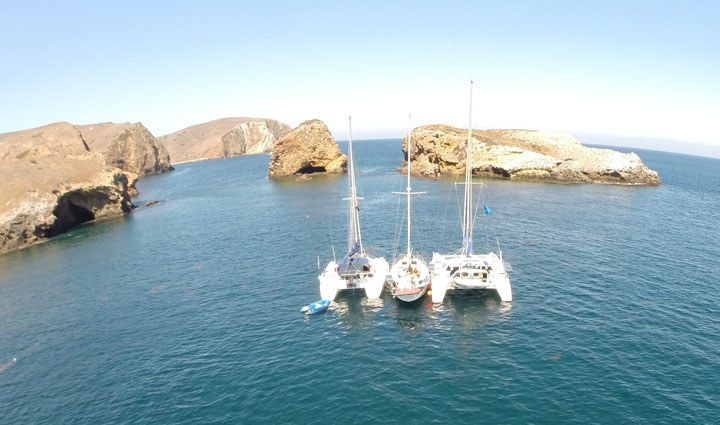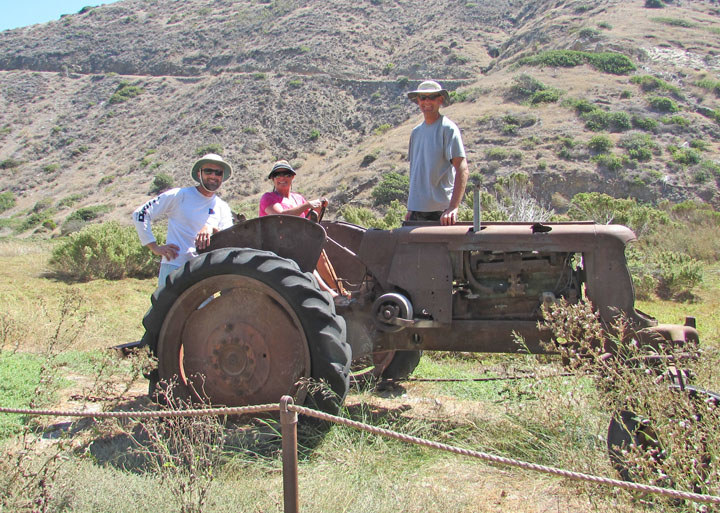 To date the fleet has spent two nights anchored at Santa Cruz Island, with most of the fleet at Smugglers, and last night at Paradise Cove. Fortunately, the threat of hurricane-generated surf hitting Smugglers didn't materialize, and conditions at both locations were mellow. The huge harvest moon coming up over Anacapa was a spectacular sight, and the 74° water was an uncommonly sensual ocean treat for these parts.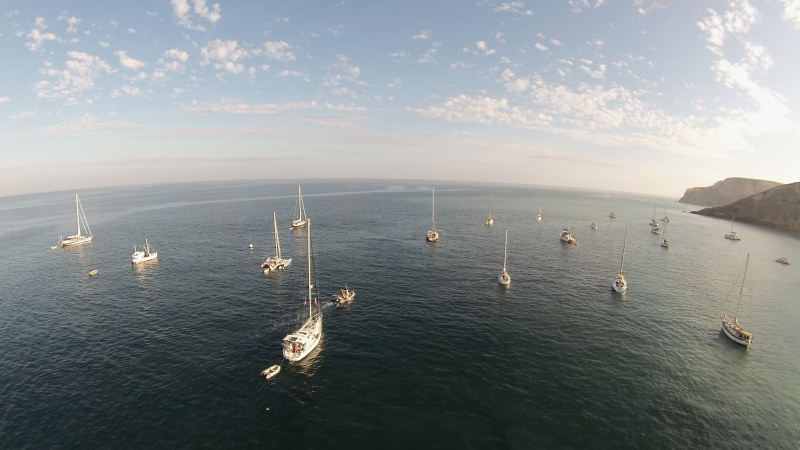 Our hosts have been fabulous: We had reserved slips at Santa Barbara Yacht Harbor and a great welcome party at the Santa Barbara YC. But nothing prepared us for the welcome put out by Michelle and Dan of Channel Islands Marina and Vintage Marina in Channel Islands Harbor. Stepping up at the last minute when Redondo Beach couldn't accommodate the fleet, they provided free slips, opened all the showers and laundry rooms, provided a floating dock for the 130-person party, arranged for the music and inter-harbor transportation — what didn't they do?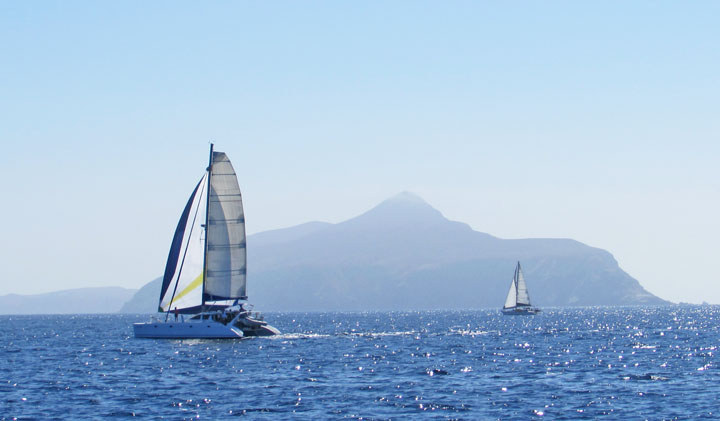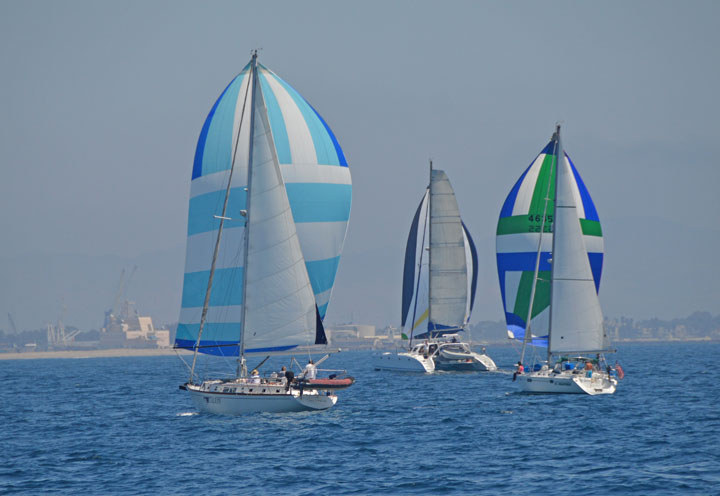 Of course, the most important part of any cruise is whom you sail with. We know we've got a great group, because we've met them all during the course of three sundowner sessions aboard the Latitude 38 mothership Profligate. As always, the variety of participants is what makes it fun. We've got everyone from Dave and Laurie Pisani, a physician and former teacher respectively, who trailered their 27-ft Odin the Wanderer from Salt Lake City just for the event. At the other end of the blue water spectrum we've got Jim and Kent Milski of Colorado, who recently circumnavigated aboard their Schionnning 49 cat Sea Level.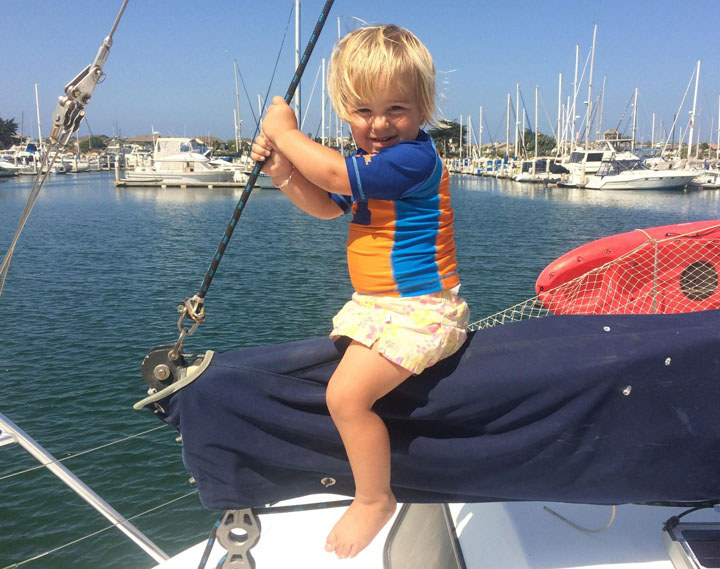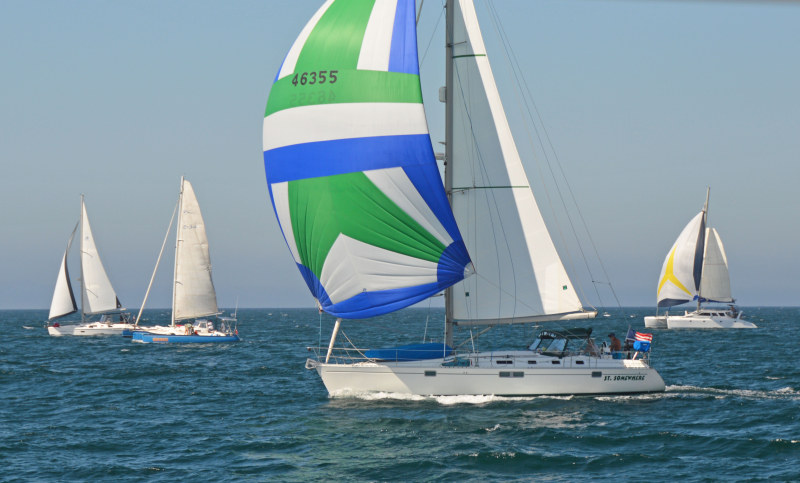 No time to write more, as this morning we're off to Two Harbors and Saturday's final party at the Bandstand. We're 'cookin' curry, mon!', so we wish you were here. Look for a full report on the Ta-Ta in the October issue of Latitude 38.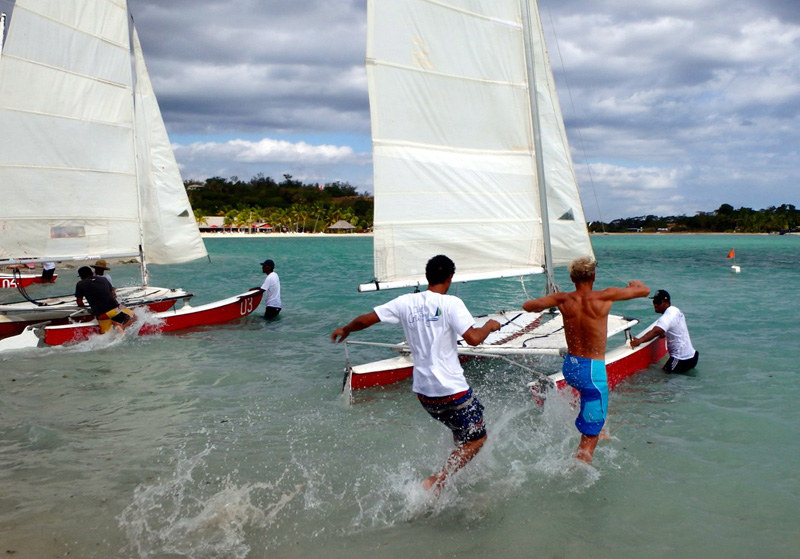 After six days of beach parties, racing and other water-based activities, the annual Musket Cove Regatta has come to a close. Staged on Western Fiji's Malolo Island, September 5 – 10 this year, the event is the South Pacific's oldest and biggest blue water regatta.
Situated just miles from world-class watersports, cruising and marine facilities, the MCR has been an end-of-the-cruising-season institution since 1984, and it is still hugely popular with international cruisers and racers. The 31st edition drew more than 80 yachts from more than a dozen nations. Despite attracting a wide range of cats and monohulls ranging in size from 27 to 72 feet, plus a few superyachts anchored on the sidelines, this year's MCR was dominated by a pair of Beneteau First 47.7s from New Zealand and Australia.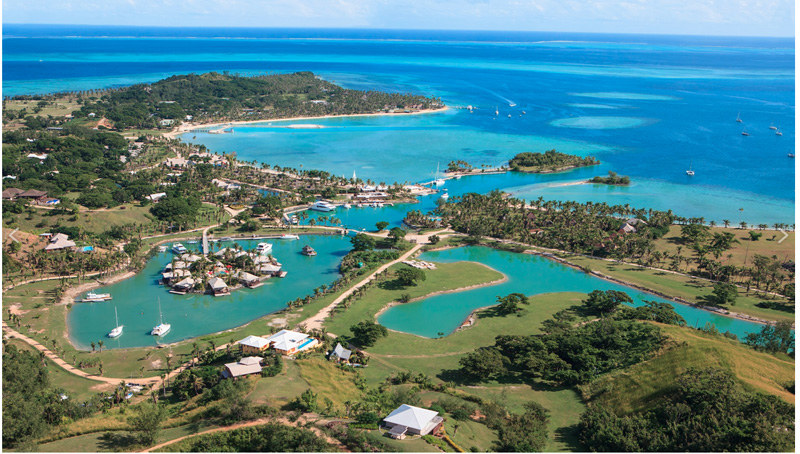 After Friday's opening ceremonies, Saturday's Pirate Day at Beachcomber Island and Sunday's 7-mile paddleboard race from Namotu Island, two dozen boats hit the starting line for Monday's Tauranga Marine Sandbank Race. With the fleet of world cruisers exhibiting an impressively high degree of racing prowess, the fleet hit the line perfectly in sync and then sailed through a narrow reef pass up to five abreast. Beating into 20+ knots of gusty southeast trade winds under sunny blue skies, the First 47.7s Laissez-Faire and the family team on Willo 1 clearly showed a speed and pointing edge over the fleet on the windy beat to Namotu Island. Holding on to finish 1-2, the sisterships from Auckland and Sydney set the tone for the week early. After the run back from Namotu Island, the fleet sailed back into the reef pass and anchored at the low-tide Sand Bar for a post-race BBQ, beer-drinking contest, 100-person tug of war and more.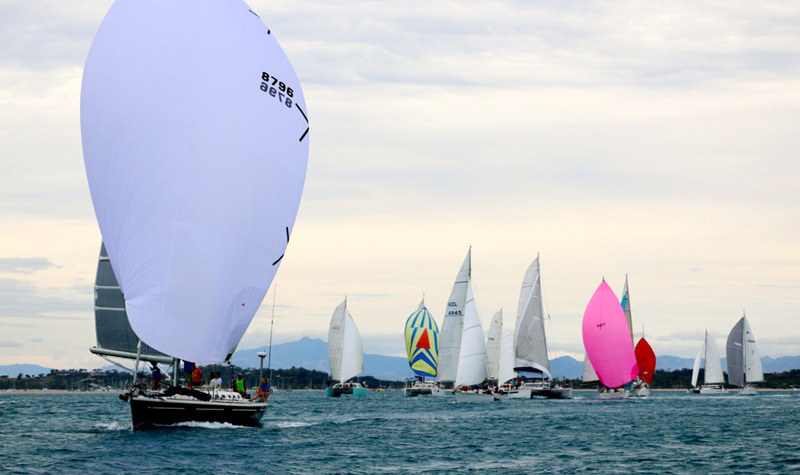 The feature race of the week was Wednesday's Fiji Water Round Malolo Classic, in which the two 47.7's lined up against 20 other boats including a handful of quick multihulls. When the start gun fired at 11 a.m., the fleet sailed a port tack broad reach from two separate starting lines before converging in a narrow channel between two reefs. With spinnakers popping up, boats jibing and the mix of big cruisers and wide cats, there was no shortage of drama, excitement and close calls. The Fiji-based Cooke 55 cat Unique sailed through the fleet on starboard before suffering a steering cable failure which led to her T-boning the Brisbane-based 47-ft cat Le Mistral, and punching a hole in her port quarter. Fortunately, there were no injuries to report and Le Mistral is already being repaired. By the time the fleet reached the north side of the island, the SE trades had shut off and transitioned to a light offshore easterly, then a light NW seabreeze which again allowed the two First 47.7s Laissez-Faire and Willo 1 to pull out to a commanding 1-2 finish.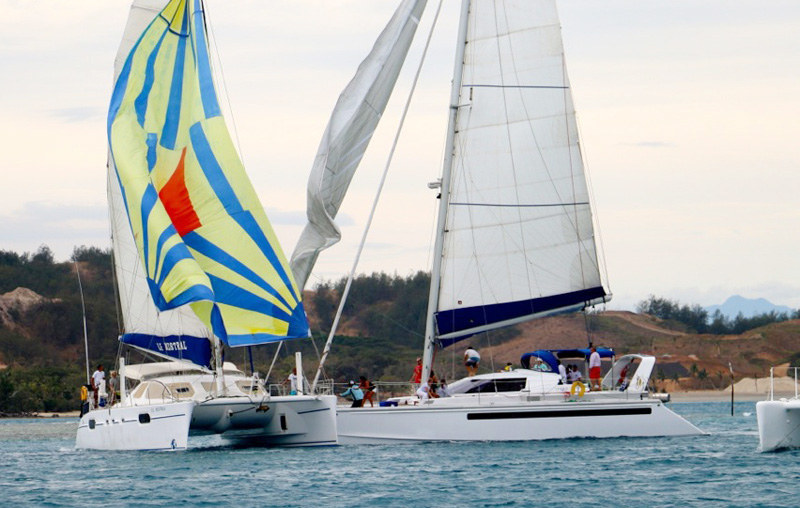 Look for our complete report on the 31st Musket Cove Regatta in the October issue of Latitude 38 magazine.
Receive emails when 'Lectronic Latitude is updated.
SUBSCRIBE