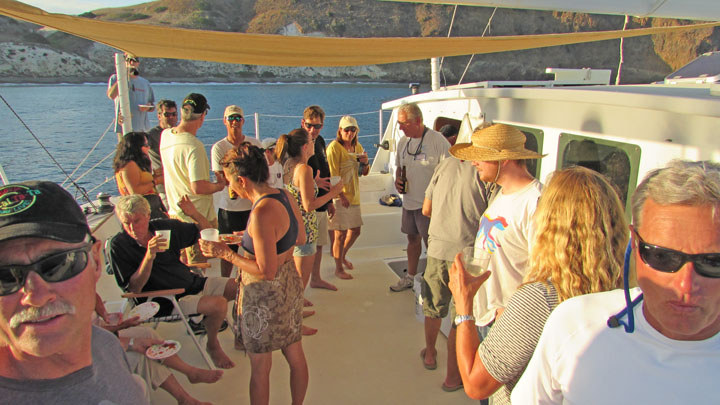 Great sailing, terrific anchorages, wonderful hosts, endless sunshine and warm water have been the bywords of the second edition of the SoCal Ta-Ta cruisers' rally from Santa Barbara to Catalina — with stops at Santa Cruz Island, Channel Islands Harbor, and Paradise Cove. Today the 44-boat fleet will sail 37 miles from Paradise Cove to Catalina's Two Harbors. And yes, as we write this at 7:30 a.m., the sun is already brilliant and once again there isn't a trace of fog.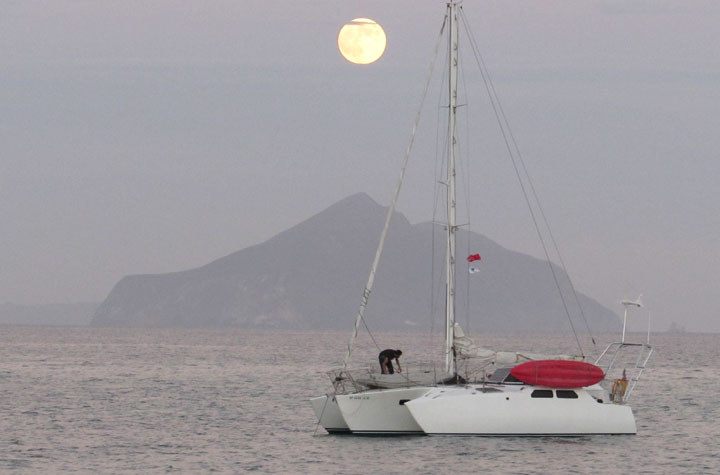 Northern California sailors sometimes mock the sailing conditions in Southern California. They shouldn't. The passages from Santa Barbara to Santa Cruz Island and from Santa Cruz Island to Channel Islands Harbor were pleasure sailing at its finest, with moderate breezes, flat seas, and warm air temperatures. Jim Eggleston and crew on his Corsair 31 tri Oragami even managed to hit 13 knots on the way to Santa Cruz. And yesterday's run from Channel Islands Harbor to Paradise Park was not only warm, it was windy, with sustained 20 knots, gusting to 30 a couple of times. That's all anyone in the Big Boat Series would have wanted. In fact, we wonder how many boat in the BBS hit 13 knots yesterday, as Origami did.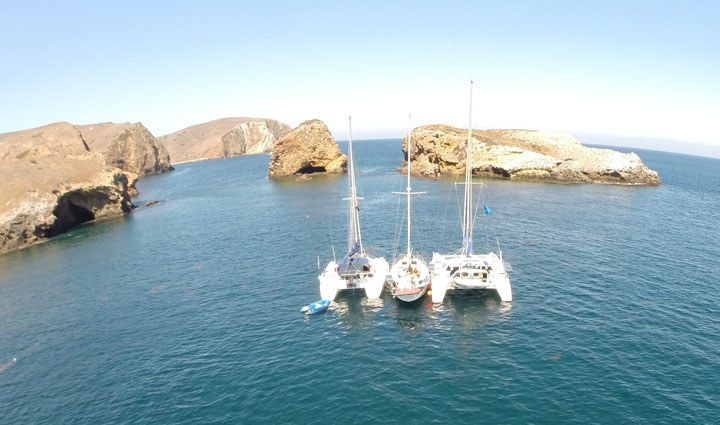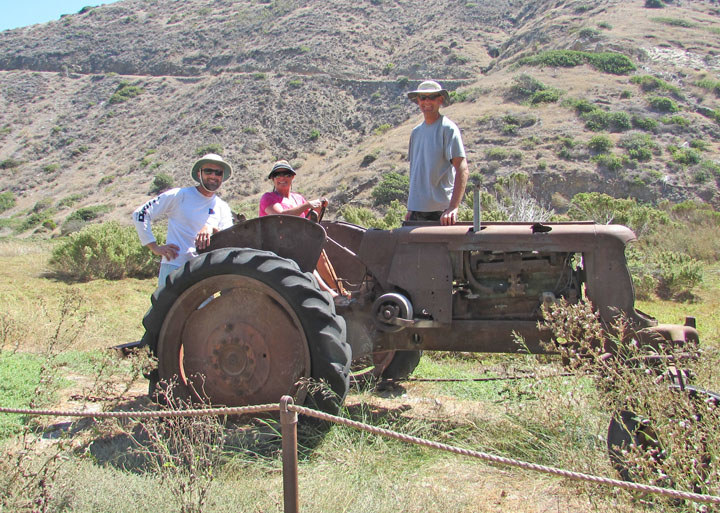 To date the fleet has spent two nights anchored at Santa Cruz Island, with most of the fleet at Smugglers, and last night at Paradise Cove. Fortunately, the threat of hurricane-generated surf hitting Smugglers didn't materialize, and conditions at both locations were mellow. The huge harvest moon coming up over Anacapa was a spectacular sight, and the 74° water was an uncommonly sensual ocean treat for these parts.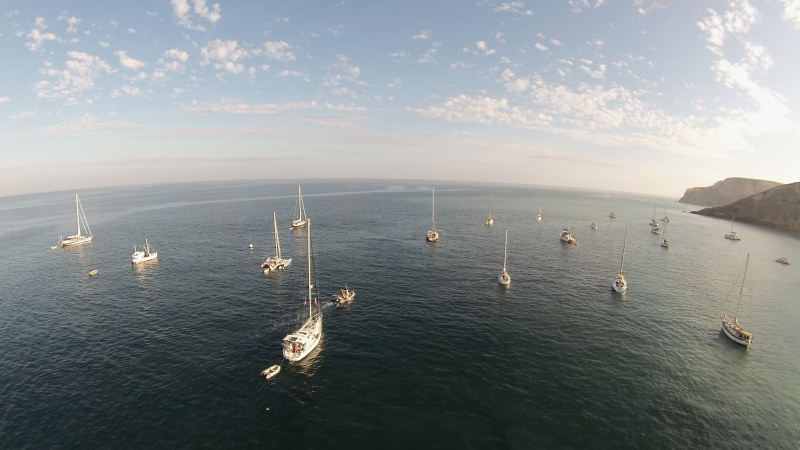 Our hosts have been fabulous: We had reserved slips at Santa Barbara Yacht Harbor and a great welcome party at the Santa Barbara YC. But nothing prepared us for the welcome put out by Michelle and Dan of Channel Islands Marina and Vintage Marina in Channel Islands Harbor. Stepping up at the last minute when Redondo Beach couldn't accommodate the fleet, they provided free slips, opened all the showers and laundry rooms, provided a floating dock for the 130-person party, arranged for the music and inter-harbor transportation — what didn't they do?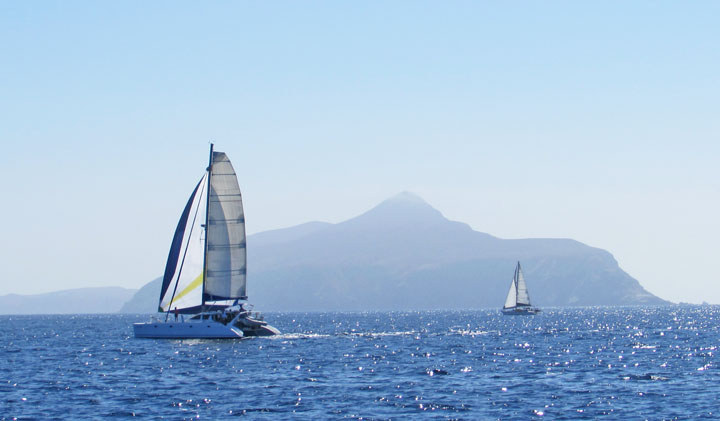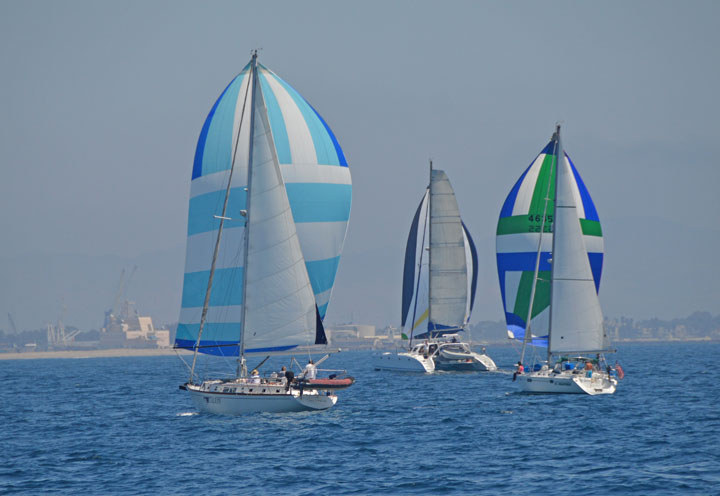 Of course, the most important part of any cruise is whom you sail with. We know we've got a great group, because we've met them all during the course of three sundowner sessions aboard the Latitude 38 mothership Profligate. As always, the variety of participants is what makes it fun. We've got everyone from Dave and Laurie Pisani, a physician and former teacher respectively, who trailered their 27-ft Odin the Wanderer from Salt Lake City just for the event. At the other end of the blue water spectrum we've got Jim and Kent Milski of Colorado, who recently circumnavigated aboard their Schionnning 49 cat Sea Level.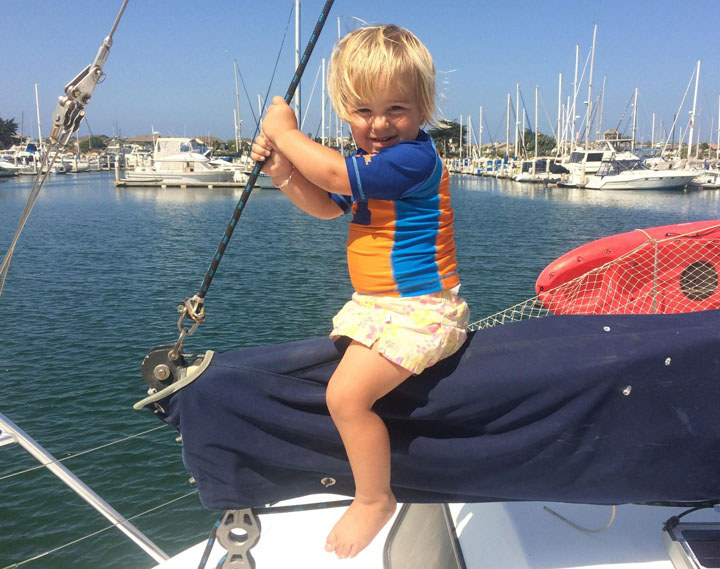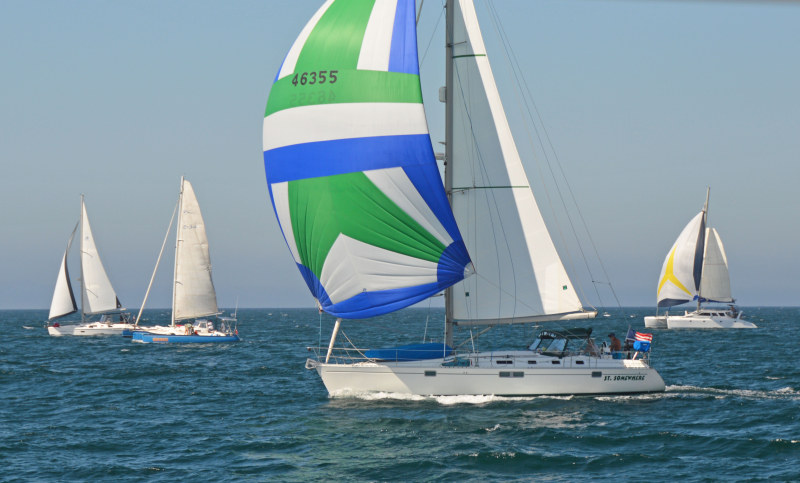 No time to write more, as this morning we're off to Two Harbors and Saturday's final party at the Bandstand. We're 'cookin' curry, mon!', so we wish you were here. Look for a full report on the Ta-Ta in the October issue of Latitude 38.
Receive emails when 'Lectronic Latitude is updated.
SUBSCRIBE