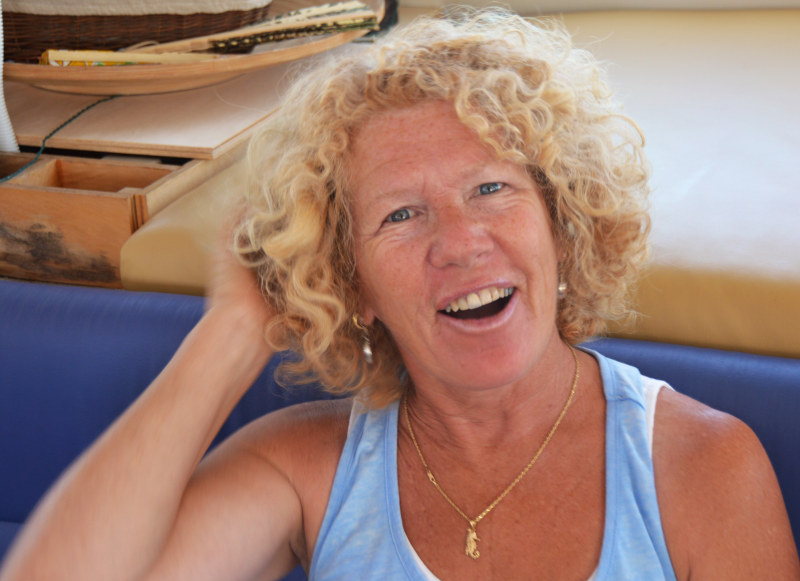 Capt. CiCi Sayer is no stranger to excitement and danger. She's done a couple of deliveries to Mexico, did the stormy Caribbean 1500 nicknamed 'Nightmare on Night Heron', and between 2003 and 2010 drove Two Harbors (Catalina) shoreboats — including during the bacchanalian, Buffalo Milk-powered Buccaneer Days.
Seeking what she believed would be a more peaceful life, she took up residence aboard her Cal 29 in San Diego's America's Cup Harbor, bought a 21-ft Zodiac inflatable with a 150-hp outboard, and started offering Offshore Blue Adventure whale watching tours. Business has been good.
"There are two whale-watching seasons in San Diego," she told Latitude during an interview aboard Profligate. "You get the gray whales December through April, and from July to October — and last year until December — you get the blue whales. In terms of mass, the 80-ft-long blue whales are the largest animals ever on earth."
The whale-watching life has been pleasant and peaceful — until the morning of July 2, when she took wildlife photographer Dale Frink out in search of blue whales. The two went to the south end of Nine-Mile Bank, about 12 miles southwest of Pt. Loma. After photographing some dolphins, they smelled some krill, and soon they saw spouts from two blues that Sayer estimates were 80 feet long. Maintaining more than the 100-yard federally mandated distance from the whales, they watched until the blues went deep. Having gotten some nice tail shots, and knowing the whales could be down for seven to 20 minutes, they took off after bottlenose dolphins. Everybody was happy.
After five or 10 minutes, Frink wanted to get more photos of the blues. When they got to within 150 yards of two blues lunge-feeding on the surface, they stopped and took photos. When blues lunge-feed, they strain through 50,000 gallons of water at a gulp, water that is hopefully heavily laden with one-inch krill. After a time, the two whales dove again.
It's hard to imagine something 80 feet long sneaking up on you, but that's what happened next.
"One of the whales, with his giant mouth wide open, came up just a few feet behind my boat," Sayer remembered, "then oscillated on his back as blues do when they feed. When he came down, his lower jaw, which was now higher than his upper jaw, slammed onto the big outboard."
The inflatable rocked violently from one side to the other, "until the second whale came up and banged the starboard side of the boat, completing the capsize in just seconds." Frink was able to hang onto the inflatable, while Sayer, wearing a PFD, was driven 60 feet away by fluke-generated turbulence before she was able to surface."
"It happened so fast all I could think was, 'Oh shit!'" says Sayer.
The whales continued to feed and bump into the inflatable as Frink hung on. Although she kept her distance, Sayer was nearly grazed by the mighty fluke of one whale.
The entire sequence was captured by a woman aboard a sportfishing boat that had also been whale-watching in the area. Sayer's head looks so small bobbing above the water in front of the monster blues. The sportfishing boat didn't attempt an immediate rescue because they didn't want to endanger the whales or their boat. This wasn't a problem for the shaken Frink or Sayer, as the water was a relatively warm 68 and calm, and they were both wearing PFDs. Eventually the whales moved on, Frink and Sayer were rescued, and the inflatable was towed back to San Diego.
The most dramatic footage of the incident was taken by Dale's GoPro camera mounted on the inflatable's console. (That's the whale's mouth early in the video.)
"My personal feeling is that behavior of the blues, who were almost hunted to extinction with the advent of motorized vessels, has changed in recent years," says Sayer. "They don't seem to view vessels as predators anymore. In addition, they seem to be coming much closer to shore than they previously did, which may be a function of their following the krill that they feed on."
Sayer says she's never seen or experienced any hostile whale behavior, the closest being last winter when her boat was approached, then followed, by a gray. In this case, she believes the blues were just feeding and she was in the wrong place at the wrong time. "It was a one-in-a-million thing," she concludes.
Although shaken by being in the water next to two 80-foot animals, Sayer is eager to resume her whale-watching tours.
Receive emails when 'Lectronic Latitude is updated.
SUBSCRIBE