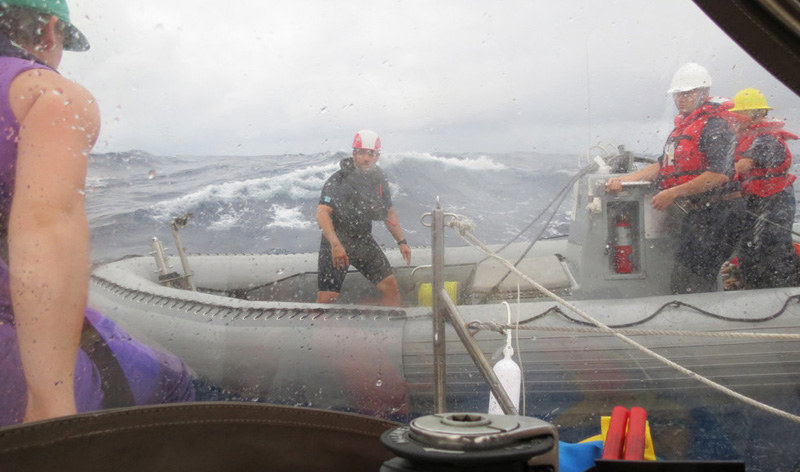 In an era when sound-bite journalism and short attention spans are the norm, it was no surprise that the dramatic South Pacific rescue of the Rebel Heart crew — two young parents and their 3- and 1-year-old daughters — quickly faded from the media spotlight shortly after the family returned safely to San Diego on April 11 aboard the USS Vandegrift.
That's exactly what parents Eric and Charlotte Kaufman hoped would happen. But they promised to share all the details, and correct widespread media reporting errors on their ordeal, once their story had become yesterday's news. Sunday, a full month after returning home, they finally broke their silence in an NPR segment called This American Life. (Available as a podcast here.)
While some specifics remain unanswered, the Kaufmans did clarify many key elements that led to their decision to set off their EPIRB, effectively laying the groundwork for being rescued, yet knowing they would have to scuttle their boat — their home of eight years — to do so.
Here's a synopsis of clarified facts: According to Eric, on their 15th day out, the day before they called for help, they sailed into the Intertropical Convergence Zone (ITCZ) where they met with strong winds and big seas. Charlotte explains that they were knocked down several times. But one particular broach stressed the boat so much that it began leaking along the starboard hull-deck joint and elsewhere (unspecified). The resulting inflow of sea water was estimated at 60 or 70 gallons per day.
Meanwhile, one-year-old Lyra had been ill since day seven. As Charlotte explains, the infant developed a widespread rash, had diarrhea, and became lethargic. During a sat phone call, Lyra's doctor advised that she be given the amoxicillin that was carried on board. When there was no improvement after two days, Eric called in a pan-pan to the US Coast Guard to advise them of his family's situation. But because of his (unnamed) sat phone service provider's changing to new SIM cards the week before and deactivating the old ones that very day, that pan-pan was the last sat phone call he was able to make. Rebel Heart was equipped with an HF radio, but Eric was unable to make outside contact with it, and suspected its usefulness had been compromised by the incoming seawater.
The couple discussed their options, with Eric calculating that it would be another three weeks before they would arrive in the Marquesas — if their pumping could keep up with the incoming water. "What would you do?" he asks rhetorically of his radio audience. As Charlotte explains, the decision was heartbreaking: "You know if you hit the EPIRB, help will come, but that if you hit it your home is gone."
Last week we posted a video of Red Bull Sailing t-boning Alinghi during the pre-start of racing on the final day of racing in Act 3 of the Extreme Sailing Series in Qingdao, China. The video itself was incredible: Alinghi came in on starboard while Red Bull came in on port. Just as Red Bull attempted to bear away and ducked Alinghi's transom, a puff hit, causing Red Bull to miss the bear-away. The result: Red Bull slammed the front of their port hull into the back of Alinghi's port hull in a spectacular collision. Both dispirited crews limped back to the docks, their regattas over.
After the racing concluded, an international jury awarded the Swiss team Alinghi redress for the races that they were forced to miss. A testament to Alinghi's consistency throughout the regatta's first three days, the Swiss team won the event. More importantly however, Alinghi passes The Wave, Muscat for first place in the overall season standings! Helmed by Santa Cruz native and Moore 24 sailor Morgan Larson, the two-time America's Cup-winning syndicate has finished runner-up in the Extreme Sailing Series in both 2012 and 2013. Perhaps 2014 is Alinghi's year! Go Morgan!
On the topic of cool videos of multihulls, check out this mini-documentary on how to completely rebuild a maxi-trimaran. Sodebo has just launched their new Sodebo Ultim at the Multiplast yard in France. Originally built as Geronimo in 2001, the VPLP-designed maxi-tri at one time held the Jules Verne Trophy for fastest outright circumnavigation and also famously sailed in San Francisco twice, en route to shattering the existing records between San Francisco and Yokohama, both westbound and then back eastbound. Skippered by Thomas Coville, Sodebo Ultim will be sailed solo in this November's Route du Rhum before chasing solo sailing records and sailing in the new Collectif Ultim maxi-multihull league.
Ad: Drake's Bay Passagemaking Course
Receive emails when 'Lectronic Latitude is updated.
SUBSCRIBE