Kaufmans Break Silence on Rescue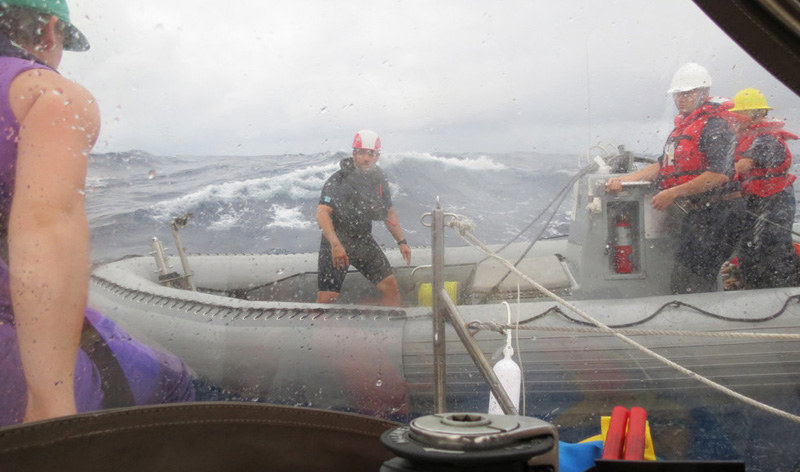 In an era when sound-bite journalism and short attention spans are the norm, it was no surprise that the dramatic South Pacific rescue of the Rebel Heart crew — two young parents and their 3- and 1-year-old daughters — quickly faded from the media spotlight shortly after the family returned safely to San Diego on April 11 aboard the USS Vandegrift.
That's exactly what parents Eric and Charlotte Kaufman hoped would happen. But they promised to share all the details, and correct widespread media reporting errors on their ordeal, once their story had become yesterday's news. Sunday, a full month after returning home, they finally broke their silence in an NPR segment called This American Life. (Available as a podcast here.)
While some specifics remain unanswered, the Kaufmans did clarify many key elements that led to their decision to set off their EPIRB, effectively laying the groundwork for being rescued, yet knowing they would have to scuttle their boat — their home of eight years — to do so.
Here's a synopsis of clarified facts: According to Eric, on their 15th day out, the day before they called for help, they sailed into the Intertropical Convergence Zone (ITCZ) where they met with strong winds and big seas. Charlotte explains that they were knocked down several times. But one particular broach stressed the boat so much that it began leaking along the starboard hull-deck joint and elsewhere (unspecified). The resulting inflow of sea water was estimated at 60 or 70 gallons per day.
Meanwhile, one-year-old Lyra had been ill since day seven. As Charlotte explains, the infant developed a widespread rash, had diarrhea, and became lethargic. During a sat phone call, Lyra's doctor advised that she be given the amoxicillin that was carried on board. When there was no improvement after two days, Eric called in a pan-pan to the US Coast Guard to advise them of his family's situation. But because of his (unnamed) sat phone service provider's changing to new SIM cards the week before and deactivating the old ones that very day, that pan-pan was the last sat phone call he was able to make. Rebel Heart was equipped with an HF radio, but Eric was unable to make outside contact with it, and suspected its usefulness had been compromised by the incoming seawater.
The couple discussed their options, with Eric calculating that it would be another three weeks before they would arrive in the Marquesas — if their pumping could keep up with the incoming water. "What would you do?" he asks rhetorically of his radio audience. As Charlotte explains, the decision was heartbreaking: "You know if you hit the EPIRB, help will come, but that if you hit it your home is gone."
Receive emails when 'Lectronic Latitude is updated.
SUBSCRIBE