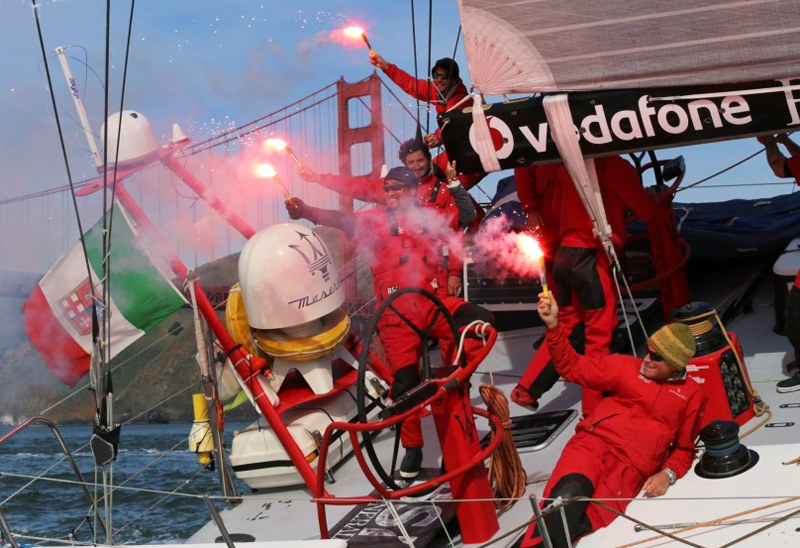 After sailing more than 14,000 miles in 47 days, the nine-man crew of the VOR 70 Maserati were elated to pass beneath the Golden Gate bridge late Saturday morning, thus chopping 10 days off the previous monohull record, set by Frenchman Yves Parlier in 1999 aboard Aquitaine Innovations.
Having set out from New York in heavy weather on New Year's Eve day, Maserati (a modified ex-Volvo Ocean Racer) covered the first 1,200 miles of her course — south to Cape Horn, then north to San Francisco — in only three days, clocking speeds up to 34 knots. She rounded the notorious Cape on day 21, and had the team's luck held out weatherwise, they might have also bettered the multihull record, set in 2008 by Lionel Lemonchois aboard 110-ft catamaran Gitana 13 (43d, 3m). But for Maserati, wind conditions in both the South and North Pacific were less than ideal, and during her final week at sea, Italian skipper Giovanni Soldini and his crew suffered frustratingly light and flukey winds.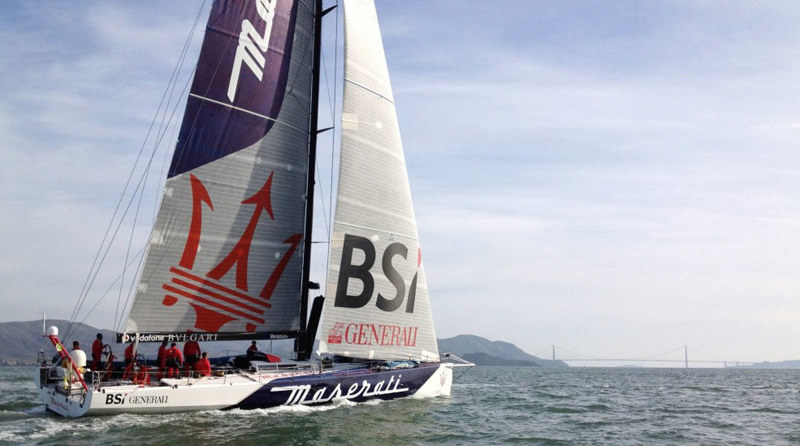 Nevertheless, they were all smiles when they entered the Bay, undoubtedly eager for a few cold beers, a long, hot shower, and a blissful night of sleep in a real bed rather than a pipe berth. As the team's cook, Michele Sighel, explained they still had plenty of food aboard upon arrival, but all the comfort foods — snacks, chocolate, coffee and sugar — had run out several days before. Sighel also served as the ship's photographer, uploading both video and still images almost daily, which helped to keep offshore racing aficionados around the world engaged and enthused.
At the press conference later Soldini explained that he's been fascinated by the NY-to-SF record since he read about Flying Cloud as a kid, and later followed the campaign of Thursday's Child, which broke the great clipper's 135-year-old record in 1989. In fact, Soldini admitted to falling in love with Flying Cloud's female navigator, Eleanor Creesy: "She chose a nearly perfect route, with no information, no satellites, no anything. She really was a fantastic navigator. Much better than I. She was a beautiful girl!"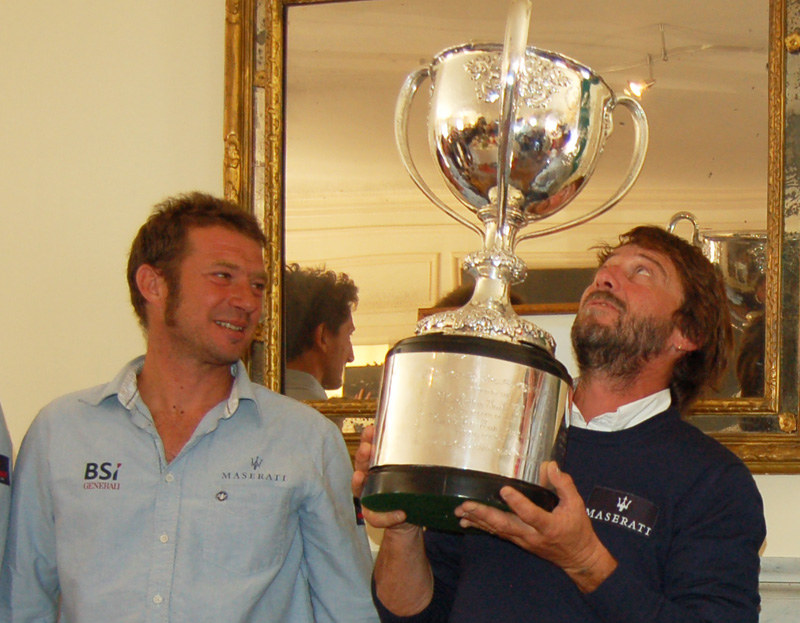 To be clear, the team actually broke two records: The World Sailing Speed Record Council's record, from New York's Ambrose Light — which, ironically, no longer exists as a fixed navigational light, having been run over by a freighter in 2008 — to the Golden Gate Bridge. That benchmark is now: 47d, 0h, 42m. The second record is for the more traditional anchorage-to-anchorage distance (in the tradition of Flying Cloud and her contemporaries) from a starting line between the Statue of Liberty and Manhattan's North Cove Marina and a finish line between Alcatraz and Pier 39. That effort is called the Clipper Challenge Cup and is administered by the Manhattan Sailing Club. The new time: 47d, 2h, 33m. "The world needs visionary people who push the boundaries and break records," said MSC's Commodore Michael Fortenbaugh before awarding the cup to Soldini and his crew. "Their accomplishments inspire all the rest of us."
What's next for Soldini and Maserati? The boat will stay in the Bay for a few months, initially hauled out at Pt. Richmond's KKMI, where she'll be spruced up and measured for — wait for it — a possible run at the TransPac record this summer. Look for our recap report on Maserati's record-setting run in the March edition of Latitude 38.
Receive emails when 'Lectronic Latitude is updated.
SUBSCRIBE