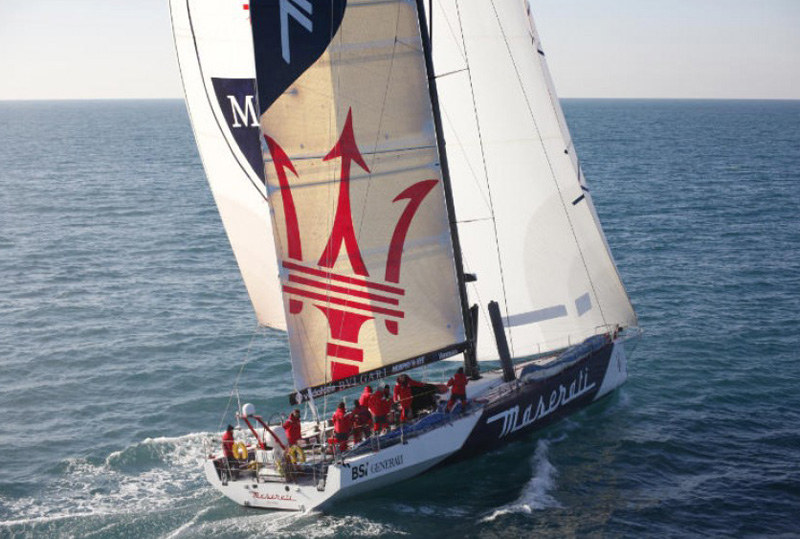 Imagine how frustrating it would be to have raced against the clock at a record-breaking pace all the way from New York, south around Cape Horn, then north to California, only to be slowed down by flukey winds less than 150 miles from the finish line. That's the story aboard Giovanni Soldini's VOR 70 Maserati this morning, as the legendary Italian ocean racer and his international crew of eight men approach San Francisco Bay. Despite the recent slowdown, they are poised to smash the New York-to-San Francisco monohull sailing record, set by Yves Parlier on Aquitaine Innovations in 1998 (57d 3h), by roughly 10 days.
Barring some sort of last-minute disaster, they will actually break two records: The first being The World Sailing Speed Record Council's N.Y.-to-S.F. record (from Ambrose Light, at the entrance to New York Harbor, to the Golden Gate Bridge), and the second being the Manhattan Sailing Club's Clipper Challenge Cup (from a line between Manhattan's North Cove Marina and the Statue of Liberty to a line between San Francisco Bay's Alcatraz Island and Pier 39 Marina).
As detailed in our background article in the current edition of Latitude 38, the original record was set back in the Gold Rush era of the mid-1800s by the three-masted clipper ship Flying Cloud. Her time of 89 days stood for 135 years, until Warren Luhrs and a crew of two shaved almost eight days off the record in 1989 aboard the highly innovative water-ballasted sloop Thursday's Child.
Although Soldini has a lifetime of offshore racing under his belt, he is best known for his dramatic Southern Ocean rescue of French singlehander Isabelle Autissier during the 1998-'99 Around Alone race, for which he became an international hero. Previously, Autissier had set a new N.Y.-to-S.F. record in 1994 aboard the then-radical Open 60 Ecureuil Poitou Charentes II.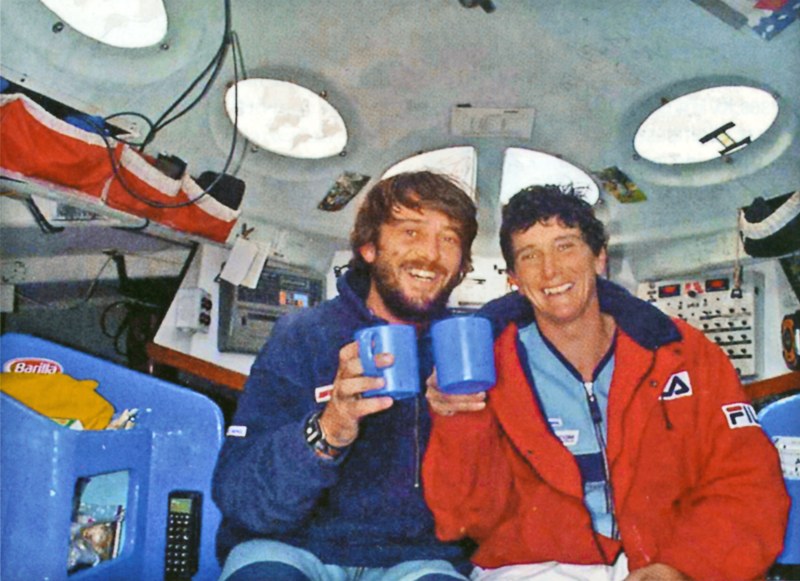 At this writing, Maserati is expected to arrive at Pier 39 in the wee hours of Saturday morning. But if it's after first light we hope many Bay Area sailors will sail out and help us welcome this sleek 70-footer to the Bay. The best source for updates is the website, where you'll find a chartlet with transponder plots that are updated hourly. Benvenuto Giovanni!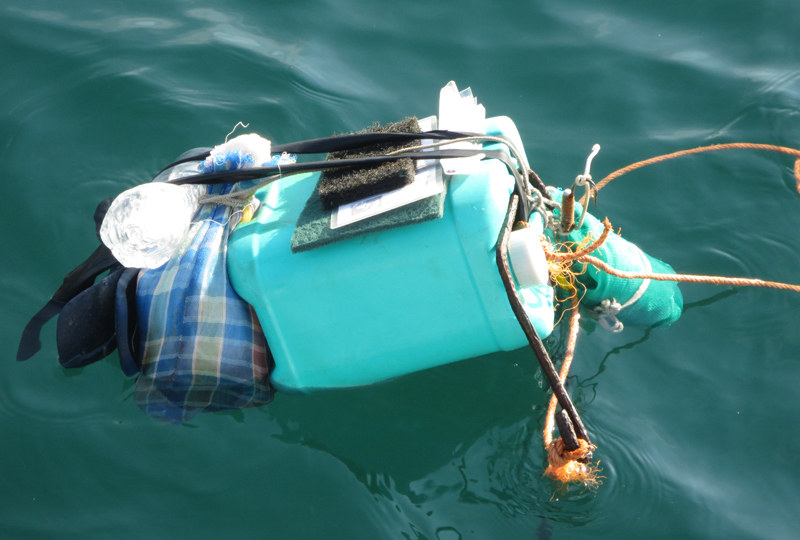 We got a lot of responses to the February 6 Photo Quiz:
"It is a tow-behind-the-boat clothes washing machine." Bill Crowley
"The ditch bag from Profligate or some other boat." Dave Nieuwstad, Sue & Gord in the Virgin Islands, and many others.
"Flotsam." Noble Brown and others.
"A mailbox." Jeff Thayer and many others.
"It's my wife's makeup kit, which fell overboard during our recent passage from Madagascar to Mozambique. We'll pick it up when we get back to San Francisco in 2014." Dave & Jan, Baraka, currently in Simon's Town, South Africa.
"It's alien life from the planet Jug. Being half Scottish, I recognize the lower half. Clearly, it had a pony bottle on the spacecraft. After the spacecraft crashed into the ocean, it survived and was swimming back to the San Francisco Bay area in order to keep a date with Crissy Fields when the picture was taken." Wally Bryant.
"It's a condenser-type watermaker." Glenn Kotara.
"It's a fishing lure for a Great White." Richard Gilmore.
"It's a stop for geocaching. The float is tied to a permanent spot (the rebar) and the geocaching reward is in the envelope." Rick Wilson.
"It's the contents from the shopping cart of a homeless dolphin." Jim Jensen.
"This one's easy. It's a portable fuel tank, possibly from a leaf blower." Greg van Dalen.
"It's a personal flotation device which was used to swim to Cuba to escape the tyrrany of the USA. I hope he made it." Darryl in snowy Scotland.
"A aquatic scarecrow, set up by salmon farmers to scare away dolphins ,who simply snicker and laugh." Ken Brinkley.
"This is a DIY abandon ship kit that has been ripped off its mounting by a heavy sea. The boat was singlehanded and probably in southern waters. The kit was washed overboard in the past 10 days, so I would look for weather of more than Force 6 within 200 miles during the past 10 days, then look to wind direction and follow that upwind to find the boat that lost this. Current would have only a slight affect on the course of drift of this flotsam." Dennis Kirkwood.
"Mexican liferaft. As you may know, several fisherman have been saved by their coolers." Judith Singer
"We have one of these. His name is Bob, the crew overboard guy." Ken Fouts.
"It's a scale model of the Pacific Garbage Patch. It was built at a cost of $1.2 million, funded by a grant from the federal government to see whether the garbage patch can be adapted as a breeding ground for the striped sea otter. So far it has not been successful. They just need more money. Hoping for the first results in 2036." Andy Crawford.
While all were excellent guesses, it's actually the floating tool shed of Augustine, a much-liked service provider in Zihuatanejo. "He swam a half-mile to reach our boat," report photographers John and Gilly Foy of the Punta Mita-based Catalina 42 Destiny, "before doing a super job of cleaning the bottom for $40. We knew he'd do a good job because we used him two years ago. Augustine is able to clean bottoms without using tanks because he's able to hold his breath for what seems like forever. He swims between client boats pushing his floating tool shed before him."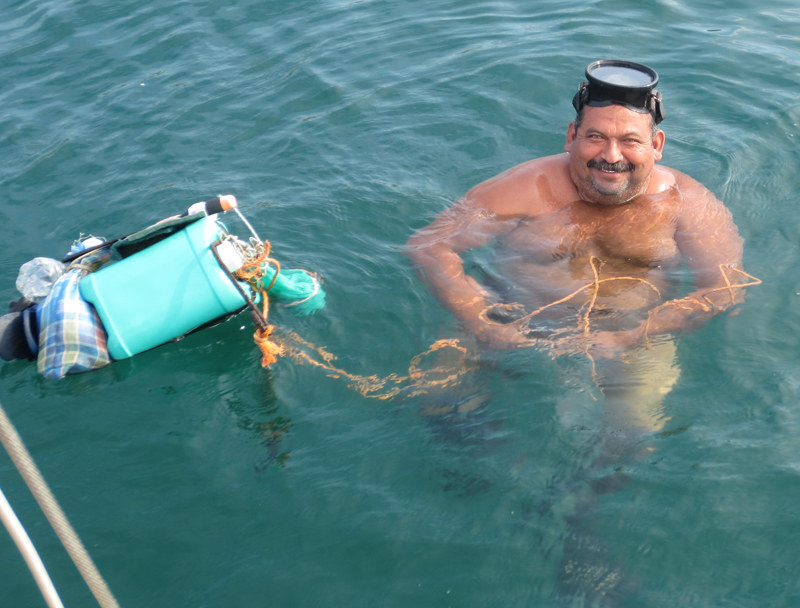 Augustine gets many positive reviews. "This guy is fantastic!" writes Pat McIntosh of the Carmichael-based Cheoy Lee 35 Encore. "He pulls his stuff behind him and swims around to all the boats anchored out in Zihuatanejo Bay, shows you a card that explains his services and prices in English — because he only speaks Spanish — and gets the job done. He spends the whole day — maybe his whole life — in the water, doesn't use fancy gear, and does a fast, great job."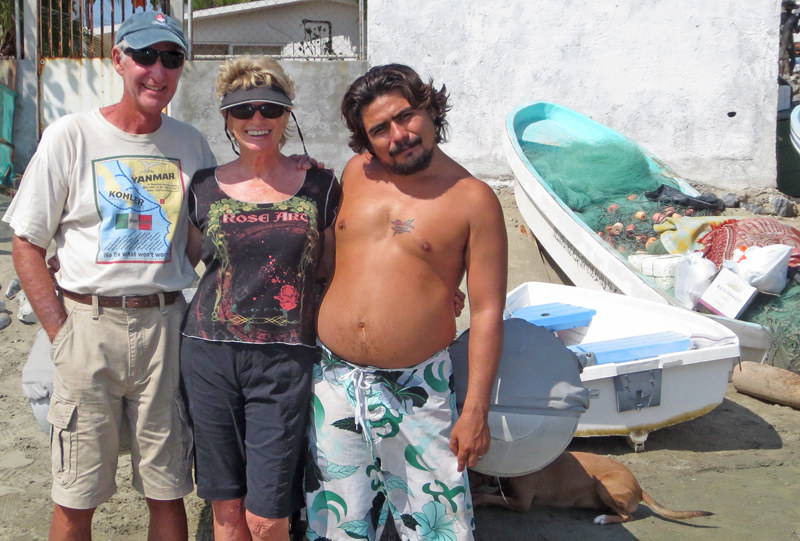 Receive emails when 'Lectronic Latitude is updated.
SUBSCRIBE