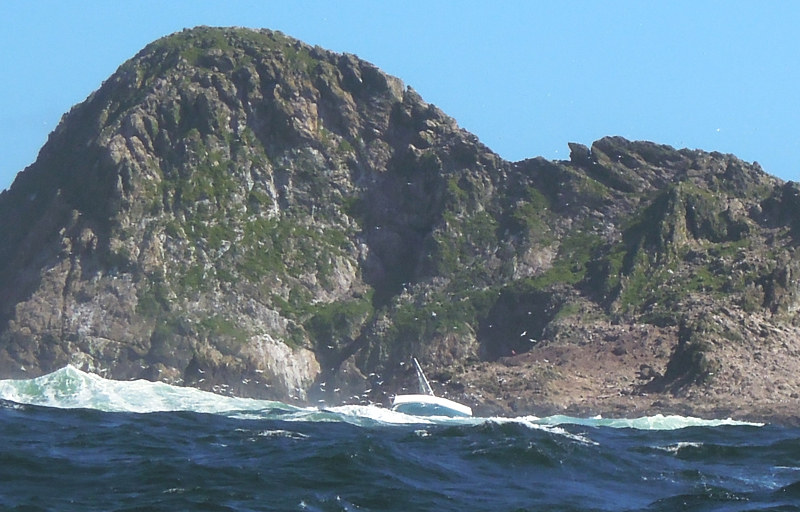 (*Note: several corrections have been made to our original posting, as new info was revealed.)
After more than 30 hours of searching, U.S. Coast Guard and Air National Guard assets suspended their efforts Sunday evening to find four missing crew members from the Sydney 38 Low Speed Chase, which was grounded on a rocky shore of the Farallon Islands around 3 p.m. Saturday during the annual Full Crew Farallones Race.
Roughly 90 minutes after six of the eight-person crew were washed overboard by a huge breaking wave, Coast Guard and Air National Guard helicopter teams rescued the boat's owner, James Bradford, 41, of Chicago, crew member Bryan Chong, 38, of Tiburon, and Nick Vos of Sonoma, who is in his 20s. In the process of getting to dry land Vos somehow broke his leg. The body of crewman Marc Kasanin, 46, was also airlifted from the scene late Saturday afternoon.
Despite a massive, 15- by 30-mile search and rescue effort that involved three cutters, a 47-ft motor lifeboat, at least three helicopters and at least one C-130 aircraft, the four other crew have not been found, and are now presumed dead. They are: Vos' girlfriend Alexis Busch of Larkspur, also in her 20s; Jordan Fromm, 25, of Kentfield; Elmer Morrissey of Ireland, who is in his early 30s; and Alan Cahill, 36, of Tiburon.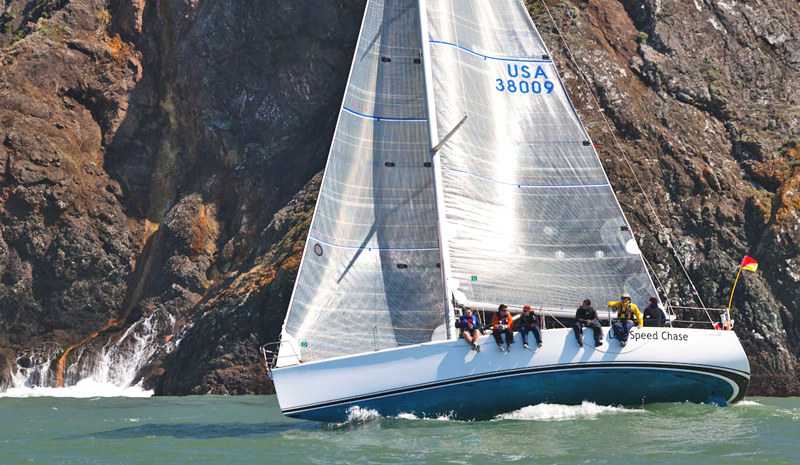 Although all were reportedly wearing lifejackets and heavy weather sailing gear, the "window of survivability," as a Coast Guard spokesman put it, in those frigid waters closed long before the search was suspended.
Not only does this sad incident mark the first racing fatality in San Francisco YC's 143-year history, but it is one of the worst tragedies in the Bay's long history of inshore and offshore racing. The 56-mile Full Crew Farallones Race has been run since 1907.

Acting as spokesman for the club, YC board member Ed Lynch explained that as Low Speed Chase was rounding the largest island in the southeast portion of the Farallon cluster, it was hit by a large wave that launched several crewmembers overboard. A second wave reportedly drove the hull onto the foaming lee shore. The vessel's EPIRB was activated, and almost simultaneously a mayday was called in from Jim Quanci's Cal 40 Green Buffalo, which was sailing nearby. Quanci and his crew were the first to spot the Sydney 38 in distress, but they had no way to offer assistance in the dangerous conditions: 25- to 30-knot winds and breaking waves at least 10 feet high. Nor did any of the 47 other competitors.
Michael Moradzadeh, who called in the mayday, reports: "Approaching, and then rounding, Southeast Farallon Island from the north at a distance of about a quarter mile, we observed heavy surf on the islands, crashing high and putting on a display of the sea's power. Aboard Green Buffalo, our skipper noted a 'sweeping wave,' originating at about our distance and sweeping toward the south end of the island. He also noticed a white spar, deep in one of the coves, and called our attention to it.
"It took us a few moments to figure out what we were looking at; that it was a mast, and not part of some of the island's installations, and that the location was, at least under the current surf conditions, apparently inescapable. The mast was not rocking, and appeared to still have its sail up. . . We did not dare approach the vessel any more closely for fear of sharing their fate.
"VHF contact was poor, but our distress call got through and was promptly answered. We did not know which boat it was at this time, and could not answer questions about who was on board. I switched to the race channel and asked other passing boats to report their observations to the Coast Guard as well. Whirlwind replied with further observations that the boat was on the rocks. . ."
As it becomes clear that nothing short of a miracle could deliver the missing crew to safety, many within the Bay Area sailing community are numb with grief as they digest the severity of this tragedy. Meanwhile, it has become a national news story, inspiring a great deal of Monday morning quarterbacking from both sailors and non-sailors alike about what the stricken crew and rescuers might have or should have done. While everyone is entitled to their own opinion, it appears that many of the loudest voices in such critiques are apparently those of people who know nothing about offshore racing, or the motivations of those who choose to participate in it. So rather than critiquing, we would encourage all who are following this sad story to join us in mourning the loss of our fellow sailors, and offering sincere condolences to their friends and families.
Receive emails when 'Lectronic Latitude is updated.
SUBSCRIBE