Wounded Vet Sailing Clinic
No one can argue that Ronnie Simpson isn't a passionate man. At 27, the retired Marine has seen and done more in his life than the next 10 sailors combined. After receiving life-threatening injuries from an RPG attack during his first tour of duty in Iraq, Simpson has spent the last eight years living every day as if it was a gift. And now he's working to give that to other wounded vets.
Simpson entered the 2010 Singlehanded TransPac with the help of Hope for the Warriors, a national organization that supports wounded vets and their families. Sailing on fellow Marine and race vet Don Gray's Jutson 30 Warrior's Wish, Simpson may not have won, but he fulfilled his long-held dream of sailing solo to Hawaii, and that experience fueled his desire to help others reach their goals regardless of their injuries.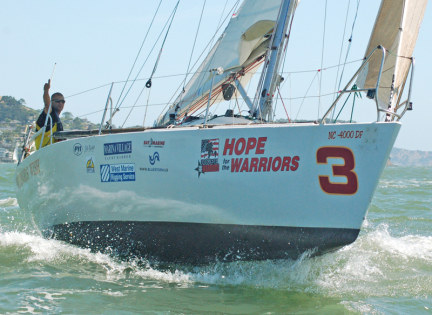 Once again sponsored by Hope for the Warriors, Simpson will be racing this summer's running of the Singlhanded TransPac in his Moore 24 US 101. And while his accomplishments may help raise awareness of the organization, Simpson wanted to do more, so he organized a series of clinics to introduce wounded soldiers to the joys of sailing. "We have three men and two women with varying injuries flying in from all over the country this week to take part in the clinic," he said. "Initially I just really wanted to do something to help raise money for a very good cause, but the more I hear their stories, the more personal it's become."
The first clinic starts this Wednesday at Spinnaker Sailing and runs through South Beach YC's Friday night Beer Can race. "We'd love to get lots of boats out for the race to show their support," Simpson said. Vets will have the chance to sail on a variety of boats, from the Bay Area Association of Disabled Sailors' specially designed Access Dinghies to a sunset cruise aboard the 84-ft steel schooner Bay Lady. "I just want to show them that they can still do extraordinary things," says Simpson.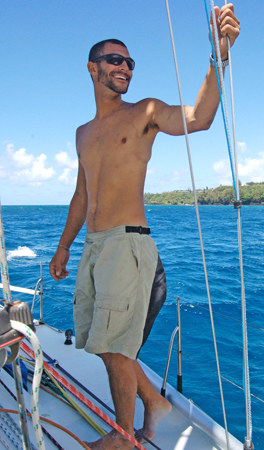 Simpson plans to offer a clinic in Seattle in September and another in San Francisco in October. Though the clinics are private, there are a number of ways for the public to support the cause. "We're taking the vets to a Giants game on Wednesday night so folks could contribute by 'buying' a vet's ticket for $50," Simpson noted. "Or they could buy a $50 ticket for the Bay Lady sunset cruise on Thursday and join the vets in celebrating their second day of sailing." Of course, donations in any amount will be gratefully accepted. Email Simpson for instructions on donating.
Receive emails when 'Lectronic Latitude is updated.
SUBSCRIBE