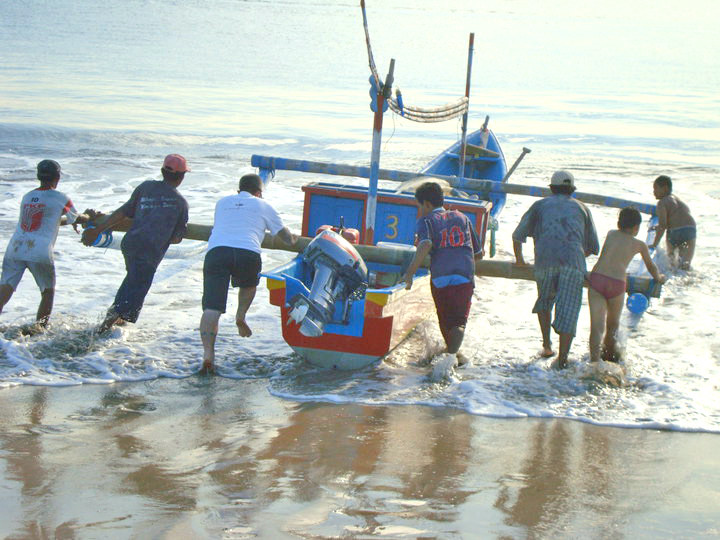 Some people like to fly under the radar. Take our friend 'Capt. Teddius Maximus', for example. An excellent sailor, Cap'n Ted really gets around, and occasionally supplies us with interesting photos and stories, but always with the request to keep his real name private. Is he paranoid, or just paying attention? Considering he's hands-down one of the smartest people we've ever met, we're inclined to believe the latter.
In any event, Cap'n Ted is currently in Indonesia, where he's had the chance to rub elbows with that country's maritime elite. "I was teaching one of the Bugis master ship builders how to perform a proper Latitude wave," he wrote. "By the way, these boats are massive, and they're built right on the beach. Somehow, they get them into really deep water . . . I'm still trying to figure that one out. When asked, they simply say that they 'pull them out'. My lack of Indonesian language skills prevents further description."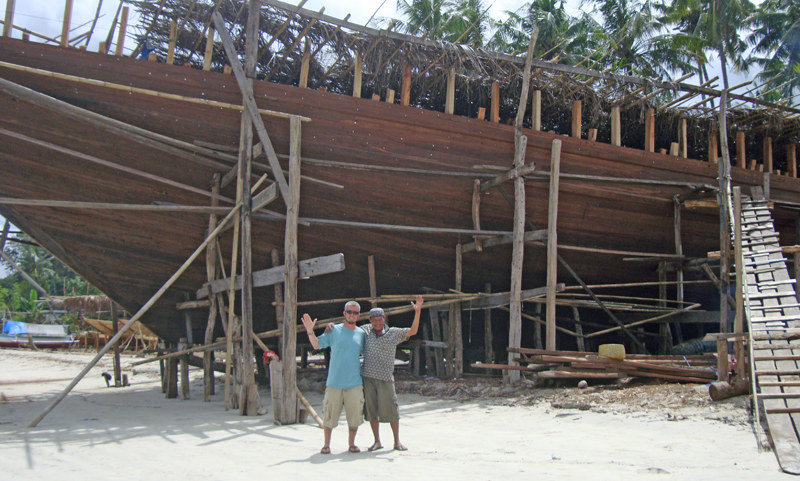 Hopefully he'll get to witness the launch of one of these behemoths, and will share the details in a future 'Lectronic. Anonymously, of course.
The sudden takeover on August 4 of waterside homes and businesses along Mexico's popular Tenacatita Beach has left local residents, cruising sailors and shoreside vacationers frustrated and angry. Today's update is that heavy equipment is currently in the process of bulldozing homes and businesses along the beach.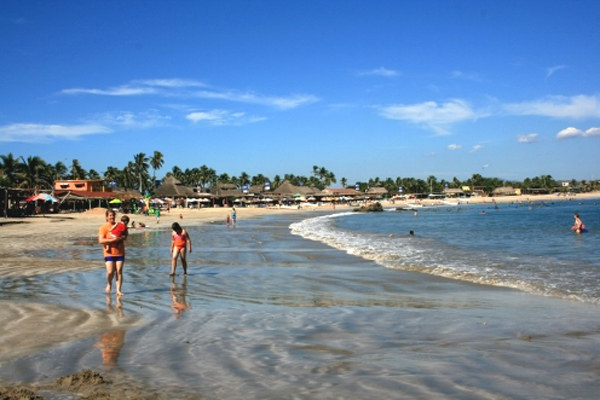 "We have wintered 30 years on this beach, like many boat owners. Now all access is being threatened," report two Latitude readers. They and others have put a call to boaters for help: "We plea for anyone on a boat in the vicinity to please anchor in the bay, and document and film all destruction of restaurants, hotels, palapas and homes. The local people and press are banned from the area and are threatened with this hostile takeover."
As we reported Monday, according to the Guadalajara Reporter newspaper, 150 members of the Jalisco State Police arrived on the shores of Tenacatita Bay last Wednesday in the early morning hours and evicted 800 locals who were living and working on a undeveloped section of the beach — some of them had been there for 40 years. Resistance resulted in 27 arrests and several gunshot wounds.
American Kelly Wright and crewman Glen McConchie of Christchurch, New Zealand, are in good health after Wright's Chris White-designed Atlantic 57 catamaran Anna Valdivia flipped 120 miles west of Niue in the South Pacific last weekend. After setting off their EPIRB, the two spent 17 hours on the overturned cat in rough weather before they were spotted by a Royal New Zealand Air Force Orion, which was able to direct the ship Forum Pacific to their rescue.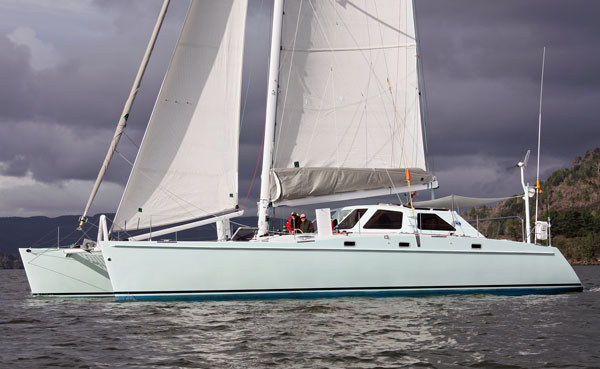 Wright is reported as saying they'd been sailing upwind with a single-reefed main and full jib in less than 20 knots of wind when a squall, which looked like many others they'd seen in the previous 24 hours, approached. This squall, however, had wind of up to 62 knots, and with the crew unable to release the main in time, the cat was blown over. Wright is reported to have said there were no major waves involved.
Anna Valdivia, which is an updated version of the respected Atlantic 55 design, was built in Chile and had been sailed from there to New Zealand. She was on her way to Tonga to help with whale research. Skipper Wright is said to have about 30,000 miles of sailing experience. The Atlantic 57 is a performance cruising cat, which means she is significantly lighter than typical production cats, but is not a racing cat.
It's rare, but not unknown, for larger cruising cats to be blown over by the force of the wind. For as designer White wrote in his book The Cruising Multihull, all other things being equal, if you double the size of a cat, she will be 16 times more stable. Indeed, this statement by White is one of the reasons we made our one-off 63-ft cat Profligate as large as it is.
The good news, in addition to the fact that both men are alive and well, is that the cat was apparently insured. She was left floating upside down, however and remains a navigation hazard.
We hope to get more information on this incident in the September issue of Latitude 38.
Receive emails when 'Lectronic Latitude is updated.
SUBSCRIBE