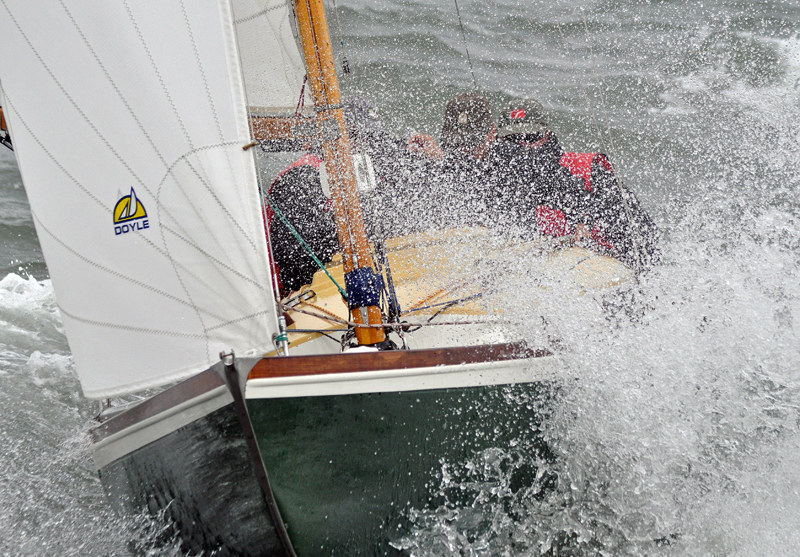 The 42nd International Knarr Championship hosted by St. Francis YC got underway on Sunday in typical mid-summer fog and drizzly skies. Two-time IKC champion and '09 Season Champion Jon Perkins jumped into the lead in the 26-boat fleet with a 3-1, four points ahead of Danish skipper — and '06 IKC winner — Sorren Pehrsson. Danes Tom Carlsen, and IKC defending champion Lars Gottfredsen sit in third and fourth respectively. Bay Area Knarr sailor Eric Gray checked in with a report: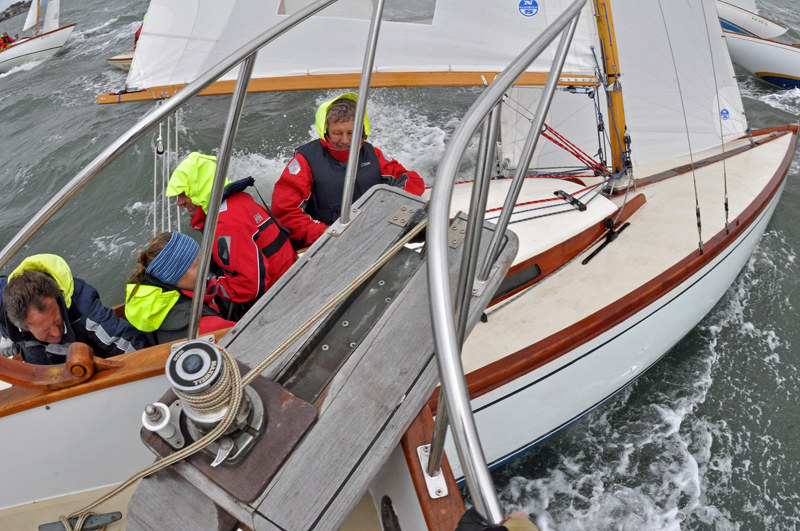 "Race 1 was started off the western face of Alcatraz in a diminishing flood tide," he said. "Both ends of the line were the place to be, as the pin-end contingent enjoyed some current relief and left shift, while the boat-end boats had better pressure from the outset. Overall the pressure was uncharacteristically spotty for the Bay, and the race was more about pressure and shifts than finding favorable current. During the downwind finish, the 15 boats in the middle of the fleet all finished within 20 seconds of each other.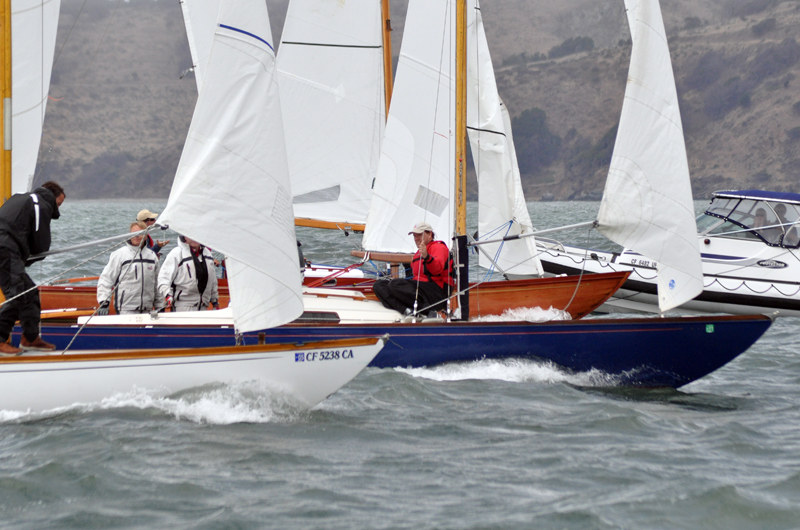 "Race 2 was more typical of the Cityfront action that the European sailors came for: a strong ebb tide and 15-22 knots of WSW breeze. After a general recall, the race started fairly under an "I" flag and the drag race was on. Perkins was launched at the top mark and extended, sailing mostly rhumbline courses on the downwind legs, while everyone else looked for current relief. Playing the left side on the final two beats rewarded the Bay's Sean Svendsen with a valuable shift and passing lanes, which he used to finish third behind Gottfredsen."
The regatta comes to the Bay every three years. The Bay's Knarr fleet provides the boats for the event, but the local sailors who qualify aren't allowed to sail their own boats. That makes for very tight racing as teams have all of an hour on the water to learn what makes their boat go fast. The regatta runs all week on the Cityfront, before wrapping up on Saturday, so check it out if you have a chance!
Receive emails when 'Lectronic Latitude is updated.
SUBSCRIBE