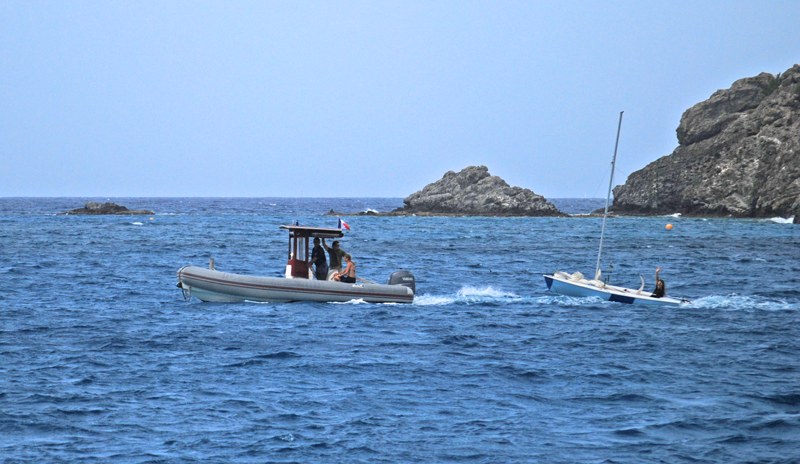 It was the stressed tone of the voice that attracted our attention. We were sitting on the back of 'ti Profligate, anchored just outside the #2 marker for the entrance to the port of Gustavia at the tiny island of St. Barth in the French West Indies, when we thought we heard a strange call. We looked around at the 50 or so boats to the shoreward side of us, and couldn't see anything. So we went back to work on a teak step for the boarding ladder. It seemed like we heard a distressed call once again. So again we looked toward the boats, all of which were inside of us, and toward shore. But it was hard to tell if someone was calling because it was blowing in excess of 15 knots. And there was also the hole in our left eardrum courtesy of surfing.
When there was yet another call, we looked out to sea in the direction of Pan du Sucre, a very small and isolated island about a half mile offshore to leeward. We could just make out what looked like the blue hull of a flipped dinghy, a dinghy we remember sailing around us about 20 minutes before. There was obviously trouble. We called for Doña to grab the handheld, then both of us jumped into the dinghy and took off in the direction of the flipped boat about a half-mile away.
After going about 100 yards in the sloppy conditions, Doña asked, "Where are you going?" About to ask her what she meant, we looked about 100 yards to port and saw a woman waving her arms for help as chop repeatedly washed over her head. Suddenly we realized that it was she who had been yelling, as the boat was too far away.
Thanks to the 84° water, and the fact the woman hadn't been in the water more than 10 minutes, she was still in good shape and we were able to easily pull her aboard. But boy, was she glad to see us — she didn't have a PFD, and she'd been rapidly drifting toward 30-mile distant Saba. We were her last good chance of being seen or heard on the big ocean.
She told us she'd fallen off the blue sailboat, now hundreds of yards away, that she'd been sailing on with her girlfriend. We sped off in the direction of the flipped boat, and found the second woman, who also wasn't wearing a PFD, clinging to her small, upended dinghy. It was really lucky we saw her because, if Birdy wasn't about to have a dive charter at Pan du Sucre, she would have drifted to oblivion. But again thanks to the warm water, she was still in fine shape — although she'd been worried.
She explained that she was just learning to sail her boat, and it had flipped. She didn't have a good explanation about why she didn't have a PFD.
We think the biggest lesson to be taken from the experience is that, when learning to sail in small boats, take lessons and learn in a supervised environment. The last thing you want is to find yourself in distress while rapidly drifting to leeward without any way to signal for help.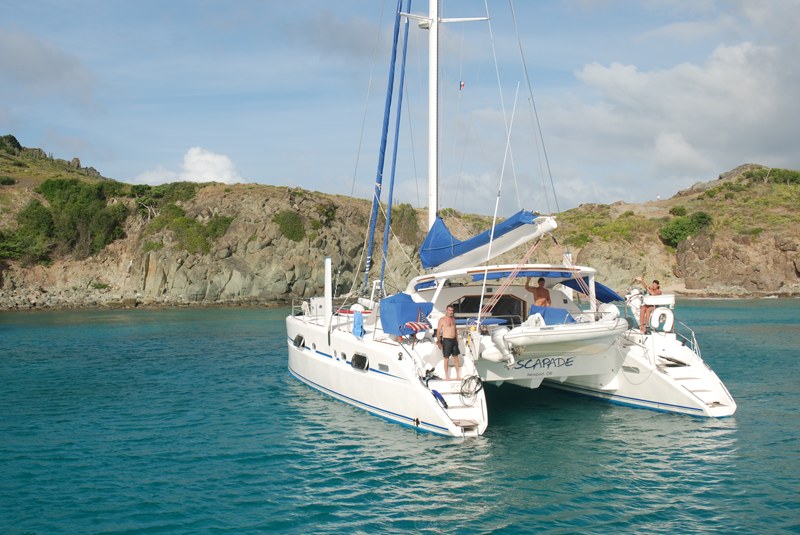 In other news from St. Barth, it was just last Thursday night that Greg Dorland and Debbie Macrorie of the Tahoe-based Catana 52 Escapade couldn't decide whether they, with Michael Kennedy and Alan Weaver as crew, would leave the next morning for Trinidad or for Bermuda and the Northeast. The decided on Bermuda, and in the short run regretted it. A very unusual low for this time of year stuck with them for most of the trip and, as a result, they had winds to 45 knots and twice had to douse the main. On the other hand, they did complete the nearly 900-mile passage in just under four days, and hit a top speed of 22 knots.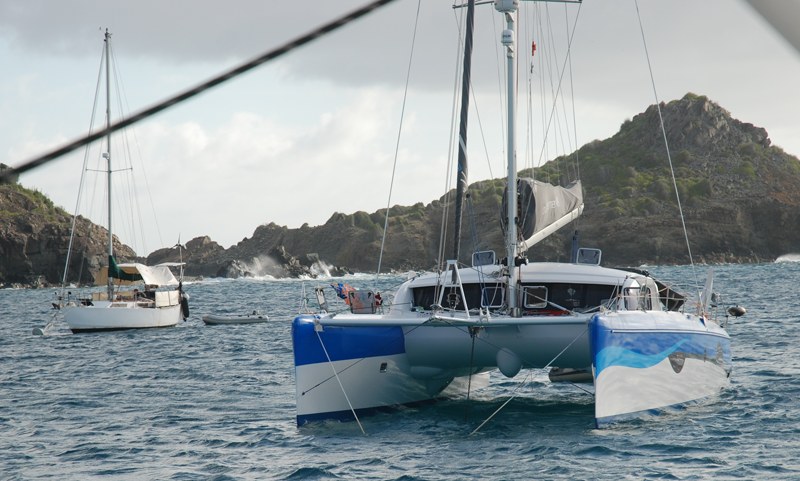 Receive emails when 'Lectronic Latitude is updated.
SUBSCRIBE