It's Every Man for Himself
Last month marked the 98th anniversary of the sinking of the Titanic. Not to take anything away from the horror of that night, but come on — hasn't the whole Titanic thing been pretty well beaten to death? Could there possibly be a single aspect of this story that hasn't been dissected in minutiae, or a single new thing to be learned? Well, according to a recent study by the Queensland (Australia) University of Technology, the answer is yes.
There is a long-standing economic theory that people generally behave in a rational and selfish manner. This is one of those concepts that's really hard to test, much less prove, so scientists will often look back at real events in history to see if they are relevant. Turns out the Titanic sinking was a perfect petri dish. As counterpoint, the scientists also looked closely at the sinking of another famous liner, the Lusitania, which was torpedoed and sunk off Ireland just three years later.
The ships were of similar size, and had a similar complement of crew and passengers — many rich, many poor, many women and children. The differences in their ends were that the Titanic took about three hours to sink, while the Lusitania went down in 18 minutes. And true to the scientists' suppositions, the scenarios aboard each ship were markedly different: aboard Titanic, where the 'grace period' allowed social mores to kick in, men forwent their own safety to fill most of the lifeboats with the women and children — and in the overall demographic, a much higher percentage of women and children survived that sinking than men. On Lusitania, 'rational and selfish' kicked in immediately, and the main survival group consisted of men — either the strongest young men of any social standing, or older men who bribed their way onto the boats.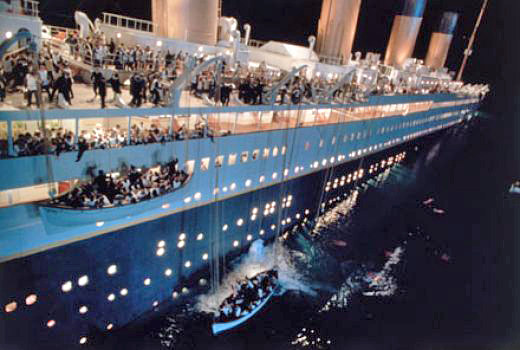 The whole study appeared in the Proceedings of the National Academy of Science earlier this year, and the scientific community will doubtless be buzzing for years to come about what it meant. The moral of the story for the rest of us: Hope you're never aboard a luxury liner that sinks, because whatever happens, it ain't gonna be pretty.
Receive emails when 'Lectronic Latitude is updated.
SUBSCRIBE