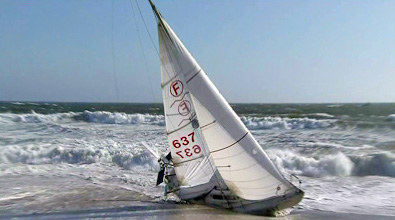 Yesterday turned tragic with the loss of three West Coast sailors. Down south, 2008 Singlehanded TransPac veteran Tom Kirschbaum, 55, appears to have fallen off his 26-ft International Folkboat Feral on his way home to Marina del Rey after competing in the Catalina Island Series-Emerald Bay Race on Saturday. A gale had been forecast for the weekend, and reports confirm rough conditions for the first half of what was supposed to be a two-way race (we're told Day 2 of the race was cancelled due to worsening conditions, but were unable to confirm that with Long Beach YC before uploading today's 'Lectronic).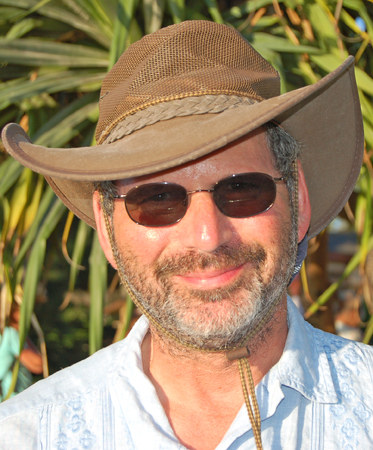 Kirschbaum's wife Gayle told the Coast Guard that she'd received an email from Tom yesterday morning around 9:30 letting her know he was leaving. According to Petty Office Christina Bozeman, the Coast Guard received the call that Feral had sailed ashore one mile south of the Santa Monica pier, basically on Venice Beach. First-responders found no one aboard. "A C-130 airplane was dispatched to search, and the cutter Narwhal has been searching all night," Bozeman reports. "We may look to suspend the search this afternoon but we're still searching."
Closer to home, an unidentified married couple sailing north from Pillar Point were near Ocean Beach when they fell off their Ranger 33 Barcarolle in rough conditions, according Coast Guard Petty Officer Pamela Manns. "A worker at Cliff House restaurant noticed the boat was in distress," said Manns. "We received the call at 4:30 p.m. and a 47-ft motorlifeboat was on-scene at 5:15." The lifeboat crew found Barcarolle unmanned but couldn't immediately see anyone in the water. The woman's body was recovered around 7 p.m. while a man's body washed ashore this morning. The Coast Guard has not confirmed his identity at this point, so they're hesitant to identify him as the man from Barcarolle. The boat has since washed ashore at China Beach, not the Marin Headlands as previously reported by the Coast Guard.
Our hearts go out to the familes of all the victims.
UPDATE: The San Francisco Medical Examiner has officially released the names of the couple from Barcarolle: Jeff and Beth Easterling of El Sobrante. They were 59 and 50, respectively.
In these slow economic times, yacht brokers are pleased when any potential customer walks through the door. But when Dmitry Danilov showed up at Bearmark Yachts in Sausalito recently, broker John Saul immediately gave him his undivided attention. After all, Danilov had come all the way from Vladivostok, Russia in search of a solid cruiser that he and his family could use to explore nearby waters of the North Pacific — such as the coastal anchorages of South Korea.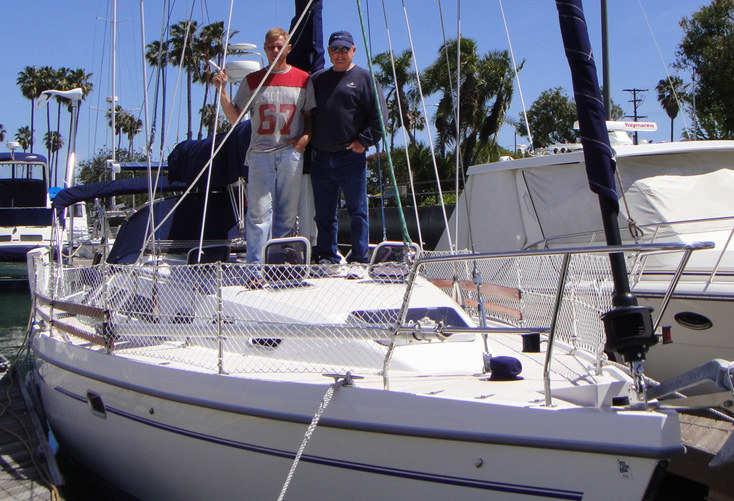 According to Danilov, it is "impossible" to find a good recreational sailboat in his part of the world — including Japan and South Korea. But after perusing a variety of options here on the West Coast, the Russian sailor settled on a well-maintained Catalina 380 in Long Beach, now named Natsu. Both Saul and the seller's broker, Rich Vaught of Vaught Yacht Sales, took Danilov under their wings and helped him orchestrate a variety of upgrades to rigging, sails and electronics.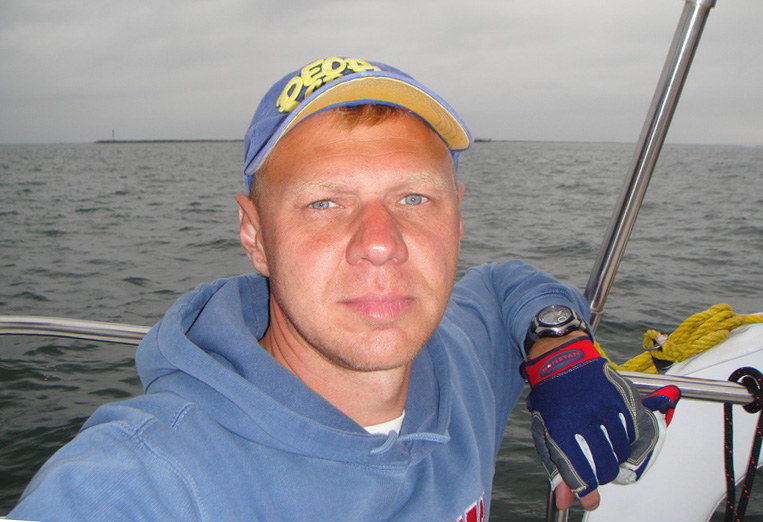 Having spent years as a second officer aboard Russian ice-breakers that plied Arctic waters, Danilov is no stranger to offshore navigation or challenging weather. But he's never actually done a singlehanded offshore sailing trip before — and the route back home to Vladivostok, via the Marshall islands, is close to 6,000 miles. To date, most of his sailing experience has been aboard Oympic-class sailing dinghies. But, hey, he's a tough Russian, and our bet is that he'll make it home safely.
What are his impressions of the U.S.? "It is much more organized and it is easier to do everything," he says. "Things are more available. Everyone is nice, and very helpful to me." And he absolutely loves Starbucks, whose stores have served as his Wi-Fi headquarters during his stay in Long Beach. "I will be sad without Starbucks," say Danilov. "I will miss them." No doubt he's stowed plenty of their pungent beans aboard Natsu for the long ride home.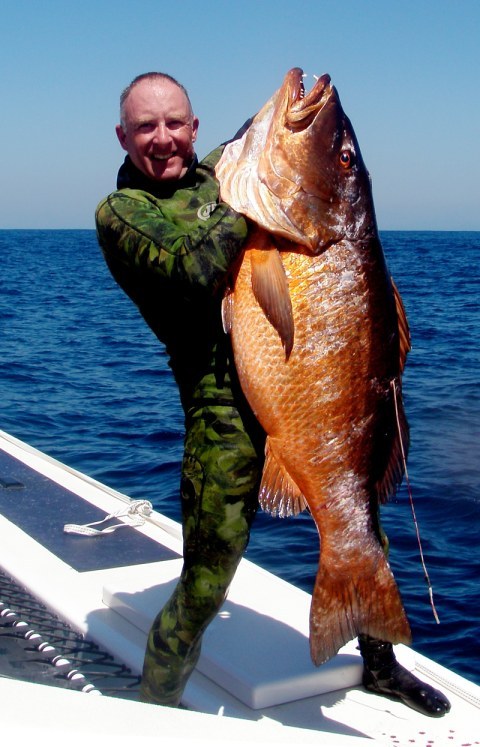 We were so impressed by the 75-or-so-lb pargo that Ethan Smith of the Ya Ta Hey, New Mexico-based Ovni 36 Eyoni nailed while free-diving off Thor Temme's custom 45-ft tri Meshach off the coast of Punta Mita, Mexico, that we decided it was time for a Latitude 38 Fishing Contest. There will be different categories: Fishing while underway, fishing while scuba diving, and fishing while snorkeling or free diving. Unfortunately, there won't be any prizes. But this contest is all about bragging rights anyway, isn't it? There will be no deadline for entries. So please send your high res phots, plus a few lines about the nature and location of the catch to Richard.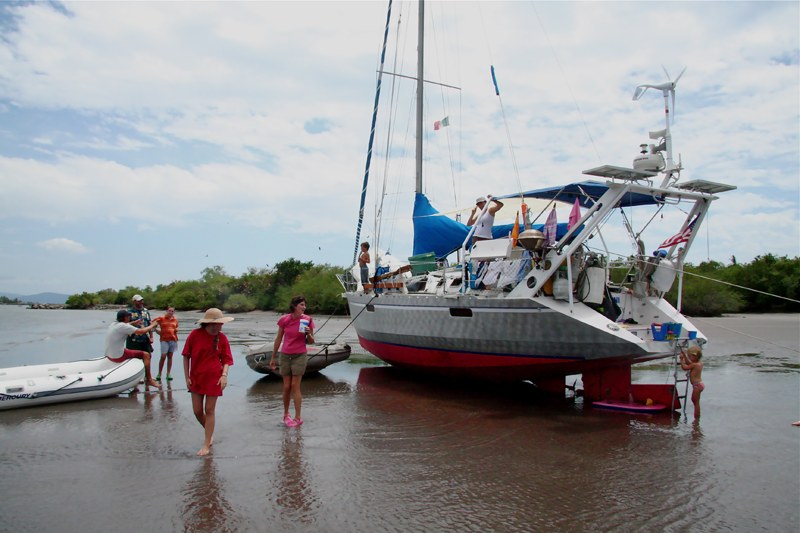 We hate to sound repetitive, but we were also so impressed by the way Ethan Smith of the Ya Ta Hey, New Mexico-based Ovni 36 Eyoni careened his and wife Nancy Jones' boat in the San Blas Estuary, that we also decided to run a contest on careening boats, be they monohull or multihull. You know what to send and where.
Had Ethan and Nancy's photos of their 5-year-old daughter Zada getting a nearly 200-yard-long ride on his surfboard turned out, we would have had a surfing photo contest, too. But as Meatloaf used to sing, two out of three ain't bad.
Receive emails when 'Lectronic Latitude is updated.
SUBSCRIBE