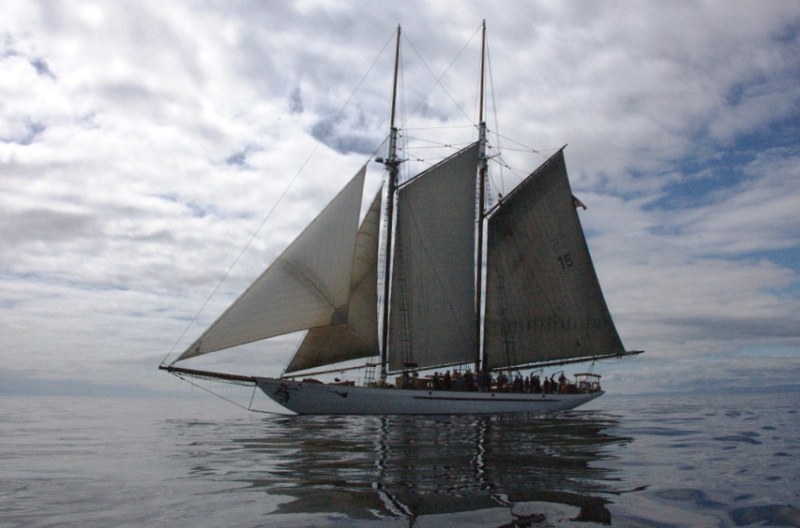 Although she'd only been launched the year before, the 133-ft schooner Adventuress had already sailed from Maine to Alaska when she arrived on San Francisco Bay to work as a Bay pilot boat in 1914. John Borden, the founder of the Yellow Cab Company, had commissioned Bowdoin B. Crowninshield to design — and the Rice Brothers' Yard in East Boothbay, Maine, to build — the gaff-rigged schooner for the specific purpose of sailing to the Arctic to hunt bowhead whales. Sailing Southeast Alaska must not have agreed with the adventurous millionaire as he sold the yacht in Seattle that fall to the San Francisco Bar Pilots' Association — without having bagged a single trophy.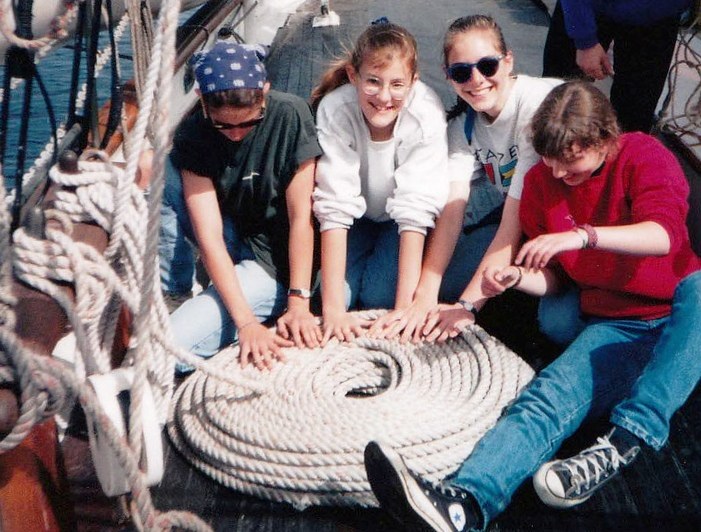 With her rig heavily modified to accommodate Bay winds, Adventuress plied our waters for more than 30 years — transferring pilots to ships waiting to enter the Bay — before being decommissioned and left to rot in 1951. Adventuress passed through a number of hands — including those of Seattle chandlery owner "Doc" Freeman, who reclocated her north — before eventually coming into the possession of Sound Experience, a Puget Sound youth sailing program.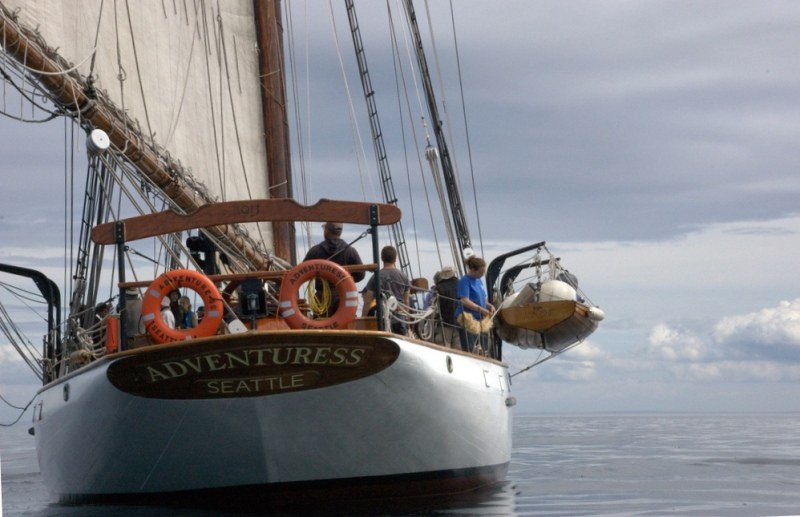 Named a National Historic Landmark in '89, Adventuress is now one of 25 sites selected to participate in the $1 million Partners in Preservation initiative, sponsored by American Express and the National Trust for Historic Preservation. While all 25 are eligible to receive a grant, only the winner of the popular vote is guaranteed one — à la American Idol — and Sound Experience hopes it will be them. Age and rot have taken their toll on Adventuress's transom and the $100,000 top prize will just cover the repairs. We wholly support their effort to keep this historic ship sailing, as well as their mission to educate 3,500-plus kids and adults each year about Puget Sound's ecosystem, and encourage readers to 'Vote for the Boat'. There's only seven days of voting left, so be sure to go back every day to cast your vote. Right now Adventuress has only a small lead — let's make it a commanding one!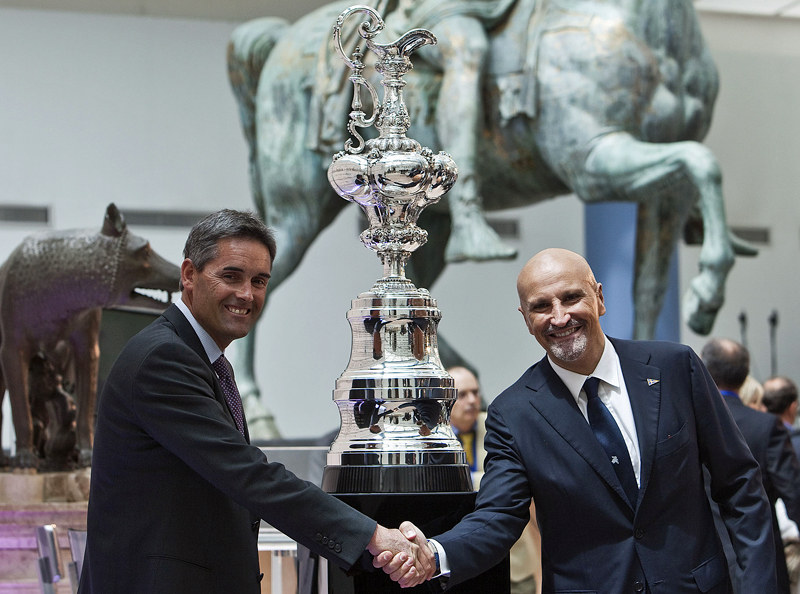 "Every candidate city knows that a very strong case has already been put forward by San Francisco." — BMW Oracle Racing CEO Russell Coutts.
With those 17 words, Russell Coutts buoyed the hopes of every America's Cup fan who'd like to see the match for the 34th America's Cup contested on the Bay. Almost as tantalizing was one of the requirements that have been laid down for the next class of America's Cup boats: they should be able to race in any venue from 5-35 knots. If those two tidbits from yesterday's press conference in Rome — hosted by BMW Oracle Racing and the Challenger of Record, Club Nautico di Roma — weren't enough to get you excited about the chances of the next Cup match coming to the Bay, then check your pulse.
The other key announcements?
• The protocol for the 34th America's Cup will be issued by August 31.
• The design rule will be released by September 30.
• The NOR and SIs will be published by December 31.
• The venue will be confirmed by December 31.
• The challenge period will open October 1 and stay open only until January 31.
• The most likely dates will be between 2013-14.
As expected, the teams have committed to having a professional and neutral race management team not controlled by the defender, and that BMW Oracle Racing will not be sailing in the Challenger Series. Also as expected, they announced that regular circuit-style racing in multiple cities will precede the Cup. That point, plus the timing of the challenge period and the announcement of a three- or four-year Cup cycle point to a lot of activity very quickly on the Cup front. We like that a lot; these guys are sending it, and that's exactly what needs to happen to capitalize on all the buzz created by ACs 32 & 33. You can catch the whole conference at www.americascup.com.
The fact that more than four million gallons of oil have now spilled into the Gulf of Mexico in the aftermath of the Deep Horizons Rig explosion begs these questions: Is offshore oil drilling a reasonable safety risk? Is it an absolutely essential element in America's effort to become independent of Mideast Oil? And are offshore oil rigs enticing targets for terrorists, given the fact that simply lighting one of them on fire can have such drastic consequences?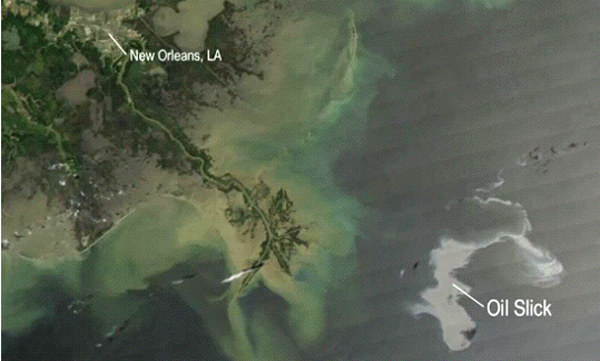 A few months ago there seemed to be a broad consensus among political leaders that, like it or not, we simply must tap into offshore oil reserves in order to secure our energy future. Just this year, thousands of miles of U.S. coastline were opened to gas and oil exploration. Now, however, some polititicians are rethinking their postion on offshore drilling, including the Governator, who reversed his position yesterday, saying he now feels offshore drilling is just too risky.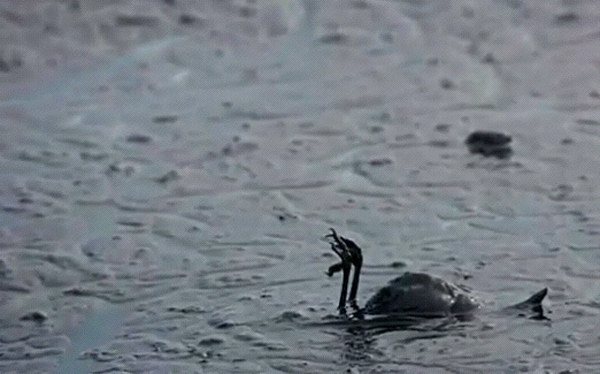 "It has never been more clear that offshore oil and gas production is a dirty and dangerous business," says Jackie Savitz, of the nonprofit ocean conservation organization Oceana, "and that our ability to prevent and contain spills has not kept pace with our ability to access oil below ocean waters." Whether or not you believe, as Savitz does, that "alternatives such as offshore wind power can provide more jobs and help solve climate change while never spilling," the fact remains that hundreds of species of marine life — including whales, dolphins and sea turtles — are threatened by the "ever-growing plume of toxic sludge," which is currently on pace to exceed the Exxon Valdez disaster. Threats to the boating industry, of course, are obvious also.
If you have a well-reasoned opinion on the subject of offshore drilling along the California coast and elsewhere, feel free to chime in.
Receive emails when 'Lectronic Latitude is updated.
SUBSCRIBE