Will AC 34 Be Sailed on the Bay?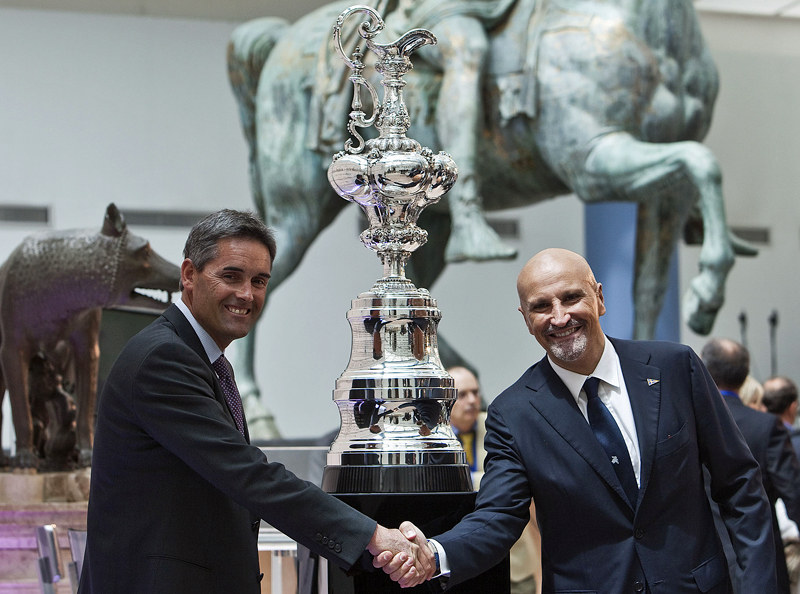 "Every candidate city knows that a very strong case has already been put forward by San Francisco." — BMW Oracle Racing CEO Russell Coutts.
With those 17 words, Russell Coutts buoyed the hopes of every America's Cup fan who'd like to see the match for the 34th America's Cup contested on the Bay. Almost as tantalizing was one of the requirements that have been laid down for the next class of America's Cup boats: they should be able to race in any venue from 5-35 knots. If those two tidbits from yesterday's press conference in Rome — hosted by BMW Oracle Racing and the Challenger of Record, Club Nautico di Roma — weren't enough to get you excited about the chances of the next Cup match coming to the Bay, then check your pulse.
The other key announcements?
• The protocol for the 34th America's Cup will be issued by August 31.
• The design rule will be released by September 30.
• The NOR and SIs will be published by December 31.
• The venue will be confirmed by December 31.
• The challenge period will open October 1 and stay open only until January 31.
• The most likely dates will be between 2013-14.
As expected, the teams have committed to having a professional and neutral race management team not controlled by the defender, and that BMW Oracle Racing will not be sailing in the Challenger Series. Also as expected, they announced that regular circuit-style racing in multiple cities will precede the Cup. That point, plus the timing of the challenge period and the announcement of a three- or four-year Cup cycle point to a lot of activity very quickly on the Cup front. We like that a lot; these guys are sending it, and that's exactly what needs to happen to capitalize on all the buzz created by ACs 32 & 33. You can catch the whole conference at www.americascup.com.
Receive emails when 'Lectronic Latitude is updated.
SUBSCRIBE