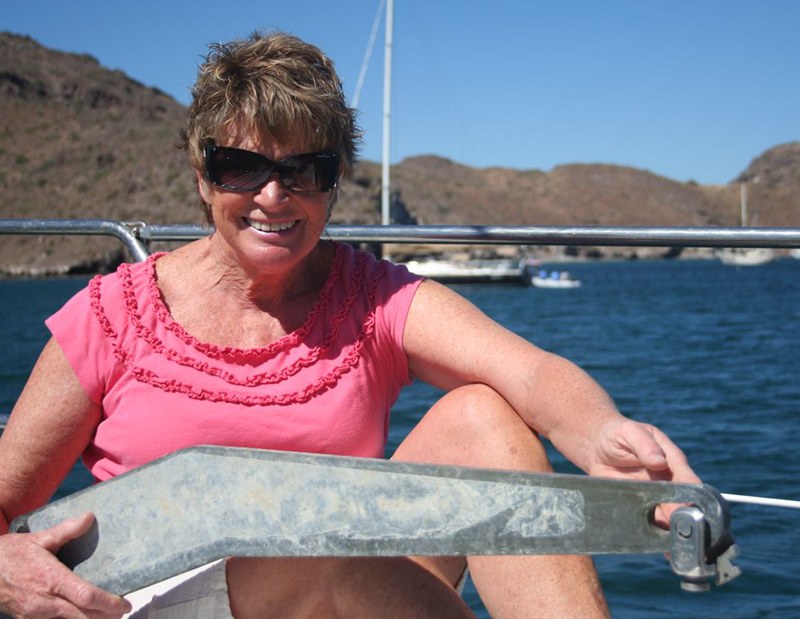 "After thoroughly enjoying Sea of Cortez Sailing Week, we were anchored at San Evaristo on Easter Sunday," write John and Gilly Foy of the Alameda and Banderas Bay-based Catalina 42 Destiny. "The wind was blowing at 14 knots when we realized we were dragging. This was a surprise — it had blown much harder the night before and it wasn't blowing hard enough to cause our 55-lb Delta to trip. It was well set in sand with plenty of scope on an all-chain rode. We fired up the engine and tried to raise the anchor. Unfortunately, it was no longer at the end of the chain! After getting over the shock of seeing nothing but chain, we deployed our Fortress back-up anchor and spent the balance of the afternoon considering how lucky we were that it hadn't happend at night or while we were ashore.
"Turns out the stainless steel swivel between the anchor and chain had come apart. We'd purchased it 3.5 years ago from West Marine for about $110. Having read several reports in Latitude that some swivel shackles of this type seem to be prone to failure, we took it back to West Marine for their opinion. We were assured that ours was one of the "good ones." For the record, our swivel has a logo that looks like 'CKN' and beneath it 'Italy'. On the other side it says 'INOX AISI 316, SWL Kg 2000'. All this comes from the remaining half of the shackle that was attached to the recovered anchor.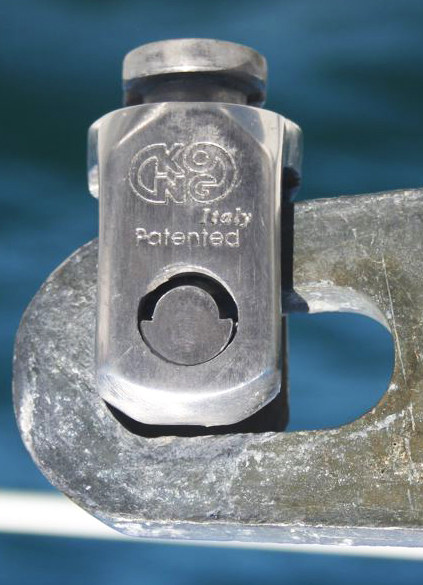 "Some cruisers have speculated that the pin was not properly set, while others believe the pin simply broke. All we can say is that we'd periodically inspected the shackle and everything looked to be in good shape. Unlike some swivels, ours was designed to better withstand loads from some directions than others. Whatever the reason for the failure, we now have an old fashioned galvanized shackle that is wired shut, and have no plans to go back to a stainless swivel-type shackle.
"We know of two other boats in Mexico this season who have had similar swivels part. Fortunately, there was no serious loss of property, but neither was able to recover their anchors. We suggest that anyone with this type of shackle strongly reconsider using it. For us, continuing to use it would result in too many sleepless nights wondering what's going on on the bottom, even in relatively light winds and current."
Based on the photos they sent, John and Gilly had a Kong brand anchor swivel. There are about 12 different manufacturers of such anchor swivels, and the designs, manufacturing processes, quality and price vary tremendously. For what it's worth, the Kong is one of the less expensive anchor swivels.
We'd always been a little faint-hearted when it came to such anchor swivels, so when we ultimately did buy one, it was from a manufacturer whose products cost about three times as much as similar products from Kong. Our cat spends a lot of time at anchor, and a swivel failure could easily cause us to lose the boat. As such, we weren't going to be penny wise and pound foolish.
We're not recommending any particular brand of anchor swivel, or even that they be used. But for what it's worth, we use an Ultra-Swivel that is imported by Quickline USA of Huntington Beach. It's a very different design than the one made by Kong — it has far fewer parts and was designed to accept loads equally, no matter the direction. If you're thinking about using such a swivel, we strongly recommend that you do some research into the pros and cons of the major brands — and be ready to pay top dollar for the best in breed. Anything else would seem to be false economy.
Receive emails when 'Lectronic Latitude is updated.
SUBSCRIBE