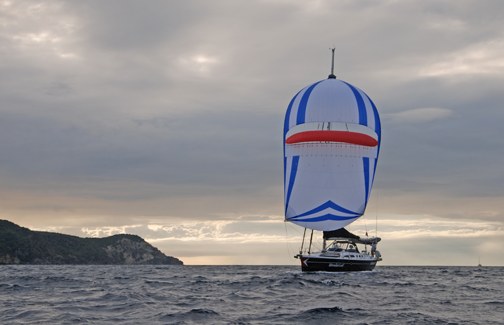 Early this morning we took off in our dink to photograph Mike Harker of the Manhattan Beach-based Hunter Mariner 49 Wanderlust 3, as he set his Parasailor2 spinnaker to leave St. Barth for San Juan and, ultimately, 1,100-mile distant Miami. When he reaches Miami, he'll have completed an 11-month circumnavigation with the boat, which still had the paint drying when he took off. Harker completed his personal circumnavigation last week in Antigua, as he'd already done the Antigua to Miami leg with Wanderlust II, his Hunter 466.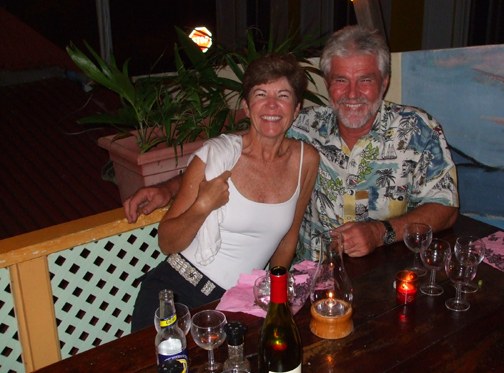 Harker will be stopping in San Juan on his way to Miami, because from his previous sailing adventures he knows there's a Sizzler right near the dock, and they've got an all-you-can-eat salad bar. The thing he missed most while sailing was fresh salads and veggies. In fact, we took him to La Gamelle restaurant the other night so he could savor a Rasta Salad, which included lots of delicious fresh mangos, avocados, tomatoes, lettuce and the like. He loved it. In fact, he loved it considerably more than the fresh fish platter at Le Select the day before. He'd mistaken some ultra-hot sauce for ketchup, and darn near died when a sauce splattered piece of fish got caught in his throat. He was in such bad shape we were two seconds from calling for a doctor when he started breathing again. Harker swears it was the worst injury he's suffered on the circumnavigation.
We've got a great new interview with Mike for the March issue of Latitude that we think you'll enjoy. Just for kicks, here are a couple of highlights:
38: How much did the circumnavigation cost you?
Mike: Besides the boat and gear, almost nothing. I'm a cheapo.
38: What were your three favorite stops?
Mike: The Galapagos Islands, the Whitsundays in Australia and St. Barth.
He loved the Galapagos for the wildlife, the Whitsundays for the great people, and St. Barth for, among other things, the beautiful women on the beach.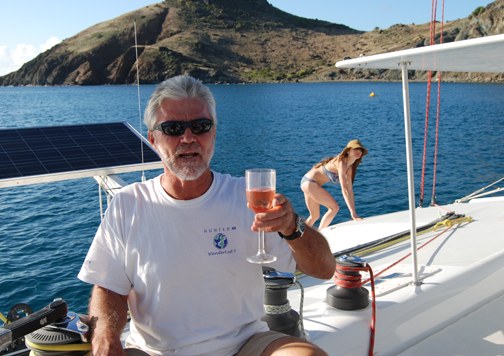 Having completed a rapid circumnavigation, you can imagine that Harker is ready to take a break from sailing. Er, not quite. He'll spend this summer giving presentations every other week at Hunter dealers or yacht clubs from Florida to Maine. Next winter he'll be back sailing around the Caribbean for six months. He'll follow that up with an Atlantic crossing to the Med, where he's looking particularly forward to Croatia, the Black Sea, and Turkey. Then he'll head down the Red Sea and across the Indian Ocean to Thailand. After a few months there, he'll work his way up to Japan, cross to California, and get ready for the '11 Ha-Ha.
If you don't think he'll do it, you don't know Mike — who, by the way, thanks to injuries received in a terrible hang-gliding accident many years ago, is legally classified as a parapalegic.
Receive emails when 'Lectronic Latitude is updated.
SUBSCRIBE