Gitana 13 – Southern Cross to Port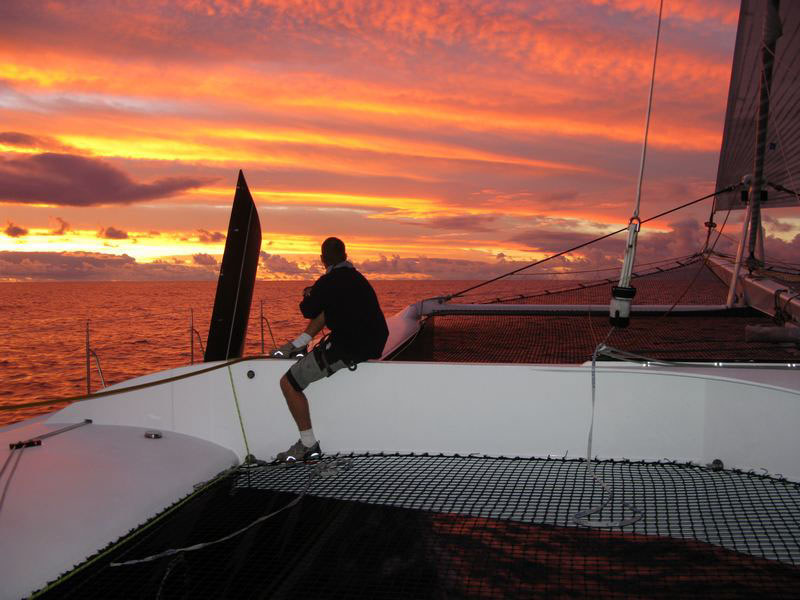 Not quite two weeks out of New York, the 110-ft maxi-cat Gitana 13 is humming along under a waning moon and what can only be described as a 'mixed bag' of weather off Brazil. The 10-man crew under skipper Lionel Lemonchois is in shorts and T-shirts for a while longer as they line up to round the one mark in their 14,000-mile sprint to San Francsico later this week: Cape Horn. According to a recent report, they were on a heading of 240° as they rode the western edge of a high-pressure system. "The Southern Cross is where it should be, to port" wrote crewman Nicholas Reynaud in the online log.
Since they left New York in January 16, the Gitana crew have never stopped moving — although it wasn't always fast or in the right direction. Exiting the doldrums to the south, they were detoured by a stormy depression that cost them 500 miles — their only 'pit stop' so far. On Saturday morning, they jibed for the first time. On Saturday night, light winds had the big cat down to 4 knots and the crew a bit sleep-deprived after multiple sail changes. Despite the delays, they are still ahead of the record pace for the Route de l'Or (route of gold) set by Yves Parlier in 1989. His New York-San Francisco record, set aboard the Open 60 Aquitaine Innovations, was 57 days, 3 hours, 21 minutes.
At last report this morning, Gitana 13 was finally getting back to cruising speed in steady southeasterly wind. "The wind is back and Gitana 13 is cruising along at 25-30 knots. It's great to get back up to these speeds and be able to again tap into the boat's potential," reports skipper Lemonchois. The plan for the next few days is to keep up the pace by skirting around the west side of the Saint Helena high—which is very broad in the southern summer—by sailing along the coast of Uruguay and Argentina.
For more, including video updates from on board, log onto www.gitana-team.com/en.
Receive emails when 'Lectronic Latitude is updated.
SUBSCRIBE