Three Bridge Fiasco Lives Up to Name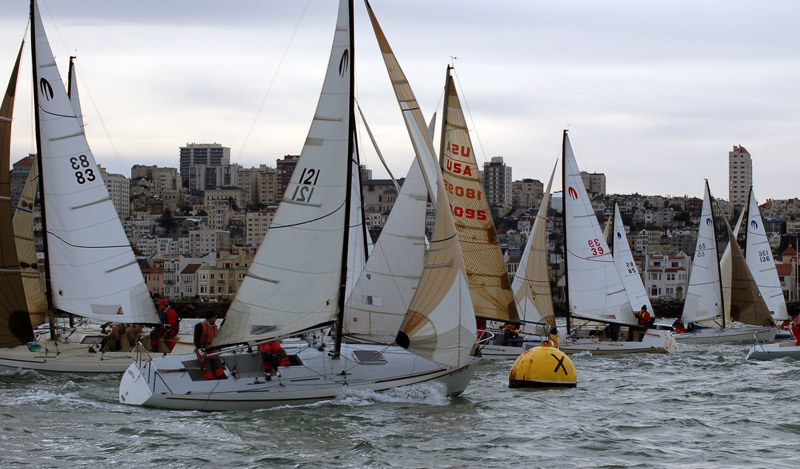 In between torrential weekend downpours, 222 boats managed to make it to the starting line of one of the most popular races on San Francisco Bay. An early morning 10-12 knot southerly breeze and clearing skies bode well for the racers who had to round the Bay's three big bridges in any order they pleased.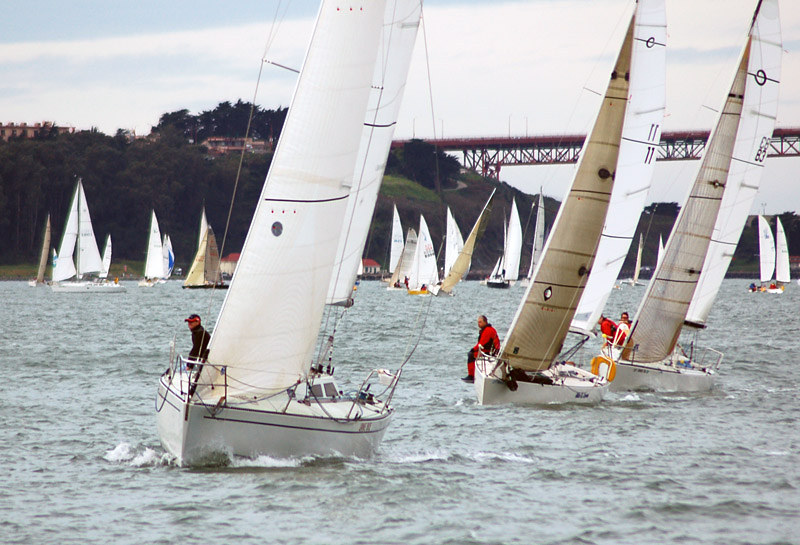 The start of the race lived up to its name, with hundreds of boats milling about every which way. From what we saw, there were no major collisions but there were a few close calls. While a good portion of the boats headed for the Gate first, the majority shot straight for the Bay Bridge.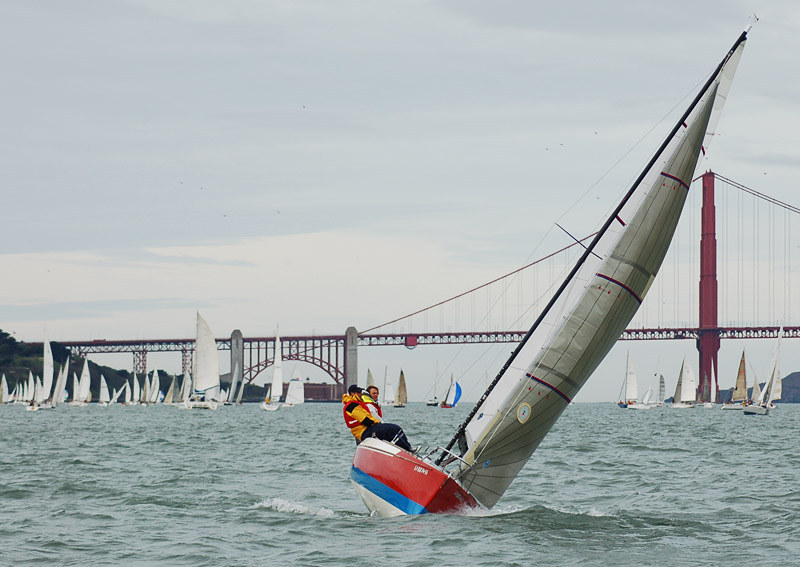 The breeze held out until noon, leaving boats bobbing all over the Bay with hardly a whisper. Some boats even lost ground with the weak flood. In the end, 55 boats dropped out due to the lack of wind.
Kudos to the following boats for sticking it out and winning their classes:
Punk Dolphin, Wylie 39 – Singlehanded PHRF <100
PainKiller, J/80 – SH PHRF 100-160
Travieso, Ericson 30+ – SH PHRF >160
Meritime, C&C 30 – SH PHRF Non-Spinnaker
Mirage, Express 27 – SH Sportboat
Adrenaline, D-Class Cat – Doublehanded Multihull
Golden Moon, Express 37 – DH PHRF <100
Arcadia, Santana 27 (modified) – DH PHRF 100-160
Chelonia, Yankee 30 – DH PHRF >160
Escapade, Sabre 402 – DH Non-Spinnaker
Motorcycle Irene, Express 27 – DH Express 27
Donkey Jack, J/105 – DH J/105
Lowly Worm, Moore 24 – DH Moore 24
Lazy Lightning, Tartan 10 – DH SF Bay 30
The Word, Mumm 30 – DH Sportboat
Mr. McGregor, Wylie Wabbit – DH Wylie Wabbit
Uno, Wyliecat 30 – DH Wyliecat 30
For full results, head on over to the Singlehanded Sailing Society's site at www.sfbaysss.org. We'll have a comprehensive report in the March issue of Latitude 38.
Receive emails when 'Lectronic Latitude is updated.
SUBSCRIBE