World Sailing Speed Record Smashed
Not generally known as a sailing mecca, Namibia seems to be the place to break world sailing speed records. Aussie Paul Larsen chose the country's Walvis Bay on the Skeleton Coast for its flat water and strong winds to attempt to break the 500-meter outright sailings peed record — held by kiteboarders for the last three years — with his custom carbon fiber, wing-sail hydrofoiler Vestas Sailrocket 2. He accomplished his dream on November 16 with a speed of 59.39 knots (55.32 knots over one nautical mile), then broke it again on November 24 with a speed of 65.45 knots!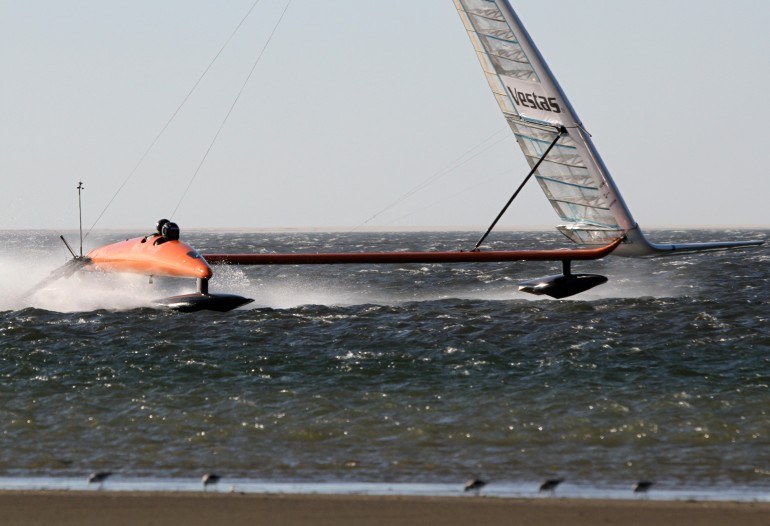 "We hit it hard and the acceleration was rapid," Larsen wrote on his blog. "We went straight into the 60s. The pod was instantly high and I sheeted in as hard as I could to try and get it down. I was now adding a pre-fix to 'fast'. It was now 'This is fucking fast'. That word is there for moments like this. I believe it ceases to be swearing." No kidding!
Even more speed records were broken in Lüderitz, Namibia, at the Lüderitz Speed Challenge, a contest for windsurfers on a flat, straight channel dug for the event. More than a dozen speed records were broken at the event, including Antoine Albeau's (FRA) setting of a new world windsurfing speed record of 51.68 knots.
Receive emails when 'Lectronic Latitude is updated.
SUBSCRIBE