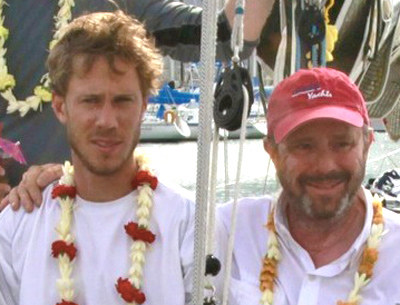 Friends report that Chris Corlett, a lifelong fixture in San Francisco Bay sailing, passed of natural causes in his sleep last week. Prior to the founding of Latitude — we're talking more than 35 years ago — Corlett was one of the top helmsman on the West Coast. In more recent decades, he sold boats for a number of different yacht dealerships.
Decades ago Corlett and Tom Blackaller — who, prior to Paul Cayard, was the most famous sailor to come out of San Francisco — were involved in perhaps the most famous mano a mano sailing duel in Northern California. You have to understand that 35 years ago Mariner's Square in Alameda was in many respects the center of sailing in Northern California, and it's where young bucks such as the vociferous Corlett challenged only slightly older established bucks such as Blackaller — and often in front of half the sailing industry in Northern California. It happened so long ago that we're a little fuzzy on the details, but either Blackaller or Corlett had bested John Beery in a match race in Lasers from Mariner's Square to the mouth of the Estuary and back. This was a big deal in itself, because not only was Beery no shrinking violet, he was also the landlord for Blackaller's North Sails and the yacht dealership Corlett worked for. After Beery was bested, Corlett and Blackaller got into a public spat over who was the better sailor. Another race to the mouth of the Estuary and back was proposed, but this time in Santana 35s. It was a bad choice of boats for Blackaller, as Corlett sold the 35s and had raced them extensively, so he clobbered the then-king of San Francisco sailing in front of much of the sailing industry. There was more than a little gloating.
Corlett's most recent racing was in this summer's Pacific Cup with his son Jesse aboard David Britt's Beneteau First 10R Split Water. "He told me it was his most gratifying sailing experience," longtime friend Allison Lehman told us. "He was so proud of his son; he called him a 'natural'."
A celebration of Corlett's life will be held at Encinal YC in Alameda this Friday, November 30, at 1 p.m. Friends and family ask that you be prepared to share your favorite photos and stories.
Receive emails when 'Lectronic Latitude is updated.
SUBSCRIBE