The Winds of Spring in Baja and Beyond
Baja California is notorious for enhanced northwesterly wind events. Northbound transits to the US West Coast can therefore be challenging in the spring. Likewise, surges of winds along the coast of Central America can change from benign conditions to gale/storm very quickly.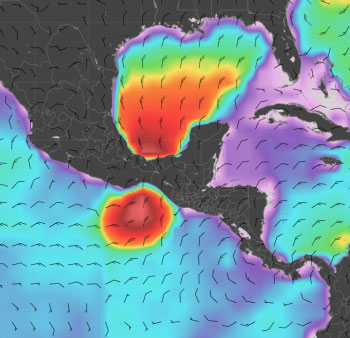 Emily Gilot, meteorologist for Weather Routing Inc., highlights some key discussion points about dominant weather patterns and common locations of wind surges along the Baja California and the Pacific coast of Central America:
The predominantly north-northwesterly wind regime across Baja California and the Sea of Cortez is produced by high pressure over the northeastern Pacific interacting with a thermal trough that tends to extend from Southern California southeastward toward Cabo Corrientes.
The winds can be locally enhanced by the geography along Baja and northwestern Mexican Riviera via funneling and by a diurnal strengthening of the thermal trough, increasing its interaction with the high pressure offshore.
High pressure over the Gulf of Mexico and the northern Caribbean drive the northeasterly wind surge through the Gulf of Tehuantepec, as well as the east-northeasterly surges through the Gulf of Fonseca and the Gulf of Papagayo.
The Central American wind surges can last a few days to a few weeks. They can generate gale to sometimes storm-force conditions.
For both areas, it is important to keep bailout ports in mind and incorporate extra time into one's itinerary to wait out strong wind surges.
To help mariners with planning their coastal cruise or delivery, WRI offers this webinar, available to watch on their website anytime. It includes an overview of the current and forecast weather pattern along Baja and Central America, using SeaWeather.net to illustrate the features discussed.
Receive emails when 'Lectronic Latitude is updated.
SUBSCRIBE