When You're Wrong in the Right of Way
In mid-October, after a summer of bizarre weather, it was 80-plus degrees and windless at Latitude's satellite office in San Quentin Village. The Bay went completely glassy for almost five days in a row — conditions that are otherwise unheard of on this always-some-kind-of-wind stretch of water. In these rare, placid moments, I grab an old, fiberglass windsurf board and go for a paddle.
On about day three of the 'paddle-athon', I spotted two alien craft skimming the water. Oh, right, they were electric foilboards, I realized, which is now apparently a thing. Each rider seemed competent, but both took the occasional fall. They were in the Larkspur Channel as a ferry, outbound for San Francisco and still in the five-mile-an-hour zone, made its way past San Quentin Prison and into the Bay. I was about 200 yards outside the narrow channel as the foilboarders headed west and toward the oncoming ferry; they were sort of half in and half out of the channel, circling in front of the ferry's course — not unlike buzzing flies. (I don't mean to imply anything derogative by that analogy. I'm referring more to their swift, erratic, hovering motion.)
I found myself growing anxious and having the strong opinion that the foilboarders should head left and unmistakably out of the channel — immediately; the time had more than passed for the riders to make clear their intention to yield to a vessel restricted by draft and maneuverability. As the ferry hit the gas and got up to its 20-plus-knot cruising speed, one of the boarders crossed in front of the oncoming vessel at a distance of what I guess was well less than 100 yards. I fully expected the ferry to give a short blast to voice its displeasure (or my displeasure). It didn't.
"You fu@*ing idiot," I thought. I was tempted to yell at the rider, but the foilboarder was just out of outrage range.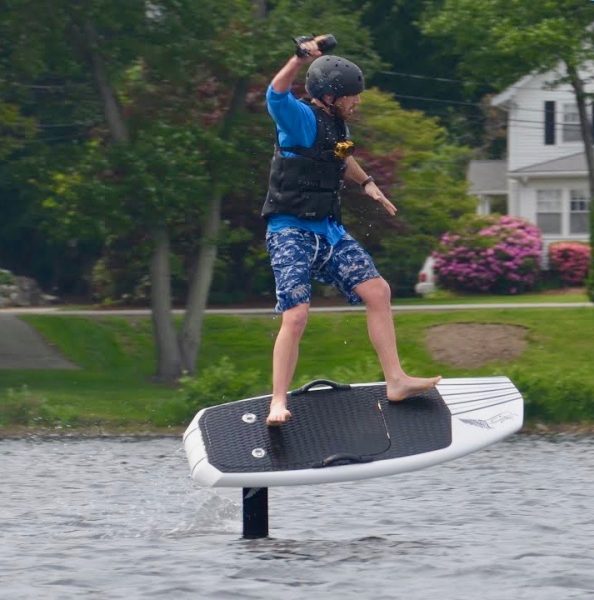 I don't recall when I had the epiphany that I almost wanted the foilboarders to be in the wrong. Maybe I wanted to lord my sense of superior, cautious seamanship over some poor hapless fool whom I deemed in violation of the code. That I was so outraged was a startling realization, and now I felt in the wrong, but wrong in the right way, I guess. (I should also say here that many of you would be appalled at my safety choices on the water, so please don't hear me claiming I'm holier than thou.) If I'd had the chance to speak with the two riders after some time had passed, I would have stuck a conciliatory tone, asking them to consider giving decisive way to a vessel in the future, adding that in addition to that course of action being an infinitely safer choice for them, it's also the considerate thing to do for the skipper of a vessel. Oh yeah, and it's the law.
Nothing brings out comments from Latitude Nation like questions of safety and rules of the road. We even have what we'll call a committed "safety squad," or readers who reliably chime in, or wag their finger (as I was ready to do) when there's even a perceived infraction.
There's no denying that certain groups of watercraft users are less likely to know and practice the rules than others. In this month's Letters, Dave Cowell of the Islander 30 Mas Tiempo noted the abundance of kayaks in the Delta this summer, saying, "It's curious how all of us have to go through the Cal Boat Card [CBC] routine, but not paddlers — be they kayakers, SUPers or rowers, they don't seem to have to get any education before mixing it up with the rest of us." Vendors and retailers and rental companies must, for the moment, be the de facto governing bodies and executors of the rules of the road to a growing swath of users. But sometimes, it feels like that responsibility falls on us.
Anyway, here's the question that I really want to ask: Have you ever caught yourself being unexpectedly outraged at someone breaking the rules of the road? Maybe your cause was legitimate and your anger righteous, but maybe you caught yourself in mid-rant. What is the best strategy, tone and reaction when someone is unaware of the rules? In the heat of the moment, I would have felt more than justified in shaming and embarrassing those foilboarders. More broadly, if sailors are always yelling at non-sailors on the water, then resentment is likely to fester. Isn't the better strategy to bring those who are unaware into the cadre of mariners looking out for one another?
Or is the occasional tongue-lashing in order?
Please comment below, or write me here.
Receive emails when 'Lectronic Latitude is updated.
SUBSCRIBE