When the Lights Are On Below, and Above
In December 2017 Marga Pretorius, a shipwright and marine surveyor, sailed out the Gate and headed south, Mexico bound, aboard her Peterson 44 Dogfish. Nearly five years later, what began as a two-year-long sailing adventure has evolved into a cruiser's life. Recently Marga found herself surrounded by a squall while anchored in Salsipuedes, Mexico. Fortunately, friends were able to help save Dogfish from the nearby rocks.
Marga shared the story on her social media:
"The video of my night of big adventure, made by Michael Gabriel and Katie Gabriel !!
It's never a good thing when you have all your deck lights on in the middle of the night — means there's some serious drama going down.
"A pretty epic dinner party / Rummikub slam-down on Dogfish was interrupted around midnight when a big ol' chubasco came rolling into the super-tight anchorage where I have anchored Dogfish for the last few days.
"Rock to rock, the tiny inlet at Salsipuedes is 120 feet wide. I had 100 feet of scope out on a carefully placed bow anchor, foregoing a stern anchor because being singlehanded, I wanted to be able to pull up and leave in a jiffy if I needed to. When the squall blew through I saw huge gusts from lots of different directions, and in an instant my stern was extremely uncomfortably close to the rocks. Anchor alarms started beeping.
"A lightning strike lit up the dark night and I saw the rocks just 15 feet away from my rudder. F@#$! I fired up the engine and motored ahead."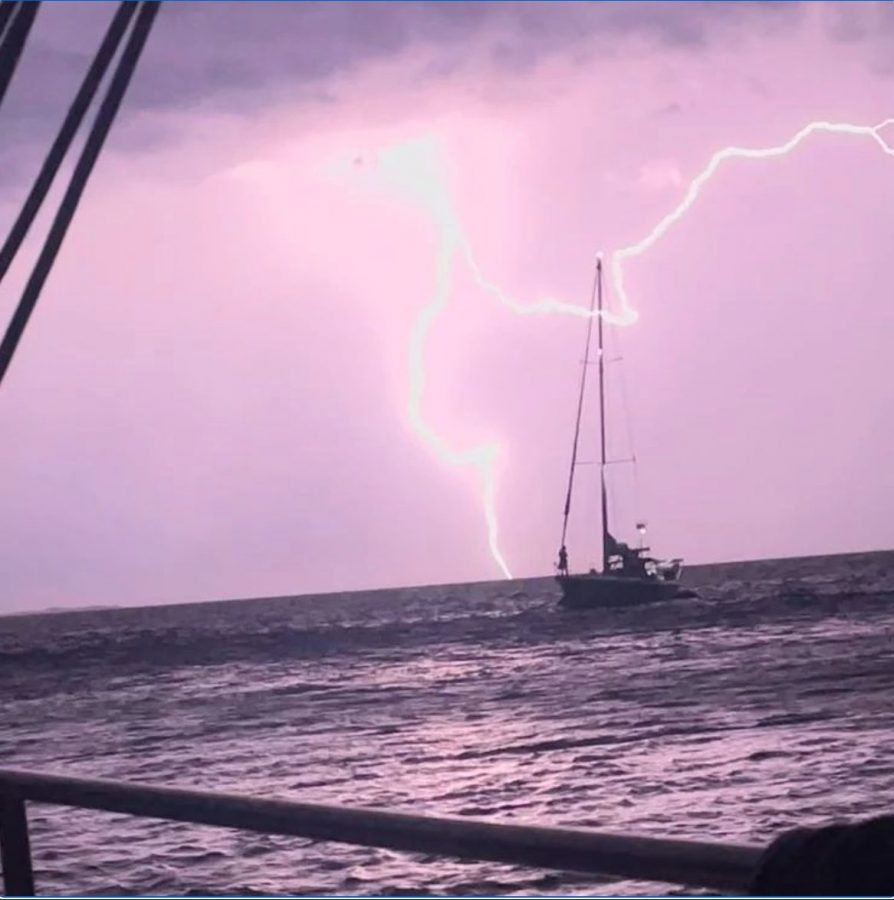 "The best cruising buddies are the ones who show up when you most need them, without having to ask!
"Before I knew it Mike from @sailingalegria was en route to me in his dinghy, life jacket on and portable depthsounder in hand. His help was invaluable! After I shortened scope I backed down on the anchor hard, with Mike at the stern letting me know how many feet I had to the rocky, angry shore."
View this post on Instagram
"All's well that ends well! Dogfish lives to fight another day; lightning never got closer than 10 miles to us, and Mike and Katie on @sailingalegria got a pretty epic video of the action!"
Receive emails when 'Lectronic Latitude is updated.
SUBSCRIBE