What Is That Mysterious Sailboat?
A few weeks back, we received word from a local sailor that an odd-looking sailboat had mysteriously appeared in Richmond. We hot-footed it over there, but by the time we arrived the boat had just as mysteriously disappeared. All we had to go on were a couple of photos and the boat's name, Reprobate. But being the intrepid reporters we are (and generally nosy) we asked around and eventually found our way to the source of the mystery. The odd-looking boat is a sharpie (yes, that is actually a type of boat as well as everyone's favorite marking pen) and is owned by Chris Gibbs, a Bay Area local who who spends a large part of the year in Florida.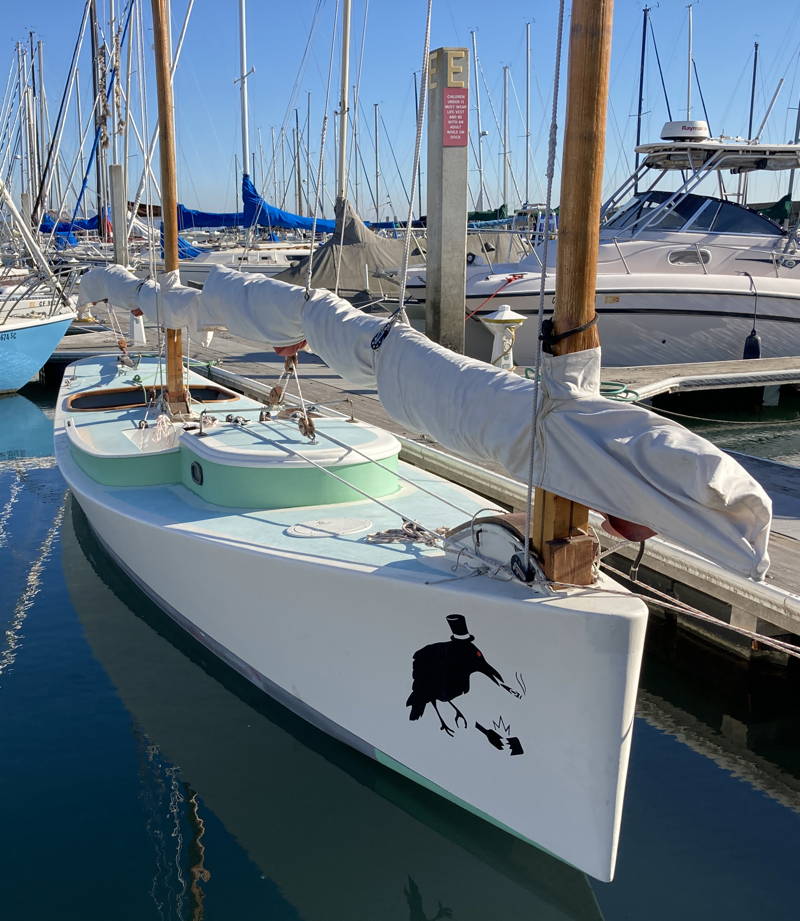 According to Wikipedia, a sharpie is a type of hard-chined sailboat with a flat bottom, extremely shallow draft, a centerboard, and straight, flaring sides. And according to Chris, the sharpie originated in the oyster grounds of New Haven, CT, and Long Island, NY.
"Apparently these sharpies were built and used in the latter part of the 19th century and the beginning of the 20th century. They were easy to build in the back yard or on an empty lot. They were absolutely flat-bottomed, and I believe they were mostly rigged with a lug mainsail — a bit like what you'd find on a San Francisco Pelican."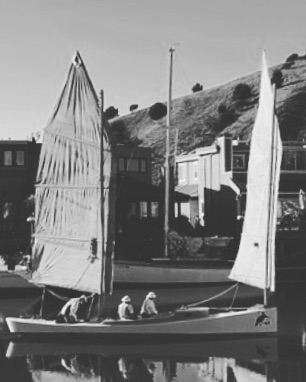 He also says,  "It has a MONSTER-sized centerboard that is activated by a winch and some unfortunate person who doesn't know any better.
"I understand the idea was that guys who were working their oyster beds would sail out light, and then use what looked like giant salad tongs to harvest the snacks. These would be loaded into bushels. This boat, in theory, was a '100-bushel boat.' They would fill the boat, hoist sail, and scoot home."
Chris knows his boat's history and tells us it was built close to where he and his wife Nicola live, in Key Largo, FL. "This particular boat was built, up the street, in the mid-1990s, I believe. It was put together at a boatyard owned by an older man named David Westphal. He was advanced in age and came down with pretty severe Parkinson's disease, and sold the yard.
"Curiously, this boat is rigged as a schooner with two masts of equal length. Ready for this? Both masts are made from bamboo. Like … no kidding, 'Key West bamboo!' And each mast is rigged with a full-battened, Chinese junk sail. Both are traditional red."
"The shocking thing about the sharpie is that it turned out to be extremely fast for what it is. Stories abound … 'stinky, drunk fishermen entering fancy yacht club races and winning.' Most were subsequently banned from racing. No beating expensive fancy boats when you look, smell, and act like that. So naturally I would be a fan." (Apparently, anyone who knows Chris can vouch for this.)
"Truthfully, all of that made me roll eyes and think, 'When I get back to the West Coast — two real sails, carbon sticks, maybe wishbones! Yeah!' Then my friend Kim and I put the thing together at the Richmond Yacht Club, and he and a few real talented folks got on board and sailed it around. Holy Hat! Smiles all around. It went pretty fast.
"I think we were all of the same mind concerning the bamboo and the tanbark and junk rig, but really? It worked really well, and the only problem was that we couldn't really figure out why it was working."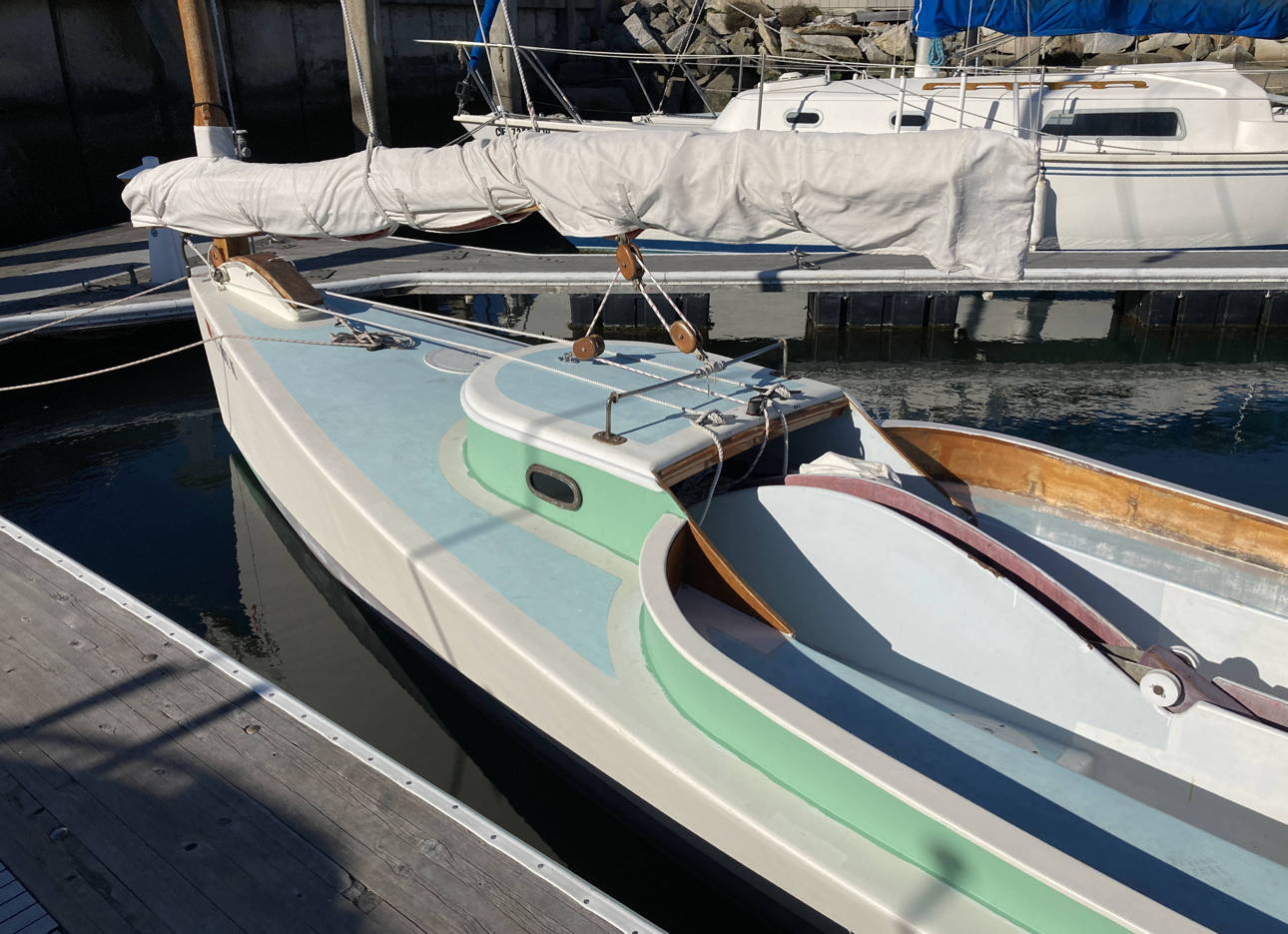 "For instance, I went out with Kim, and he is up forward and announces, 'OK, now I'm going to take in two or three mighty armloads of sheet. The telltales look good; now let's see what happens!' In the sail came, telltales still flying as they should. I guess at that point we opened the beer and decided not to hurt ourselves trying to figure it out — get our best 'hippie' on and just let things 'be' and drink beer."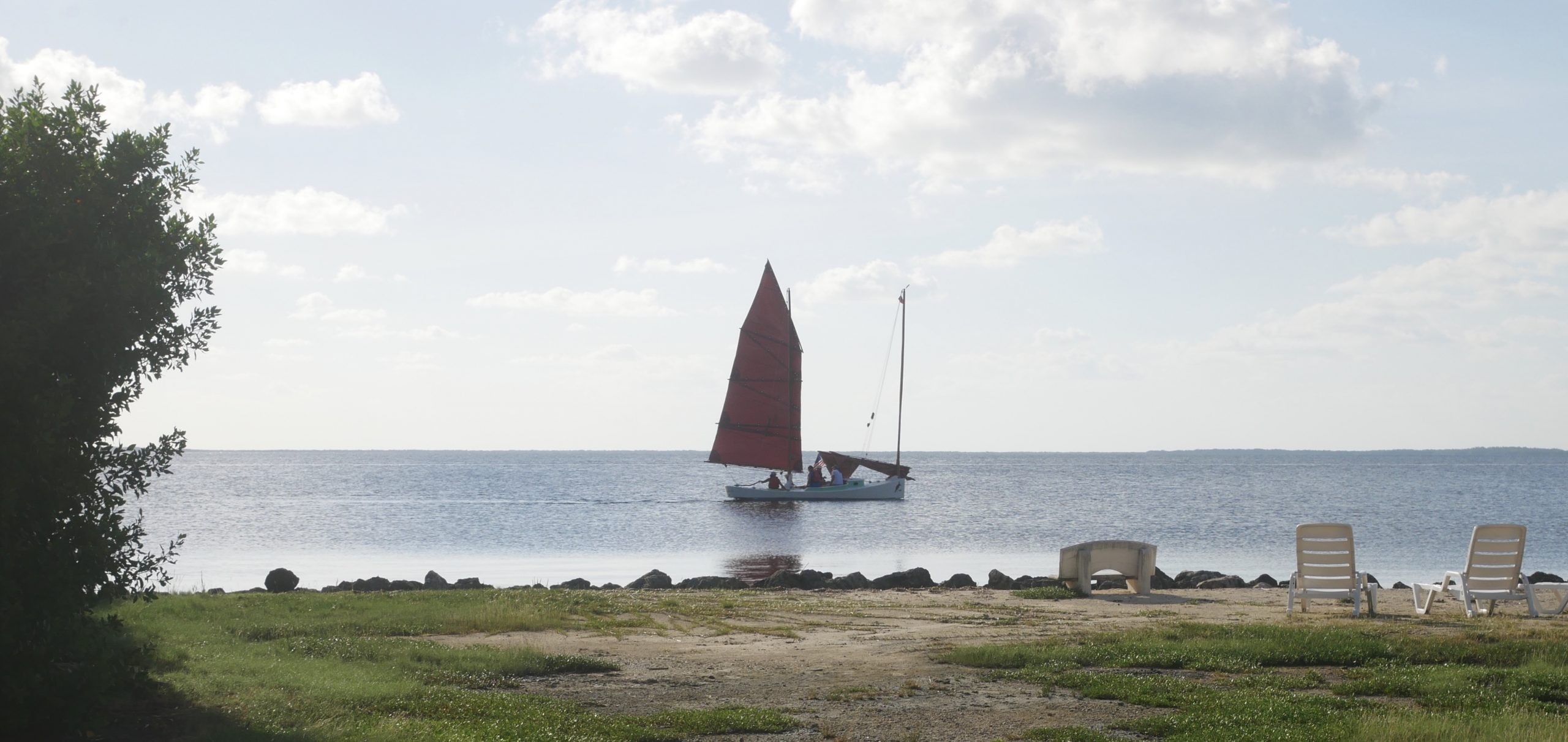 Chris has quite a distinguished sailing background. He grew up in California, "mostly at the Vallejo Yacht Club" — where his father was a commodore — and has been "racing one boat or another" since he was around 10 years old.
"I was lucky enough to race a ton of PHRF [Performance Handicap Racing Fleet] and ocean stuff with his [father's] Santana 30 Obsessed, and I then was honored to become a difficult-to-remove crew for Bob Klein's Leading Lady after I was old enough to drive."
As an adult, Chris has owned a variety of boats — Cal 20s, Ranger 23s, an Aphrodite 101, and currently a Wyliecat 39, Checkered Past. He and Nicola have taken Checkered Past up the Delta and down the West Coast, spent almost a summer in Catalina, raced to it Hawaii, and sailed it in Northern Europe — "as my wife is German."
But for now, both boats are tucked in at home.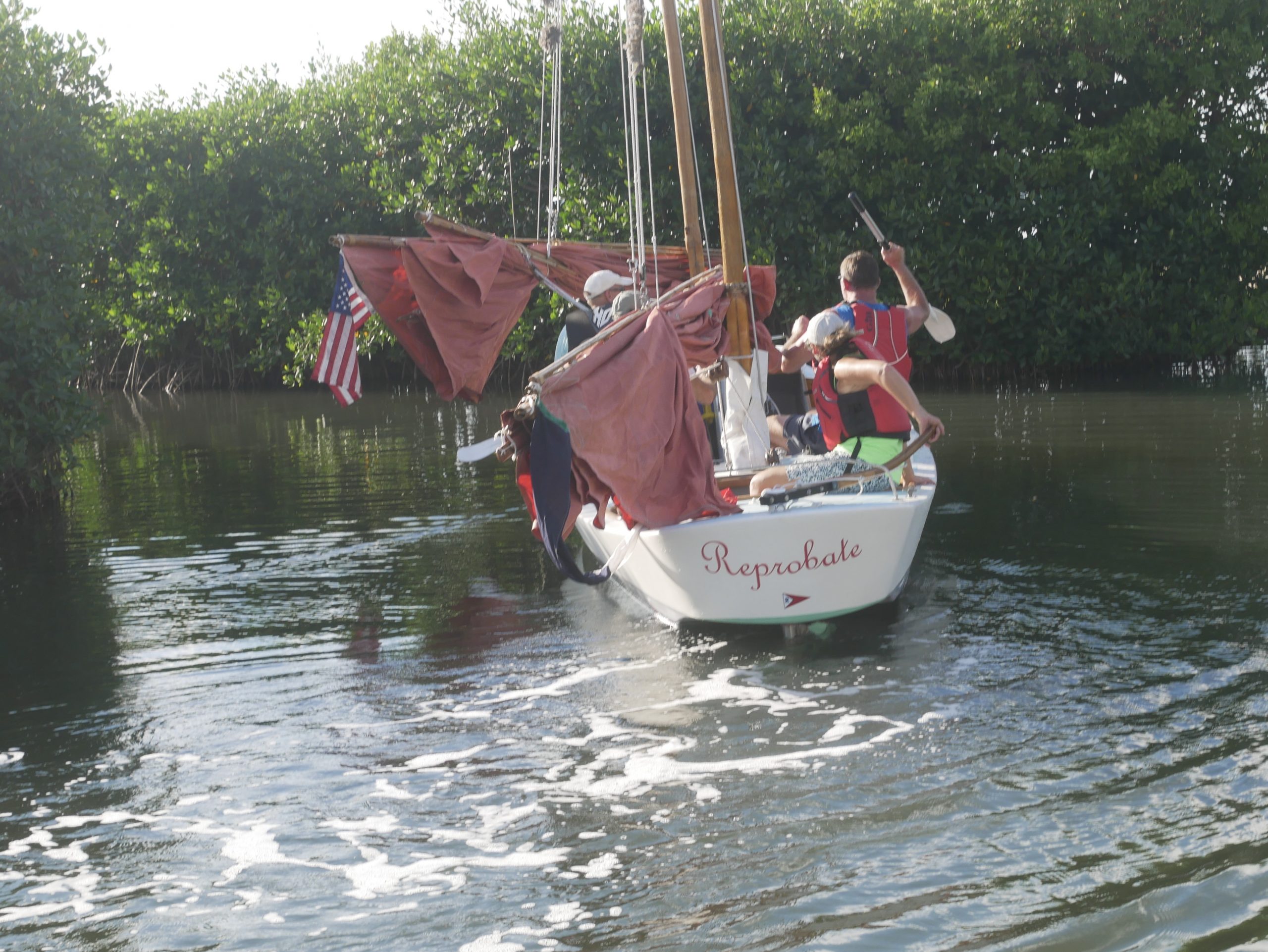 "Reprobate is up in Plumas County at my cabin right now. We are in Key Largo for the winter. When we get back to California in the springtime, Reprobate will reappear at Richmond."
When spring rolls around, if you're out sailing or walking the docks and see Chris and Nicola aboard Reprobate or Checkered Past, be sure to say, "Hi." Maybe you can ask Chris how Reprobate got its name . . .
Receive emails when 'Lectronic Latitude is updated.
SUBSCRIBE