West Coast Boats Enjoy Podium Finishes at BVI Spring Regatta
Seventy boats celebrated 50 years of fabulous sailing and island fun over five days of outstanding racing in perfect conditions at the BVI Spring Regatta and Sailing Festival, held March 27 to April 2. The BVI Spring Regatta is undoubtedly one of the most beloved regattas on the Caribbean racing circuit, and this year, the competition could not have been better — nor the conditions: warm turquoise water, temperatures in the mid-80s, and a consistent breeze in the high teens every day. Oh, and super-fun parties every night in the regatta village as well as the Nanny Cay Resort and Marina (the host sponsor) beach bar.
This year was notable, not only because it was the 50th edition of the regatta, but because there were more than just the usual handful of West Coast competitors. Ten groups of sailors from the Western United States made it to the BVI for the regatta's 50th anniversary celebration, including a group of women from the West Vancouver Yacht Club calling themselves the Salish Sisters: Kelly Wharton, Kerry Phillips, Kathy Parslow, Kelly Brix, Lisa Andersen, and Melanie Brisbois, who raced on Spirit of Juno, a Farr 65, in the CSA 1 division.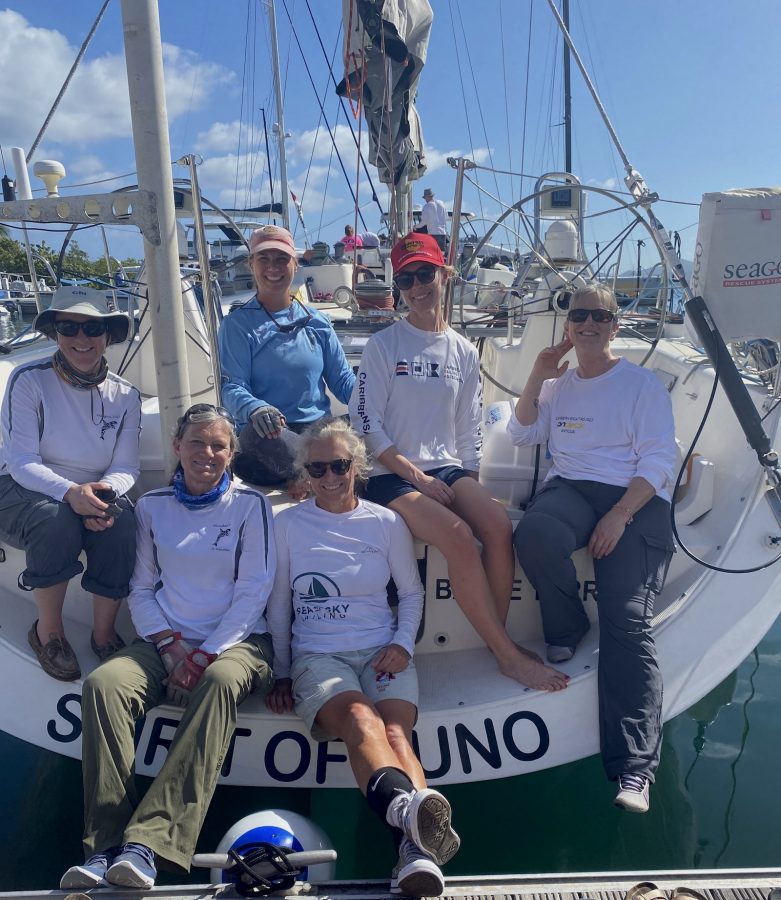 "The BVI Spring Regatta and Sailing Festival delivered a sailing experience beyond expectations," Kelly Wharton said with a big smile. "On the first practice day, the Salish Sisters stepped on our Farr 65 ride and felt like characters out of Gulliver's Travels. The bow was a football field away, barrel-size winches loomed in the pit, and the sequoia-wide boom floated overhead. We soon learned that the principles of sailing, whether you have an Opti or a Farr 65, are universal. The skills we had acquired from years of cruising and racing directly transferred to larger boats, albeit with some important caveats. We felt confident in our positions, nailed the starts, and ended every race with smiles and laughs."
She added, "The BVI weather was beyond perfect: 20-25 knots, sunny skies, and aqua waters. Between tacks, jibes, and sail changes, we soaked in the spectacular and dramatic BVI seascapes, especially the wild windward sides of Ginger, Cooper, Peter, and Norman islands."
Jonathan Cruse and his friends from Seattle chartered a Sunsail 46 and raced in the Bareboat 1 division, and Peter Nelson, also from the Seattle area, raced with friends in the Bareboat 2 division on a chartered Sunsail 41.
In the Cruising Multihull division, Ron Boehm, an I-14 sailor from Santa Barbara, California, raced his boat Little Wing, a Perry/Antrim 52 that he keeps in St. Croix. Boehm took second in the division.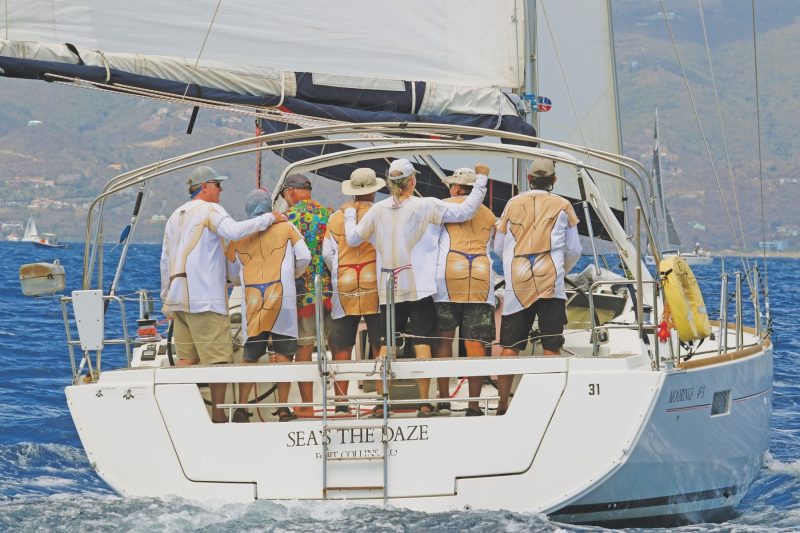 Continue reading at Latitude 38.com.
Receive emails when 'Lectronic Latitude is updated.
SUBSCRIBE