Virtual Education and Enrichment
As we shelter in place and catch up on our reading, studying, streaming and viewing, it occurs to us that it is like we are having a second winter season — without, alas, any midwinter racing! Below are some suggestions to help youngsters and adults enhance their maritime education.
San Francisco Maritime National Park Association
Youth maritime education goes online. According to the inaugural electronic edition of edition of Maritime Stories and Education, "There will be no idle hands on THIS ship! The SF Maritime Association is proud to provide teachers, parents and youth with a new online maritime education center. You can browse many maritime videos and learn knot-tying and rigging cargo to name just a few activities. Enjoy mates!" Navigate on over to https://maritime.org/education/online-learning.
Adults can read stories, do research, browse museum collections, and sign up for the newsletter at https://maritime.org.
Boating Clean and Green
You can add to your viewing list this batch of educational videos about clean boating:
Oil and Fuel Discharges. How to report oil and chemical spills; how to properly dispose of used oil; environmental laws; and information on other clean and safe boating practices recommended for before, during and after fueling boats.
Marine Sanitation Devices and Y-Valves to educate boaters on the harmful effects of discharging sewage overboard.
Also from California Boating Clean and Green is the Dockwalker Training Program. These trainings normally happen in waterfront venues around the state, but now they've gone online using the Zoom video conferencing system. You will be able to see the instructor live and ask questions.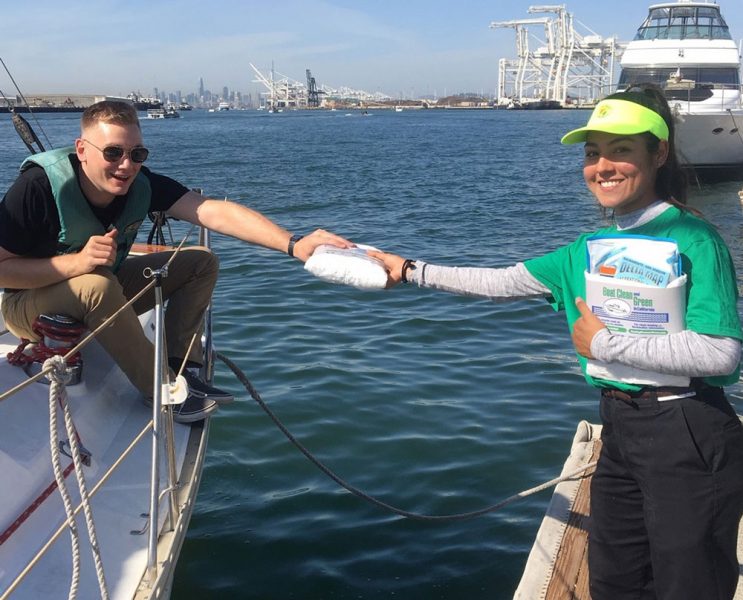 Virtual Dockwalker trainings scheduled for Northern California:
Saturday, April 4, 9:45 a.m.-12:45 p.m.
Saturday, April 18, 9:45 a.m.-12:45 p.m.
Saturday, May 2, 9:45 a.m. to 12:45 p.m.
Southern California:
Saturday, April 25, 9:45 a.m. to 12:45 p.m.
Saturday, May 9, 9:45 a.m. to 12:45 p.m.
You'll need a computer with internet access and the computer's speaker and microphone or a phone to call in. You do not have to have a Zoom account to attend a Zoom video conference meeting. Once you get the link, you'll be prompted to download the software. It's quick and easy.
Register for one of the virtual trainings mentioned above by emailing Vivian Matuk at [email protected]. Include your name, organization (if applicable), address and phone number, and which training you want to 'attend'. The trainings are free.
Dockwalkers, who can be age 15 on up, share clean boating information with boaters and distribute educational 2020 California Boater Kits while visiting marinas, launch ramps, marine supply stores, boat shows and special events.
ASA Webinars
Not free but pretty cheap are American Sailing Association's webinars. (They're $20 or $30 each depending on whether you're a member.) Peter Isler leads these three premieres this week:
Sailing Safety — A Personal Perspective
Thursday, April 2,  6 p.m. PDT
A Busman's Holiday — A Balearic Island Cruise
Saturday, April 4,  6 p.m. PDT
Cruising Easy – Sailing Tips from an Expert
Tuesday, April 7, 6 p.m. PDT
We may remember 2020 as the year with two winters and no spring, but hopefully we'll get a busy and active summer filled with sailing in the sun — or fog, if you happen to sail in San Francisco!
Receive emails when 'Lectronic Latitude is updated.
SUBSCRIBE