Trouble Ashore At Tenacatita Bay
Tenacatita Bay, the four-mile by four-mile bay on mainland Mexico's Gold Coast between Puerto Vallarta and Manzanillo, and just north of Barra Navidad, has long been a favorite with cruisers. Its calm anchorage offers access to surfing, the 'jungle ride', the 'aquarium', the ruins of the McHale's Navy movie set, the village of La Manzanilla, and all kinds of friendly vendors ashore. It's so popular with cruisers that often a 'cruiser mayor' is selected, and there is always a wealth of cruiser social activities such as Friday Night Dinghy-In Movies. Indeed, some cruisers will spend months of every season there.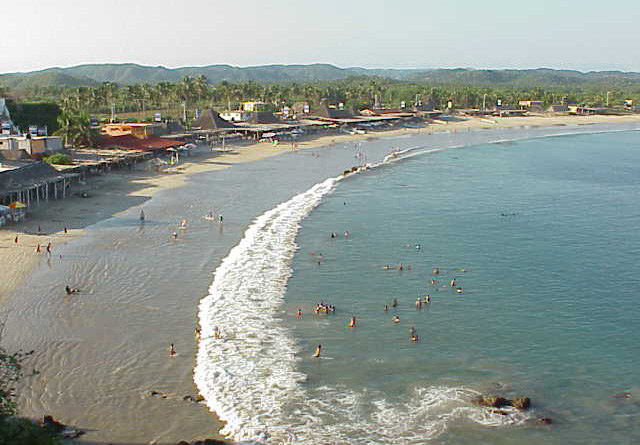 According to the Guadalajara Reporter, in the early hours of August 4, 150 members of the Jalisco State Police swooped down on the shores of Tenacatita Bay and evicted 800 locals who were living and working on a undeveloped section of beach. Some of those people, including many who served cruisers, have been living and working on the beach for 40 years. Twenty-seven people were arrested, although only 11 were held, and three suffered gunshot wounds. Just as bad, many of the 'homes' people have along the shore were badly damaged and their valuable appliances thrown into the street or taken away. And the former residents weren't being allowed back except one at a time, and when accompanied by a guard.
State police told the Guadalajara Reporter that they acted on the order of a judge in Autlan, who ruled that some 50 families were illegally occupying land that belonged to Jose Maria Andres Villalobos, a successful and influential businessman and realtor, former president of the Guadalajara Chamber of Commerce, and current president of Expo Guadalajara. Villalobos, says the report, has been trying the get the low-income families evicted from the land for two decades, ever since he purchased 42 hectares of Tenacatita beachfront land from the wife of a former state governor in 1991. He apparently got federal beach concession rights, which are a seperate thing, in 1993.
On the other hand, Francisco Martinez Flores, the ejido (local land commune) commissioner for El Rebalsito, told the Reporter that the ejiditarios own the 42 hectares and have the land titles to prove it. La Huerta Mayor Carlos Ramirez Nuñez called the eviction "unfair," and said municipal authorities would do all in their power to help the families return to their homes.
But if they ever get back to their homes and businesses, there may be nothing left of them. After the families left in pick-up trucks with their belongings – some making as many as 10 trips to and from the highway – police brought in heavy machinery, presumably to demolish the palapa huts and homes, and blocked the only road leading to the beach. No one was allowed in without an "official" escort. Both the La Huerta municipal secretary and a Puerto Vallarta-based Jalisco Human Rights Commission observer had to give up their cellphones and cameras to police before they were allowed to enter the area. La Huerta municipal cops who turned up to provide "additional security" were also barred from entering.
For the wonderful families who worked on the beach and were so nice to cruisers, this is a terrible turn of events. The question is not whether or not cruisers will be able to anchor in the bay and continue to come ashore. We will. It's whether there will be any services in the future, and if, as has been rumored, the bay will soon be turned into a Pacific Coast version of Cancun.
Receive emails when 'Lectronic Latitude is updated.
SUBSCRIBE