A Tropical Paradise Awaits Solo Yacht Racers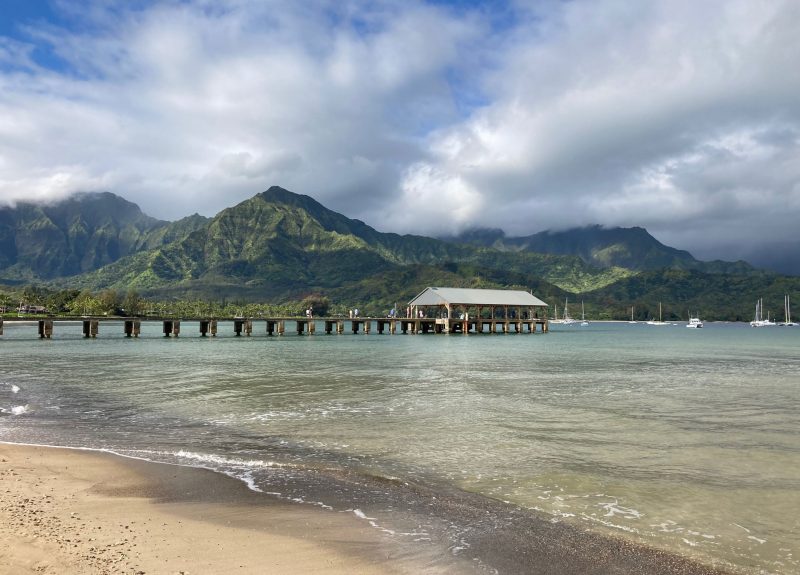 As we write this update on Friday morning, the trade winds have filled in for the entire fleet of the Singlehanded Transpacific Yacht Race, holding all the way to Kauai. If anything, the wind is building.
Tracking the Fleet
With breeze in the high teens, San Diego-based Kyle Vanderspek's Hobie 33 Aloha is stretching out on the fleet and rapidly approaching the Garden Isle. At 8 a.m. PDT, the only planing hull in this year's race was making 8 knots and had 241 miles to go to the finish line off Puu Poa point. We're no math majors, but a simple calculator tells us that puts Kyle 30 hours away from Hanalei, for a finish on Saturday afternoon.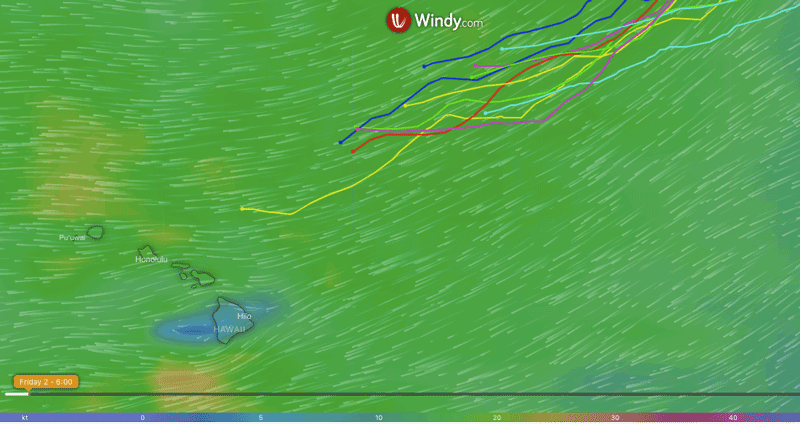 A greater mind than ours (belonging specifically to SHTP veteran Rob Macfarlane of the N/M 45 Tiger Beetle) has put together a spreadsheet analyzing distance made good, using data collected from Jibeset.
Our colleague from norcalsailing.com explains the Jibeset tracker: "Using the Iridium satellite system. the racers buy their own Garmin inReach or Iridium GO!, and the signals are sent out to the public Jibeset tracker web page. The racers also communicate via text or email with the race committee and family using the Iridium devices. There is an 'I'm OK' button on the transmitters that is used for a daily check-in. Iridium also has an emergency button that can send a help message, but all boats are required to have a full EPIRB on board. The racers are expected to use that if there is any trouble.
"The SSS tried Yellowbrick trackers when the technology was still new, and although it worked much better than the old way of SSB radios and a relay boat sending out the information over the air, Yellowbrick is expensive. One of the problems with using individually owned transmitters is they can't be synched to ping a position at the same time. So a little math needs to be used to get an idea of how the boats are doing against one another during the race. But that makes it fun, as the winners won't be determined until it's over (just like the old days). By creating their own tracker page with off-the-shelf hardware, the racers save a lot of money, and yet we still get to enjoy the race at home."
The time stamps on the tracker, by the way, are in PDT, not HST.
From Aloha
The racers themselves have been sending messages that the Singlehanded Sailing Society is posting on their forum. Here's one from Kyle on Aloha, posted yesterday: "Sometime around dinner, after I had written my last update about the blind rumble strip driver that was the autopilot, I decided to throw in the towel on that head unit for the Pelagic and try out the spare one that I had brought in case the original one died."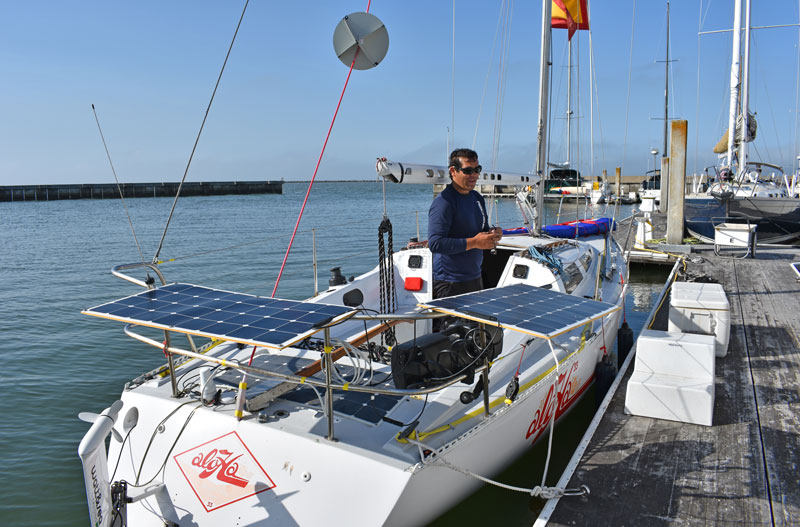 "The spare one is borrowed off of Elliot James's boat Bloom County and is programmed to face a different direction. Because of this I had to basically duct-tape it to the outboard backrest on the port side of the cockpit backrest. However with the 'install' complete, I plugged it in and put it to use and it drove (and continues to drive) straight as an arrow! Such a relief to be able to relax knowing the boat will continue on its same course without constant attention from yours truly.
"This unfortunately backfired on me some time around midnight as a minor wind shift that I didn't feel let the spinnaker collapse and wrap itself about a dozen times tightly around the forestay. It couldn't have been wrapped/wrapping for more than a minute, but the damage had been done and it required lowering, disconnecting and an extensive headlamp-lit struggle on the bow in the dark to get it unwrapped.
"Eventually, after getting it unwrapped and totally doused, then re-packed and re-set, we continued on our merry way with speeds likely never dipping below 6 or so knots thanks to the continued push by the main and staysail."
From Green Buffalo
On Wednesday, Cal 40 sailor Jim Quanci wrote: "Smooth sailing… 12k-14k… saw 17 knots a bit (which makes napping a bit 'edgier'… going to take some time to acclimate to sleeping under chute in the increasing winds. You would think I would be used to it… but not yet).
"Read a book yesterday… Beneath a Scarlet Sky... Not that I planned to read a book. But things are so "steady" — getting a bit bored. And then book #2… what I found in the SHTP goodie bag… halfway through Jackie Philpott's Not a Yacht Club. Great fun reading about old friends!
"Running down the rhumb line."
From Hula, Northern Star and Mountain
"After a terrible beginning to the relationship," writes Bill Stange of the Westsail 32 Hula, "the spinnaker sock and I are now the best of friends! He saved my butt twice last night." Later: "And suddenly the sea surface burst to life as hundreds of flying fish took flight to avoid the hard charging (OK, chugging) bow of the Westsail 32."
"Spinnaker snuffer has tangled itself tightly on headstay both preventing me from getting it down and from unfurling jib, so the pace will be slow until/unless I can clear it," writes Jamie Wylly on the Sabre 426 Northern Star. "The spinnaker was presenting a danger and I cut most of it away so will be without for remainder of trip. All material and lines on boat, nothing was left in the ocean."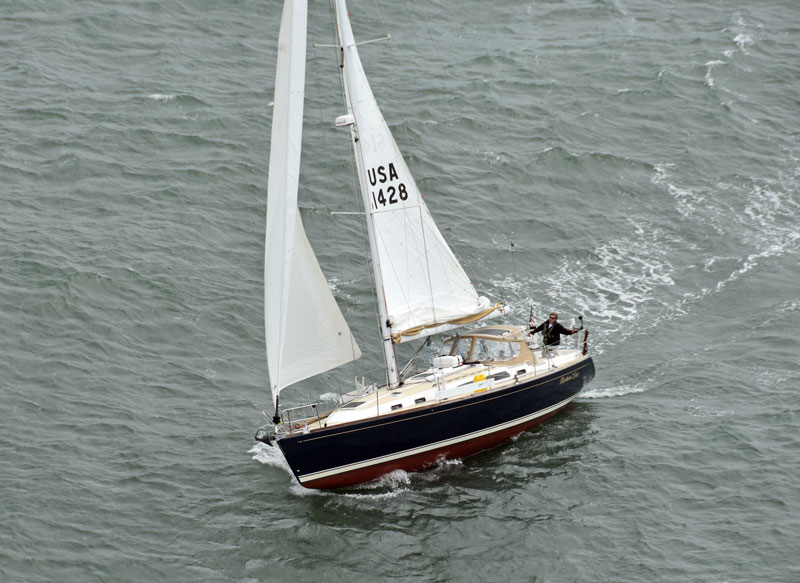 "It"s been a busy few days aboard Mountain," writes J/109 sailor Reed Bernhard. "I had the distinct pleasure of fishing a couple of my sails out of the sea. This type of thing happens from time to time; one prefers it not to happen in a race though. Nothing damaged, just a bruised ego and a loss of a few miles to my competitors. I remind myself that each of the other 10 yachts is also having their share of minor misfortunes. It"s how we handle them that makes the difference."
Read much more of the missives from mid-Pacific on the SSS forum.
Sad News from Perplexity
Earlier this week, we received the following note from John Wilkerson of the Express 37-1 Perplexity: "The Seattle sailor, Greg Mueller, who was killed during a race week last week? He was going to help me deliver Perplexity back to Seattle. He was a really nice human and well known in the sailing community. He wasn't a world-class racer or anything. Just someone who loved to sail and tried to do so every weekend whatever the boat."
For the report on Greg Mueller, please see Wednesday's 'Lectronic Latitude. Our condolences to John and to all of Greg's friends and family.
Receive emails when 'Lectronic Latitude is updated.
SUBSCRIBE