While lying in our bunk this morning, using our iPad to check Hurricane Paul's path toward Baja, we were reminded how dramatically cruising has changed in the last 30 years. Our first race/cruise to Mexico was the early November Long Beach to Cabo and La Paz Race of '81, which we did on our Freya 39. Back then we had no idea, in so many ways, of what was going on.
For example, once we started, we got no more weather information — which, in any event, was so primitive at the time — until we passed Cabo six days later. Even if we had been sailing into a northbound hurricane, there would have been no way to alert us because, as we recall, SSB radios weren't required. As such, we were unable to talk to anyone not on our boat until we passed Cabo.
When it came to navigation, we dead reckoned the entire way. The then-new SatNav, which gave a position every couple of hours, was too dear. And GPS was just a dream in the Department of Defense's eye. Sure, we had a sextant, but the only guy who knew how to do sights had a new girlfriend aboard, so he was preoccupied with a more earthly heavenly body. We couldn't afford radar, and AIS didn't exist.
All in all, racing to Mexico in those days was a much more raw and adventurous experience. In some ways we miss it. But in other ways — particularly when speaking as the Grand Poobah of the Ha-Ha — we don't miss those 'ignorance is bliss' days at all. Thanks to incredibly accurate weather forecasting, particularly when it comes to watching for the potential development of tropical storms, we now have a lot of advance warning of problems — tropical storms don't just form out of nothing — and a decent idea of what's actually going on.
If you cruised/raced south before the '80s, the first hint you had of an approaching hurricane was huge, long period swells from the south. All you knew is that there was something big out there somewhere. Nowadays, we get massive amounts of weather information. Before and during each day of the Ha-Ha, which starts in two weeks, we'll be in contact with Commander's Weather, and other sources, not only to see if there are any late season tropical storms forming down by Guatemala, but also if the conditions down there are even favorable for the formation of tropical storms. And while it's not possible to guarantee the exact path of tropical storms, nowadays you can get a decent idea of where they are going, how long it's going to be before they get there, and when and where they are going to fizzle. The net result is that there would normally be about a week between the time the potential of a storm was detected, and the unlikely possibility that a such a storm would develop and reach lower Baja in early November. That means if some cruiser was really freaked out, they could be back in their berth in Marina del Rey before anything hit Turtle Bay.
If you're a first time Ha-Ha participant and/or southbound cruiser, you may look at today's various weather forecasts and be concerned about what Paul might portend for the Ha-Ha. After all, Paul is headed toward and along the Pacific Coast of Baja, and is likely to bring pretty strong winds as far north as Bahia Santa Maria and even Turtle Bay. Even if you're not concerned, we are, because we take tropical storms and hurricanes very seriously. After all, more than most people, we've seen firsthand the tremendous damage they can do.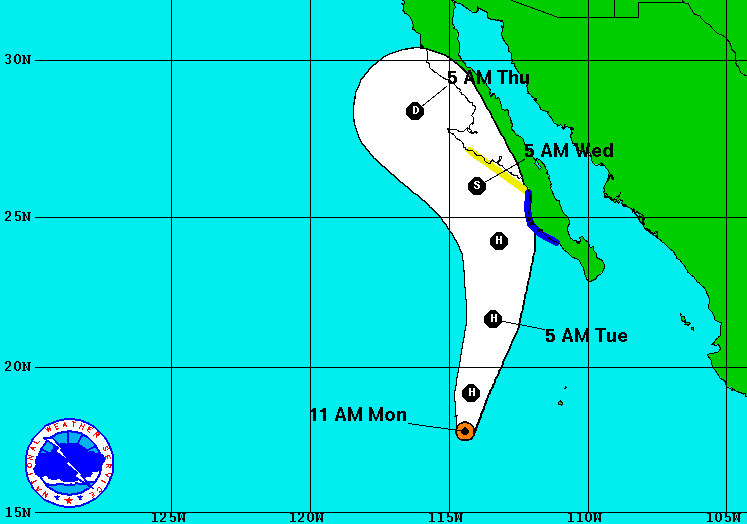 At this point, we're not particularly concerned, because mid-October hurricanes are as common as dirt off Mexico. And as the days get shorter and the temperatures drop along Baja, so do the chances of tropical storms. We've noticed, for example, that the heat has definitely broken in the Sea of Cortez. In places such as Puerto Escondido, San Carlos, and La Paz, the nighttime lows are down to 70 degrees and even lower. The locals are probably putting on their winter coats and ski mittens. And, after the rains of the next few days, are going to be dazzled at how clean their boats are and how green the desert has become.
The one thing that concerns us a little more than normal is that the water as far north as Turtle Bay is a little bit warmer than normal, and warm water is the fuel for tropical storms. It means that the fishing has been spectacular along the coast of Baja, but it also means we're going to pay even closer attention to the possibility of tropical storms.
While history is no guarantee of the future when it comes to the stock market and weather, we can report our research has shown that no tropical storm or hurricane has ever crossed the Ha-Ha route during the Ha-Ha dates. And while it is true that hurricane season technically doesn't end until the end of November, the few November hurricanes there have been in Mexico during that month have all been far to the south. And southern Mexico, as any drug smuggler can tell you, is a long, long way from northern Mexico. Once late season storms get to the latitude of Puerto Vallarta, they pretty much hit a wall. But there's always a first time for everything, so we'll be monitoring the situation via Commander's Weather and other weather resources — and being glad that it's not still 1980.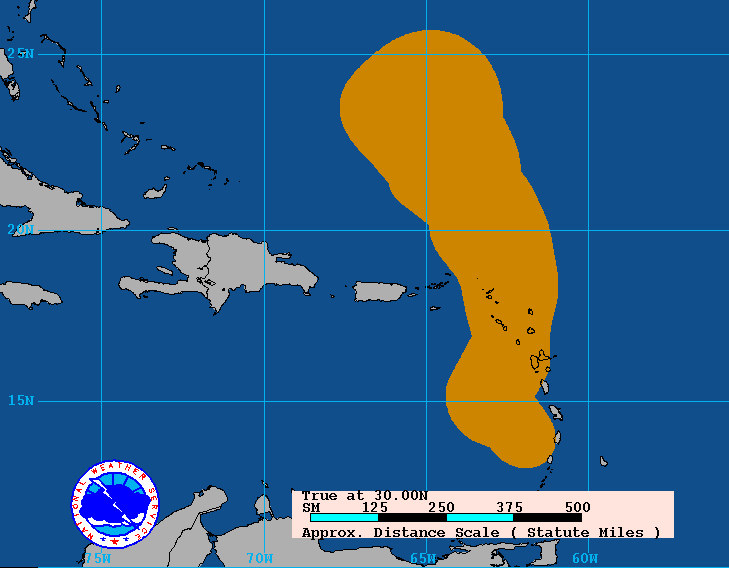 Meanwhile, over in the Atlantic/Caribbean, it looks as though Tropical Storm and near-hurricane Rafael travelled north between the British Virgins to the west and St. Martin, St. Kitts, and St. Barth to the east, leaving lots of rain and perhaps flooding, but not much wind damage. For us personally, that means Rafael travelled between our Leopard 45 'ti Profligate at the BVI Yacht Charters base in Tortola and our beloved Olson 30 La Gamelle sitting in a tire-cushioned hole in the ground in St. Kitts. While our boats both got a great washing, we'll be glad when hurricane season is over.
Receive emails when 'Lectronic Latitude is updated.
SUBSCRIBE