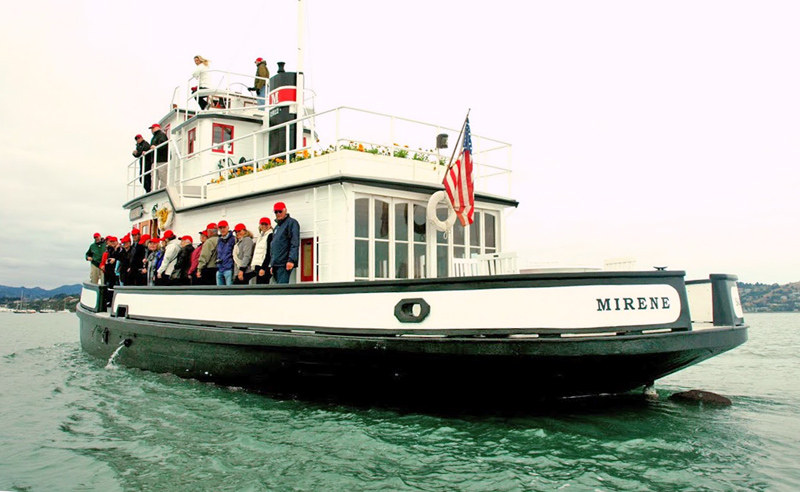 Few boats ever make it to their 100th birthday, and fewer still in as good a condition as the former Alaska cannery schooner turned tugboat/houseboat Mirene. But then few boats have the dedicated attention and care of owners such as Sausalito's Stewart Brand and Ryan Phelan
Mirene was built in 1912 at the Kruse and Banks Shipyard in Coos Bay Oregon. She is 64 feet, planked with fir, and was fitted with a gasoline engine in addition to her schooner rig. She was commissioned by Seattle businessman Frank C. Barnes to work carrying passengers and supplies from Seattle to his Alaska canneries. She later ended up on the Oregon and Washington Coasts carrying cargo and passengers from river to river. As was typical of boats of that era, she encountered storms, groundings, and even some close calls with fires.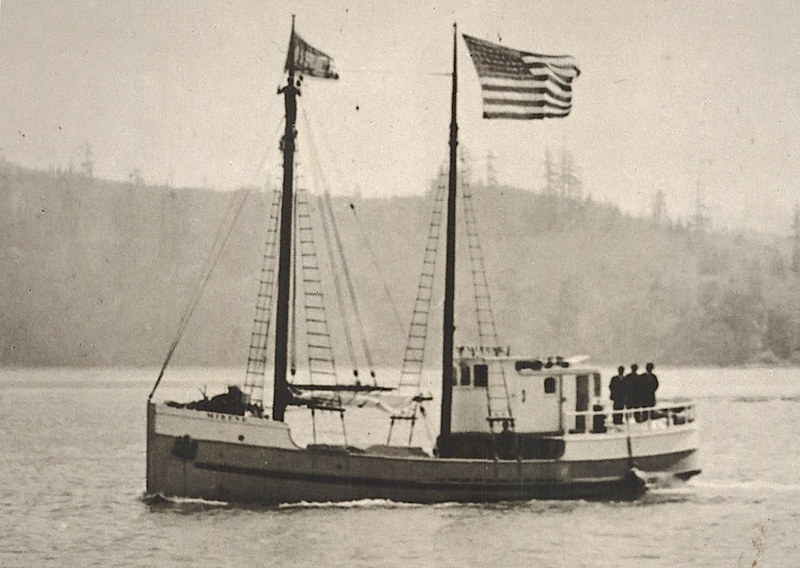 She was later converted to a diesel tug and hauled logs on the Columbia and Willamete Rivers, and eventually became the founding vessel of the Mirene Company, which ran tugs out of Portland. After that she worked at sea as a fish boat.
In the mid '70s, an old and tired Mirene was sailed down the coast to Sausalito, where she was left to her fate. Some hardware and items were stripped for salvage and she became a derelict houseboat in what was known as the Dredgetown Community.
In '82 Brand and Phelan bought the hulk for $8,000. Stewart is well known in Sausalito and even around the world as the creator of the Whole Earth Catalog, and The Well — one of the first online forums — and is known as a tech visionary. Ryan is a social entrepreneur who has started several health-related companies. The couple were also avid sailors and an integral part of Sausalito's waterfront community.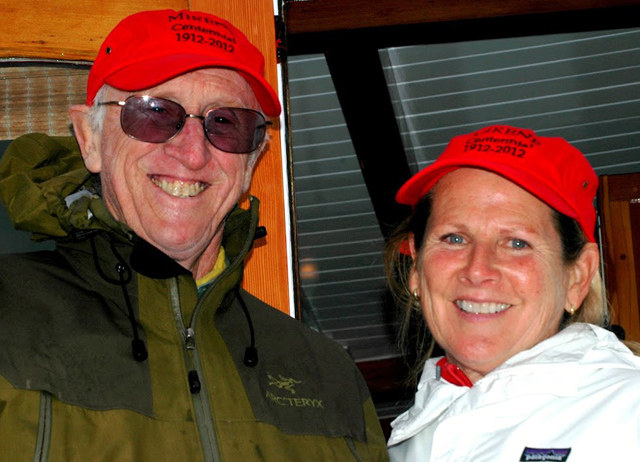 Stewart and Ryan soon gathered all the abundant talent and skills available on the Sausalito waterfront to transform Mirene from a rotting hulk to a comfortable home, as well as a navigable and operable vessel. After 30 years and gallons of paint, varnish, caulking, wood replacement, and even a new engine, Mirene now shines, looking every bit as good, and possibly even better than when she was launched in 1912.
To celebrate, Ryan and Stewart threw Mirene a birthday party on Friday. And if you're going to have a birthday party, naturally you invite the 'family'— in this case extended family of builders Kruse and Banks and owner Frank C. Barnes. Over 20 family members attended, some from as far as Colorado and Minnesota. Guest of honor was Mirene Daigle, great-granddaughter of Frank Barnes, who celebrated her 89th birthday on Friday.
Partygoers were treated to a birthday cruise on Mirene. Despite heavy overcast and threat of rain, spirits on board could not be dampened. The families presented Ryan and Stewart with a beautiful album of old photos from Mirene's construction and days as a cannery supply schooner. It may have been a damp and chilly day, but Mirene didn't seem to mind, after all, the whole family was there to wish her happy birthday.
Receive emails when 'Lectronic Latitude is updated.
SUBSCRIBE