Tholke v. Energy Team Deal
Remember back at the end of September when the French Energy Team's AC45 cat broke loose from its mooring off the San Francisco waterfront and drifted onto the rocky western shore of Treasure Island? As you'll recall, local boater Todd Tholke retrieved it and towed it to safety. Initially, he was kind of a hero for doing so. But that only lasted until he claimed big bucks for his efforts. You guessed it, the flap ended up in a lawsuit.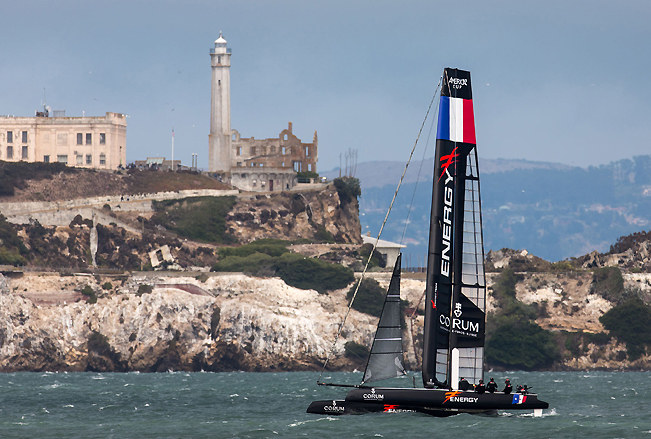 We're happy to report that a settlement agreement has been reached, but don't expect to see the details, as the terms are meant to remain confidential.
The law firm Edgcomb Law Group, LLC released the following statement this week: "The owners of the America's Cup World Series team, Energy Team SARL, and San Francisco sailor Todd Tholke, jointly announce they have confidentially resolved all claims and counter-claims in the matter of Todd Tholke v. The Sailing Vessel Energy Team AC45, Civ. No. 12-05162, Northern District of California. Energy Team thanks Todd Tholke for salvaging its vessel."
Antoine Mermod, Energy Team's technical director, was quoted as saying, "This is a very happy day for the team and for its supporters. We wish to thank the U.S. Coast Guard for its assistance in the salvage as well as the team's countless supporters during the process." Further good news is that this experience has not soured the team on returning to San Francisco Bay to compete in future World Series events.
Receive emails when 'Lectronic Latitude is updated.
SUBSCRIBE