Time flies when you're watching some of the most talented solo racers sail around the world. It seems hardly any time has passed since the November start of the Vendée Globe, the notorious singlehanded nonstop race around the world. But Alessandro di Benedetto's (Team Plastique) crossing of the finish line today at Les Sables d'Olonne, just 26 days behind winner François Gabart (the shortest-ever gap between first and last place), concluded the 2012-13 edition of the race.
Of course, the skippers who spent between 78 and 104 days trying to keep their boats — and themselves — from falling apart over the 24,000-mile course probably feel differently. We watched as the fleet of 20 racers dwindled down to almost half, and a few of those were big question marks until they actually crossed the line. There wasn't a mile of the course where any racer was safe from having his or her race ended in the most dramatic fashion — and dramatically is exactly how nine of them ended.
What makes this race so compelling to follow? It could be the unimaginable amount of courage each racer musters just to cross the start line, or the tremendous potential for disaster they face every moment of every day, or the intense competition between them, or the amazing sense of accomplishment we know each one feels as they cross the finish line. It could be any of those things, but it's most likely all of them. We fret for the racers, we bemoan their tragedies, and we cheer for them all. We become invested in their success, because deep down a part of us wishes we were out there too, sailing the open seas responsible for no one but ourselves.
You'll find our final recap of the race in the March issue of Latitude 38, due out on March 1. In the meantime, you can catch up on all the news at www.vendeeglobe.com/en.
Vendée Globe 2012-2013 final leaderboard
1- François Gabart (FRA/MACIF) 78d02h18m
2- Armel Le Cléac´h (FRA/Banque Populaire) 78d05h33m
3- Alex Thomson (GBR/Hugo Boss) 80d19h23m
4- Jean-Pierre Dick (FRA/Virbac-Paprec 3) 86d03h03m
5- Jean Le Cam (FRA/SynerCiel) 88d00h12m
6- Mike Golding (GBR/Gamesa) 88d06h36m
7- Dominique Wavre (SUI/Mirabaud) 90d03h14m
8- Arnaud Boissières (FRA/AKENA Vérandas) 91d02h09m
9- Bertrand De Broc (FRA/Votre Nom autour du Monde avec EDM Projets) 92d17h10m
10- Tanguy De Lamotte (FRA/Initiatives-coeur) 98d21h56m
11- Alessandro Di Benedetto (FRA-ITA/Team Plastique) 104d02h34m
DNF
Marc Guillemot (FRA/Safran) lost his keel on November 10
Kito de Pavant (FRA/Groupe Bel) hit a fishing boat on November 12
Louis Burton (FRA/Bureau Vallée) hit a fishing boat on November 14
Sam Davies (GBR/Savéol) dismasted on November 15
Jérémie Beyou (FRA/Maître CoQ) keel jack problem on November 17
Zbigniew Gutkowski (POL/ENERGA) autopilot issue on November 21
Vincent Riou (FRA/PRB) hit a UFO on November 24
Javier Sanso (ESP, ACCIONA 100% EcoPowered) capsized on February 3
DSQ – Bernard Stamm (SUI/Cheminées Poujoulat)
Remember back at the end of September when the French Energy Team's AC45 cat broke loose from its mooring off the San Francisco waterfront and drifted onto the rocky western shore of Treasure Island? As you'll recall, local boater Todd Tholke retrieved it and towed it to safety. Initially, he was kind of a hero for doing so. But that only lasted until he claimed big bucks for his efforts. You guessed it, the flap ended up in a lawsuit.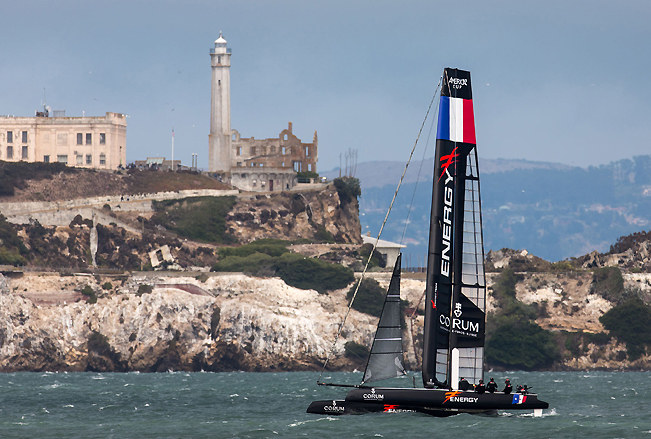 We're happy to report that a settlement agreement has been reached, but don't expect to see the details, as the terms are meant to remain confidential.
The law firm Edgcomb Law Group, LLC released the following statement this week: "The owners of the America's Cup World Series team, Energy Team SARL, and San Francisco sailor Todd Tholke, jointly announce they have confidentially resolved all claims and counter-claims in the matter of Todd Tholke v. The Sailing Vessel Energy Team AC45, Civ. No. 12-05162, Northern District of California. Energy Team thanks Todd Tholke for salvaging its vessel."
Antoine Mermod, Energy Team's technical director, was quoted as saying, "This is a very happy day for the team and for its supporters. We wish to thank the U.S. Coast Guard for its assistance in the salvage as well as the team's countless supporters during the process." Further good news is that this experience has not soured the team on returning to San Francisco Bay to compete in future World Series events.
Receive emails when 'Lectronic Latitude is updated.
SUBSCRIBE