In this month's Latitude, author Michael Kew brings us a dispatch from the South Pacific island of Yap, which could be considered the heart of the modest Polynesian Voyaging renaissance that's taken place over the last four decades. While attending "Yap Day" in 2017, Kew met with navigator Ali Haleyalur, the cousin of the great Pius "Mau" Piailug, who was a mentor of the Polynesian Voyaging Society in the 1970s, and would go on to captain and navigate Hokule'a, the famed 62-ft, 12-ton, full-scale fiberglass replica of a double-hulled voyaging canoe.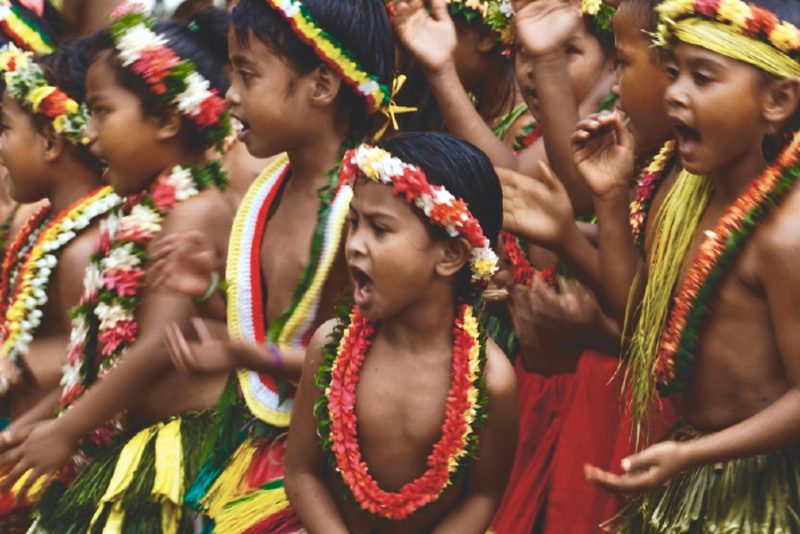 The Polynesian Voyaging Society's literature about the trip said that, "When Hokule'a arrived at the beach in Papeete Harbor, over half the island's people were there, more than 17,000 strong. There was a spontaneous affirmation of the great heritage we shared, and a renewal of the spirit of who we are today. On that first voyage, we were facing cultural extinction. We had no navigators left. The Voyaging Society looked beyond Polynesia to find Mau Piailug from a small island called Satawal, in Micronesia. He agreed to come to Hawaii and guide Hokule'a to Tahiti. Without him, our voyaging would never have taken place. Mau was the only traditional navigator who was willing and able to reach beyond his culture to ours."
Mau was so "so highly regarded," Kew wrote, "that, in 2016, three years after his death, Matson, Hawaii's biggest ocean cargo transport company, christened its newest ship — Papa Mau — in his honor."
But it isn't just men who have been a part of this revival. Navigator Kala Tanaka was one of many sailors who have gone on to voyage on the Hokule'a since Mau's day. "Kala's father, Kalepa Baybayan, is a master navigator, and was one of the original crew members on Hokule'a," according to gohawaii.com.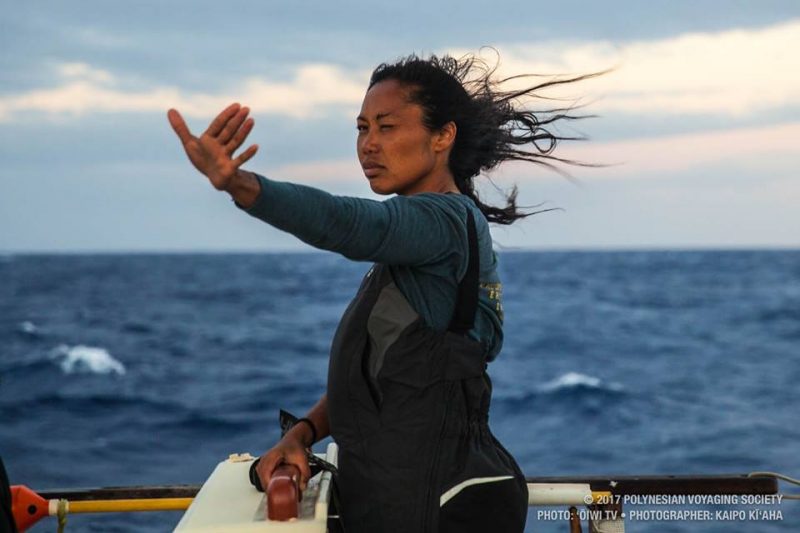 The photo above shows "brilliant navigator Tanaka measuring where she needs to go using her hand," wrote Eliota Fuimaono-Sapolu on her Facebook page. "You might've seen Moana do a weird version of it. Many Samoan hand tattoos have fish around the wrists and the stars and togitogi up the fingers. The thumb lays across the horizon while the fingers stand vertical as you align your markings with the stars."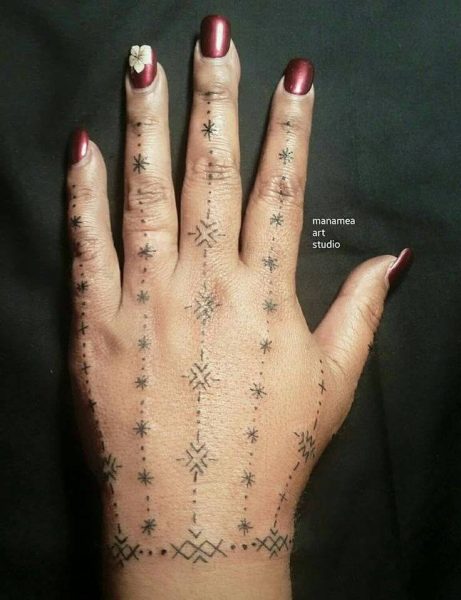 In an interview with gohawaii.com, Tanaka said that the stars have always intrigued her from the first time she sailed. "We memorize the rising and setting points of stars and use those to orient ourselves in our physical space so that we can navigate from place to place. I used to think that we would go to things. But that island out there was always there and all you're doing in your place is you're making it come to you. It's the magic of navigation. The ocean swells, the wind, the fishes, the birds that are all out there – you may think that they exist independently, but there is a whole story, a whole dialogue that's happening and they're telling you where you are if you would just listen."
Receive emails when 'Lectronic Latitude is updated.
SUBSCRIBE