The Usual December Dilemma: Max Ebb Goes Shopping
As November became December, Max Ebb found he was running out of ideas for Christmas gifts. He decided to take up Lee Helm's suggestion and found himself shopping for books. But not the ones you might expect…
Where was Lee Helm? We had agreed to meet at the bookstore at 11 o'clock, but there was no sign of her. This was not like her at all. Usually she turns up everywhere, invited or otherwise, so it was hard to imagine that she'd miss a firm appointment.
The occasion was shopping. The prior weekend I had complained about my usual December dilemma: what to buy for someone who has everything. "Books!" she replied. "Kids' books! Kids' books about sailing!" As if it should be obvious. "And like, age of giftee no prob. The books are good at autonomous navigation; they will find their way to age-appropriate offspring, nieces, nephews, grandchildren. They will be re-gifted as necessary if duplicates. It's the best way to promote sailing and maybe, like, spark a lifelong passion or a nautical career."
Lee, it turned out, was planning a trip to one of our local brick-and-mortar bookstores, and invited me to meet her there so we could check out this year's offerings. But it wasn't like her to be late. Where was she?
The store had a huge section devoted to "young readers," and a small shelf of sailing books hidden in the "sports" area. But not much intersection of the two genres was in evidence.
I asked one of the store employees for assistance.
"Salty Dog," she said with much enthusiasm as she handed me a slightly worn, used copy from a hard-to-notice shelf of used books. "This was my favorite when I was a kid. A young boat builder gets a puppy and starts building a wooden cruising boat."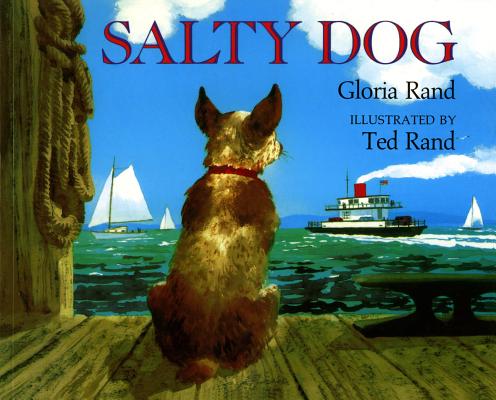 "Looks like a 26-ft Lyle Hess design," I said as I admired one of the illustrations.
"Over the next year," she added, "the boat takes shape and the puppy grows up. The artwork is wonderfully detailed and almost photo-realistic, right down to watching the seasons change through the boat shed window. There are three sequels: Aloha Salty, when they are accidentally stranded on the beach in Hawaii, Salty Sails North, in which they sail to Alaska, and Salty Takes Off, in which the dog falls out of an airplane, lands in snow, and — spoiler alert — is rescued unhurt the next day. Based on a true story!"
"This one is definitely a keeper," I said after examining the art.
"At the other extreme for realism," the store employee continued, "is Captain Abdul's Pirate School. By Colin McNaughton, who knows why pirates are funny. It's full of the usual comic pirate stereotypes but with unexpected plot reversals. These same 'lovable' pirate characters appear in a companion book, Jolly Roger and the Pirates of Abdul the Skinhead, by the same author but with a completely unrelated plot line."
My store assistant did not have copies to show off, used or new, so I would have to look for this one online.
Continue reading Max's tale in the December issue of Latitude 38.
And if you want to buy a book but don't want to go out, check out the titles in our online bookstore: bookshop.org/shop/latitude38. You'll find Salty Dog and more of Max's favorites among them, along with "adult" sailing books.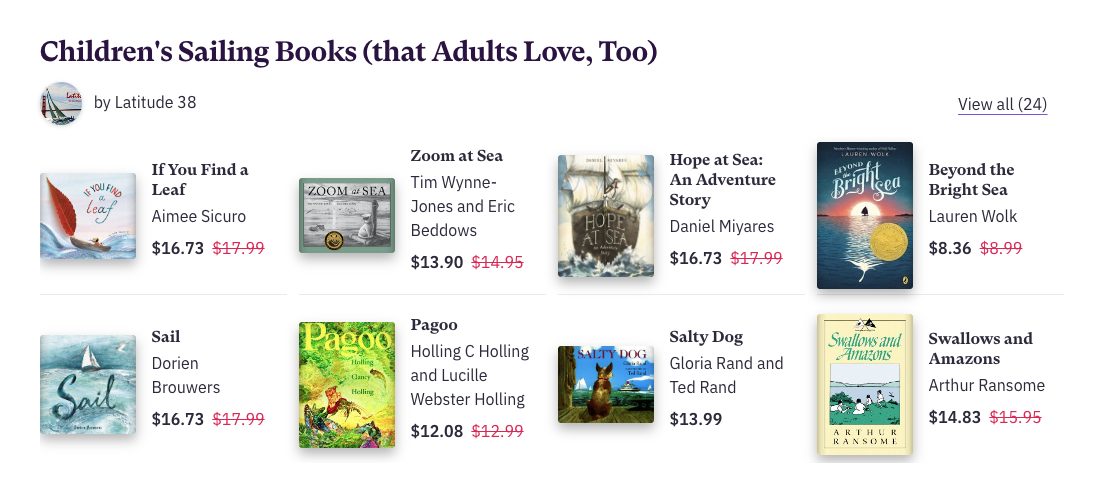 Receive emails when 'Lectronic Latitude is updated.
SUBSCRIBE