Don't look now, but Paddy Power, Ireland's largest bookmaker, recently took civilization another circle closer to the drain by offering odds on which Gulf of Mexico species will be the first to go extinct due to the big oil spill. The current 'favorite', at 4-5, is the Kemp's Ridley turtle, the smallest and most endangered of all sea turtles. Indeed, it could hardly look worse for this gentle little voyager: The Kemp's lays its eggs only along one area of Mexico's Caribbean coast, and Padre Island, Texas — and the fragile population of 8,000 are migrating to those places right now from their normal range along Southern and Eastern seaboards. Since the Deepwater Horizon blew up and sank on April 20, hundreds of turtle deaths have been recorded, most of them Kemp's.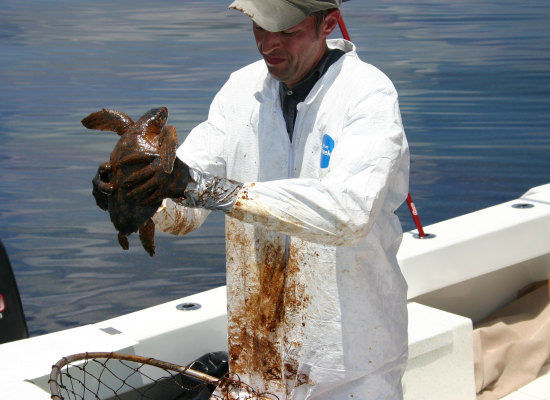 Second on the Paddy Power list, at 6-4, is the bluefin tuna. The leatherback turtle and brown pelican are next at 8-1 apiece, followed by the loggerhead turtle (12-1), sperm and blue whales (16-1), and Gulf sturgeon, elkhorn coral and smalltooth sawfish (all 20-1).
Okay, yeah, it's just another publicity stunt for which Paddy Power is famous (or infamous depending on how you look at it). And we realize their reason d'etre is to lift betting out of smokey backrooms and make it appeal to a younger, hipper audience. But in our opinion, there are boundaries to humor and lines you don't cross. This is one of them.
In fairness, Paddy Power is also taking bets on who will head BP after the 'extinction' of Tony Hayward. Now that's hip. And funny.
Receive emails when 'Lectronic Latitude is updated.
SUBSCRIBE