The Grand Poobah on Baja Ha-Ha 2021 Leg One Options
The Baja Ha-Ha Grand Poobah wrote up a variety of options available for leg one on the Baja Ha-Ha website, which we share here for anyone planning to join the Ha-Ha and head south this fall. 

There are three legs in the Ha-Ha — the 750-mile cruiser's rally — the 27th edition of which starts on November 1. Although 90% of the over 3,000 boats that have done the Ha-Ha sail straight from San Diego to Turtle Bay, there are more options on that leg than on the 240-mile second leg and the 175-mile third leg.
One option, which has always been fully supported by the Grand Poobah, is to start from Ensenada. That shortens the first leg by about 60 miles. And it doesn't mean you have to miss the traditional Ha-Ha Halloween Kick-Off Party in San Diego.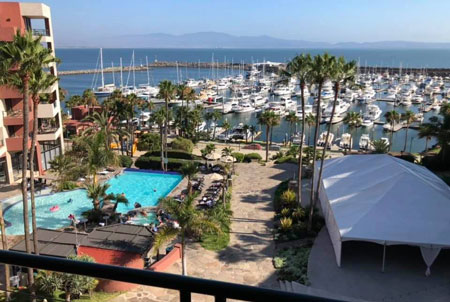 There are a number of anchorages between San Diego and Turtle Bay that offer fine protection from the normal northwesterlies. Each year a few boats decide to stop at one of these to catch up on sleep. One year, I think it was 2009, there was a threat of winds to 35 knots and big seas, so the mothership, Profligate, and about 80 other boats pulled into Colnett or other anchorages for protection. It was lovely.
One year two boats went quite a bit out of the way to stop at Guadelupe Island. There's not a lot to see at that barren island — unless you go underwater and look for great white sharks.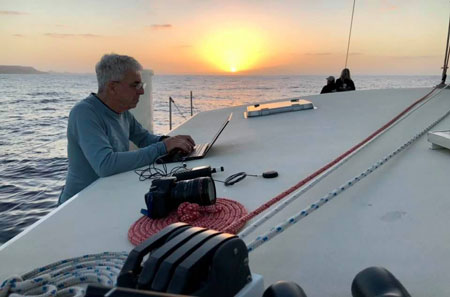 Each year participants ask if we go inside or outside Cedros Island. It all depends on the weather and our whimsy.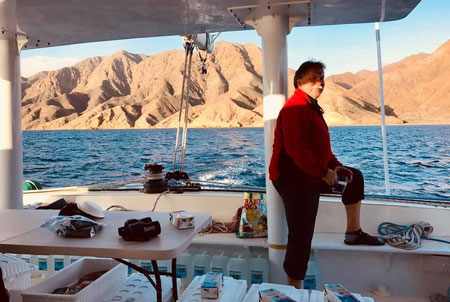 We've gone to the east of the island, we've gone to the west of the island, and we've spent the night anchored there. We've even gone far to the west between the Benitos after a stop at the lighthouse. Other participants have done each of these also.
If it makes a difference to you, you can pick up decent internet near Cedros Village on the east side of the island. One reason to stay well offshore of Cedros is kelp. There are thick forests of it just to the south of the island and all the way to Turtle Bay. Fish traps, too.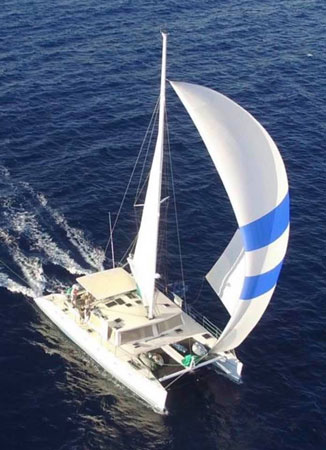 While Isla Natividad is noted for surf, there's no good place to anchor. If you're careful, you can pass between Natividad and Punta Eugenia on the mainland. We've done it twice, and both times we got hung up on fish traps. We probably won't do that again anytime soon.
The weather on the first leg isn't as predictable as on the second leg or the remarkably consistent third leg.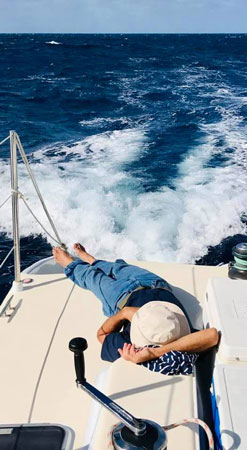 The start of the first leg is usually quite consistent, with a close reach from Point Loma under either white sails or a chute, and a nice afternoon breeze that tends to get very light at night. You might find a breeze through the night if you get offshore. And it can be damp.
The next 300 miles are less predictable. Some boats have reported brief spells of wind over 30 knots, but most times the fleet wishes for more wind.
No matter if it's light or breezy on the remainder of the first leg, the wind will be out of the north or northwest. None of that sailing-to-weather nonsense for the Ha-Ha.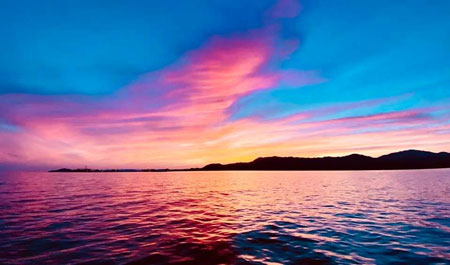 Naturally, the Ha-Ha has little control over the weather, so even the consistent patterns can't be guaranteed.
Some boats stay inshore, some sail a straight line, and others go far offshore. Most boats will always be in sight of other boats, which is fun.
The farther south you get, the warmer it gets, and there is usually less fog. Passing the south end of Cedros, about 50 miles from Turtle Bay, is like the border between Northern California and Southern California at Point Conception. The weather totally changes for the better — meaning warmer.
While it's up to every skipper to decide whether to enter Turtle Bay at night, we're not sure anyone has ever waited for morning. The entrance is pretty wide, GPS and charts are good, and if you wait just a bit, you can follow the parade of experienced skippers in. And there's room for 1,000 boats to anchor.
2021 Baja Ha-Ha entries are scheduled to open on May 6. 
Receive emails when 'Lectronic Latitude is updated.
SUBSCRIBE