Radical Sailing: America's Cup 'Sky Jumps'; Kite-Powered Racing Boats
In the immortal words of the Steve Miller Band, "I wanna fly like an eagle . . . To the sea . . ."
Apparently, so does the new America's Cup class.
"While the AC75 is unique, so is one of its vices — the Sky Jump — where the 7,500-kg yacht jumps almost completely clear of the water, before crashing back with all the elegance and grandeur of a humpback whale broaching," wrote Sail-World on Monday, adding that the phenomenon made the boats rear up "clear of the water at a takeoff angle sharper than that of a commercial airliner taking off from a runway."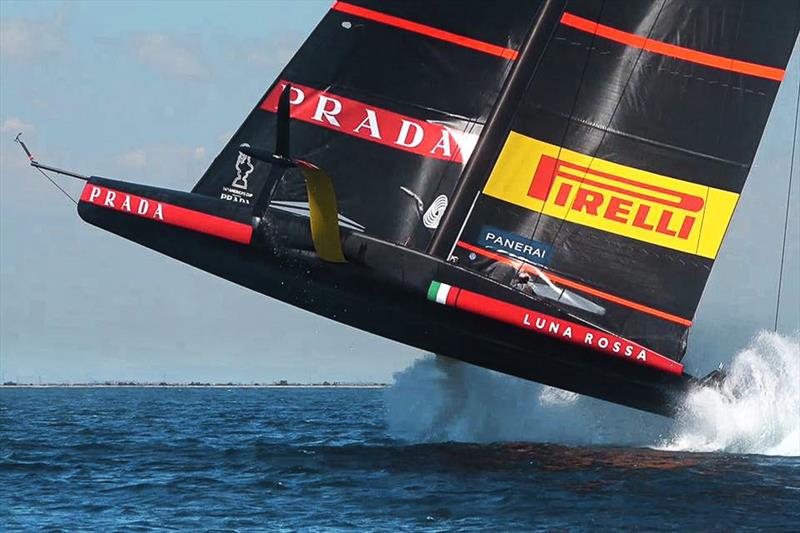 Sail-World said that the AC75 is "as much aircraft as it is a boat." The wings on an AC75 are much different than the daggerboards used on the last two classes of America's Cup catamarans. "On the AC75, foiling system is very similar to an aircraft wing, comprising the wing itself, with controllable flaps on the trailing edge."
Sail-World said that crew use a "flight control" to manage the foils and rudder, and lift the boat from the water into foiling mode. "When racing, the flight control has to be manually controlled by the crew. During testing, the teams are allowed to use a completely computer-driven system, free of crew intervention. That's fine in a controlled state, and probably better than in crew operated mode, but it is a bit like a driverless car — when things go wrong, the outcome is spectacular."
A Kite-Powered Boat to Race Across Oceans
"At first glance, the ArmorKite 650 is as intriguing as its deck is empty. To sail it, we'll clearly have to forget everything we've learned to take for granted. What's more, even though it's not apparent at first glance, there's no keel, or even ballast. Stability comes from the hull form, thanks to a 2.2-m (7-ft 3-in) beam, and a design reminiscent of the Mini Transat 650 class."
So read a recent article in Yachting World about a new class of "boat" that's completely powered by a kite.
"The ArmorKite has only two lines for trimming, and a tiller; the boat can be sailed double-handed easily. Once out into the bay, our sail radically differs from a traditional outing. First, a drogue is deployed astern, to limit drift while we prepare and 'hoist' the kite. Even more unusually, we contact the Coast Guard by VHF to warn them about our forthcoming test sail. (Twice well-meaning sailors have triggered the rescue services after seeing a boat without a mast, apparently dismasted and trying to set up a jury rig while deploying the kite!)"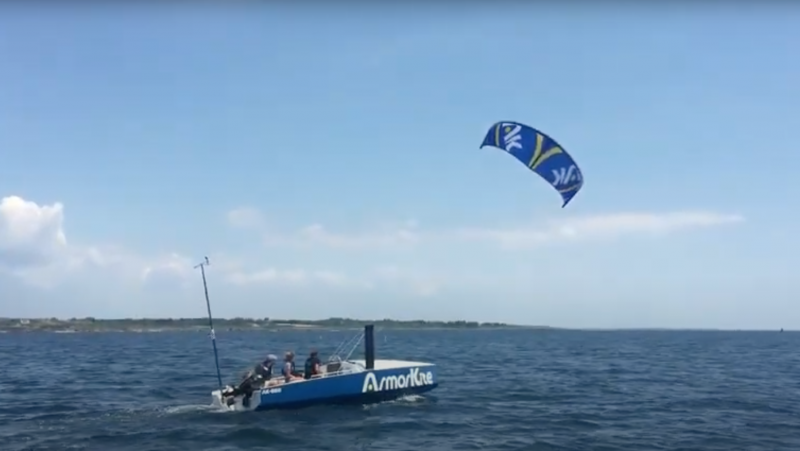 Yachting World said the kite is controlled by an electric winch, and takes two people to deploy. In a low-wind range, "the kite tends to stick to the water, and take off can be tricky," but that the speed is phenomenal, and usually matches the true wind speed.
"The ArmorKite is extremely sensitive on the tiller, and also sensitive to the positioning of the crew, whose total weight can easily equal that of the boat itself. We don't get close to beating the record of 19 knots the team has already achieved, but sailing at 10-12 knots when the true wind is barely 15 knots is more than enough to put a big smile on your face.
Yachting World also dispelled a common myth. "When it comes to turning up to close-hauled, sceptics will say that a kite can't go upwind. But the ArmorKite holds a windward course that is comparable to a keelboat, sailing at 30° either side of true wind, at speeds very similar to a Mini 650 of six to seven knots in 10-12 knots of wind. But where the boat becomes even more impressive is downwind. We had nine knots showing on the GPS with 11 knots of wind dead astern. What conventional boat could offer that?"
There are potentially numerous applications that kites might have on boats of all sizes, from small racers, to cruisers, to commercial vessels.
"So, if there's a foiling revolution underway, will the next be a kite revolution?" Yachting World asked. "There's quite a way to go before this solution could be universally adopted. Even if learning to handle the kite takes just a couple of weeks, according to its inventors, the constant attention and adjustments required to the kite during sailing put a real brake on its usage outside of competition."
Receive emails when 'Lectronic Latitude is updated.
SUBSCRIBE