Should I Sail Away? What Would You Do?
How often do sailors face the question of whether to stay tied to the dock and continue their land-based lives, or cast off and sail away to new horizons? Many of us will recognize the echoes of our own thoughts in this story from a local sailor who goes by the pen name Whye Waite.
Ah, to sail away. To leave one's problems behind, clinging to the wooden dock like a coiled rope. For years, issues and responsibilities, ingrained in me like faded initials carved in the trunk of an old tree, have caused my anchor to dig in deep. That one magical step could free me from life's frantic pace to one of solitude, like stepping through the looking glass. One measly step from civilization's creaking dock onto the gently swaying boat to head south; south to warm water, fluffy sand beaches, and cold cerveza.
Could it be that easy? Why the hell not? Sure, sailing is hard work, but I'm tough. I've sailed plenty. I know what's out there. Life at sea can be magical. I swiftly become the eager, vigilant student, listening and watching the teacher's every move.
"Mother Nature, am I doing this all right?"
She doesn't answer.
"Mom, how about now?"
Nothing.
"Now?"
Silence.
Only the breath of the wind to send me on my way, yet I peek through squinted eyes in case she speaks. Dare I take that step?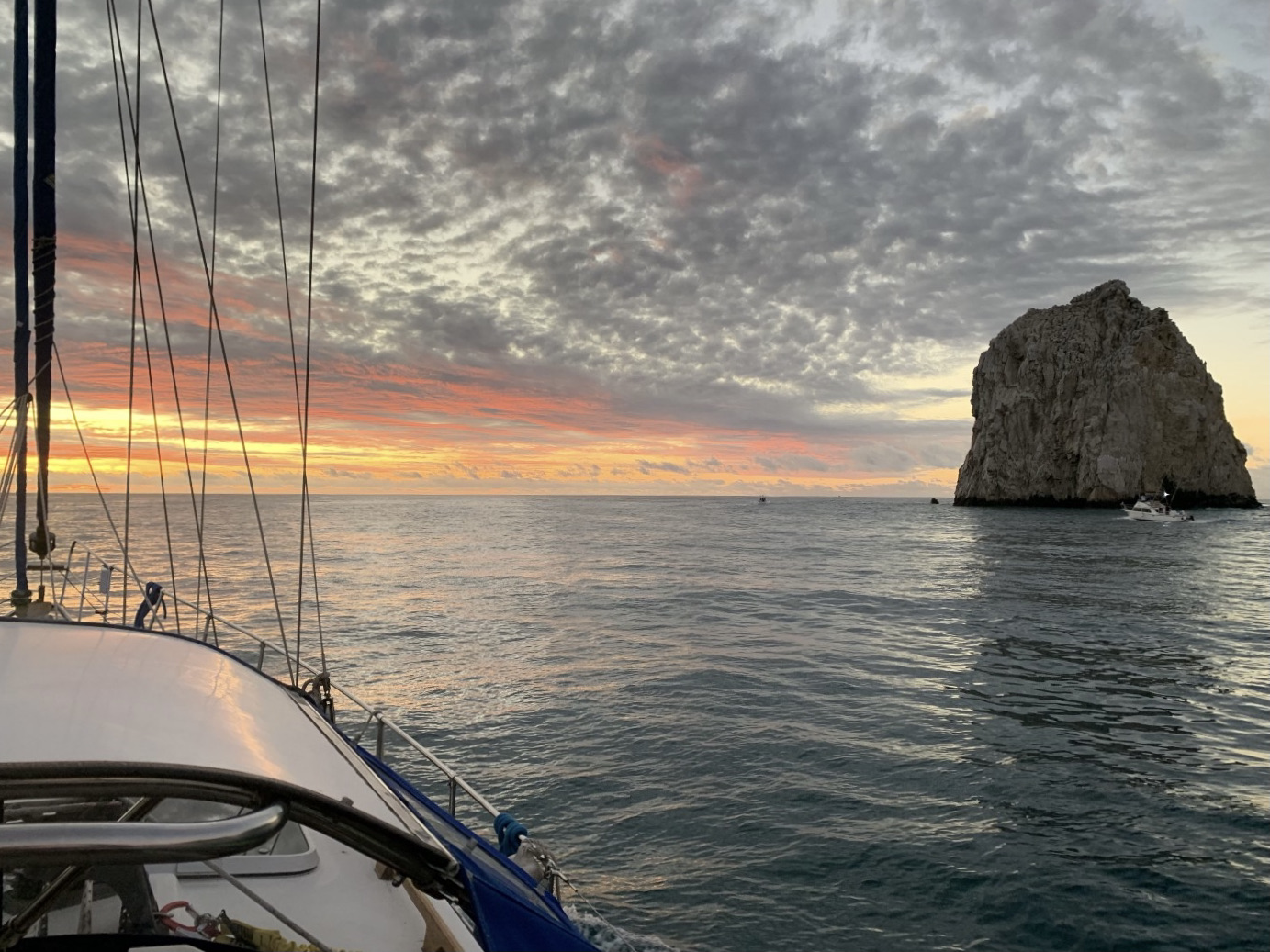 Her lessons are legendary. I dare not approach the ocean's classroom as a cavalier fool for fear of her wicked backhand. She must be treated with the utmost respect to enjoy the reward of her smile at sunset, her gently blowing nudge of encouragement. If only I could muster the courage.
My roots are deep. I've enjoyed my life immensely. I'm proud of my accomplishments, love my family dearly, have the best friends imaginable, yet, is there something more? Should there be? When the time is right, will it be too late?
Is sipping a frosty beer at the tattered makeshift hut in Turtle Bay, Baja, Mexico, the same as a beer enjoyed with friends at McNear's Saloon in downtown Petaluma?
My mind often wanders to the vastness of the sea, the gentle, random motion of the boat, the sight and sound of the sails drawn tight to the wind, the mist teasing my nostrils — the sea calls to me in my dreams.
What should I do?
Life is short, right?
Receive emails when 'Lectronic Latitude is updated.
SUBSCRIBE