Saved by Easom and the Army Corps of Engineers
The Yacht Racing Association (YRA) organizes and runs races each year, including an ocean series, four destination regattas, and a series of races on the Bay. Each race sends sailors around a set of buoys. The Coast Guard maintains all the buoys on the ocean and the commercial navigation buoys on the Bay. There are also a set of buoys that are owned and maintained by the YRA. They're used extensively by the YRA and Bay Area yacht clubs for races.
Buoys, whether on the ocean or the Bay, are ravaged by big tidal flows, big waves and occasional bumps by boats large and small, and sit in a corrosive saltwater environment. The combination of forces exerted on buoys means that they are sometimes dislodged from their positions, sometimes to be found lying on a Bay shore or sometimes never seen again. It's a big project for the YRA to maintain these buoys.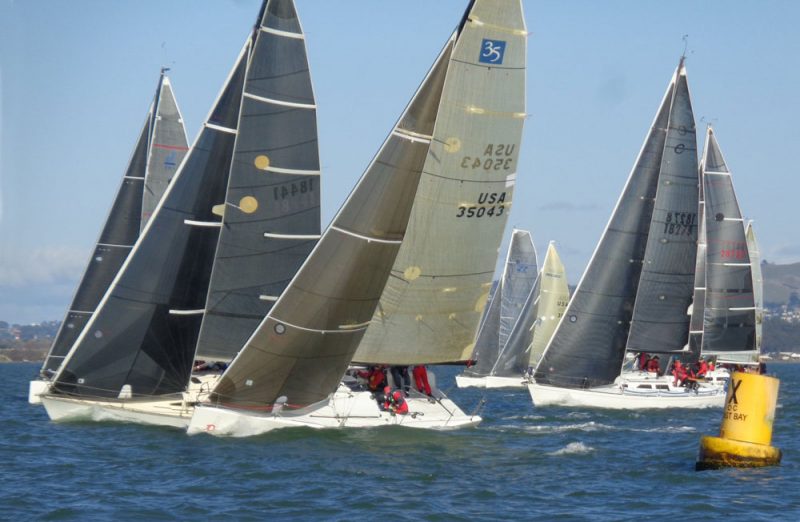 In recent years, #16 (Blackaller), #6 (Fort Mason), #4 (Knox), XOC (Berkeley Circle's center pin), and X (Golden Gate YC) have all decided to go on a walkabout. Blackaller and #16 were replaced in 2018. Fort Mason has been a particularly difficult buoy to keep on station. In the past four years the buoy has disappeared three times. The last #4 buoy to be replaced disappeared one week after it was set. The new buoy has a solar-powered light, which seems to have helped the buoy survive or avoid whatever mistreatment was visited upon the buoy in the past.
This fall, #4, XOC, FOC, GOC, and X were replaced. Knox disappeared and XOC and X washed up on various Bay Area shores in the weeks following their disappearance. Knox was replaced with a brand-new red nun buoy.
The YRA is always looking for ways to manage the cost of maintaining, rigging and setting new buoys on the Bay, which can cost several thousand dollars a year. The challenges included finding a rigger who could handle a buoy and rigging often weighing several hundred pounds, and finding a boat that could deploy the large and heavy buoys.
Recently, we've had the good fortune of being helped in our buoy endeavors by Easom Rigging and the Army Corps of Engineers. Scott Easom has been instrumental in rigging our new buoys with upgraded chain and anchors and adding lights to all new buoys. The Army Corps of Engineers has been particularly helpful in setting the new marks. Captain Kixon Meyer of the Army Corps of Engineers crew has been remarkable in maneuvering his catamaran into very tight spaces to pick up the new buoys with heavy chain and anchors and then setting the buoys on their stations using GPS coordinates. This is all the more impressive when you consider that a buoy with its accompanying heavy chain and anchor is cumbersome and potentially dangerous when trying to move it from the dock to the boat and then setting it in a rocking sea.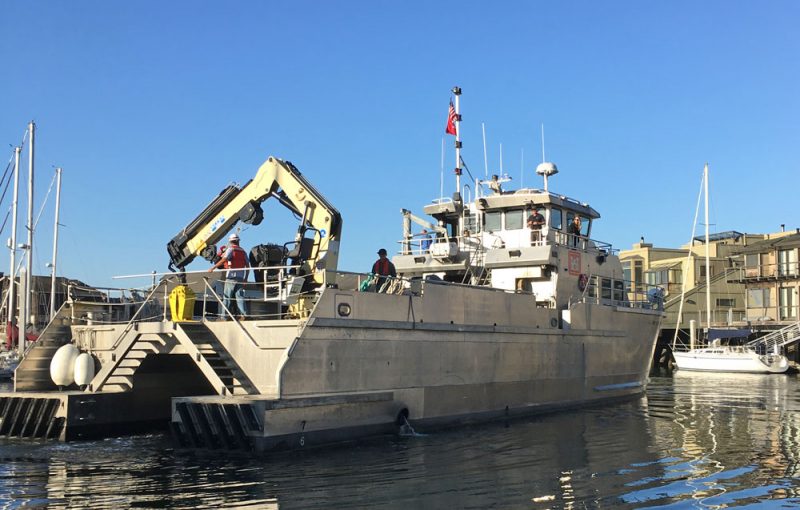 The buoys set this fall had some particular issues that needed to be addressed. For instance, XOC is a very large buoy that required a very large anchor. A large anchor is expensive, and shipping a large and heavy anchor proved to be, not surprisingly, very expensive as well. Scott Easom thought there had to be a better solution than incurring the expense of buying and shipping a huge anchor to his shop. He started searching for a reasonable replacement. He found one just down the street from his shop. Scott remembered seeing an old railroad car wheel lying around at KKMI and asked the folks at KKMI if they would mind donating it to a good cause, namely as an anchor for XOC. KKMI agreed, and the railroad car wheel was transported to Scott's shop and deployed as the anchor for XOC.
All the buoys set this fall, including XOC, were set with one-and-a-half-inch chain from the anchor to a swivel that would sit several feet above the anchor. One-inch chain was used from the swivel to the buoy. The upgraded chain stock should ensure that the buoys stay on station for a number of years, especially buoys like #4 (Knox), which is buffeted by very strong currents.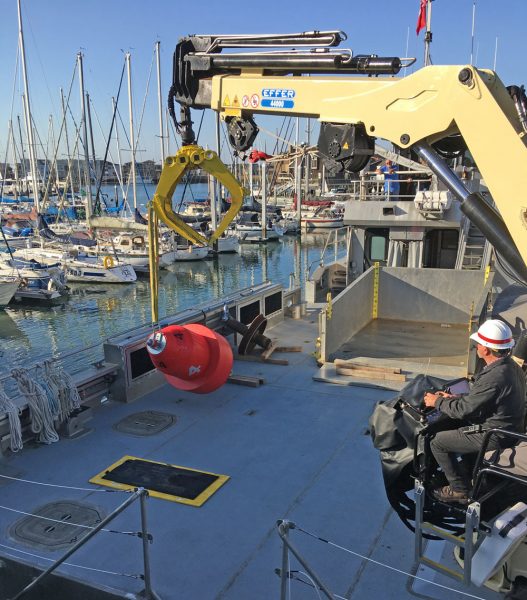 The YRA would like to thank Bill Claussen, the YRA buoy chairman, for coordinating the efforts between the YRA and Scott Easom, and for creating a sponsorship program. We'd also like to thank Scott Easom for his expertise in rigging the buoys, and Captain Kixon Meyer and his crew from the Army Corps of Engineers for their invaluable help in setting the new buoys.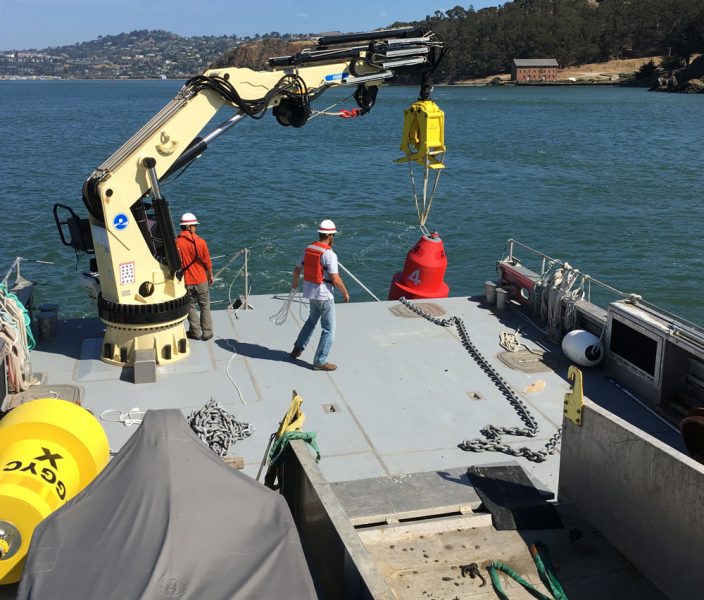 It should be noted that the Army Corps of Engineers' mandate to maintain the waterways on the Bay was created in 1942. According to the Army Corps' website, "In June of that year, Admiral Chester Nimitz, recently appointed Commander in Chief, Pacific Fleet, was on his way from Hawaii to Washington DC via San Francisco. While landing in San Francisco Bay, his seaplane struck floating debris. The bottom of the aircraft was ripped open and it capsized. Admiral Nimitz was able to scramble to safety without serious injury, but the pilot was killed. Shortly after that incident, the Chief of Engineers directed the Corps' San Francisco District to begin a hazard collection program in San Francisco Bay, a mission that continues to this day."
Our biggest thanks, from the YRA and all the sailors who use the YRA marks, goes out to our new buoy sponsors. KKMI is sponsoring #6, and therefore #6 will be known at KKMI 6 and will feature the KKMI logo. Svendsen's Bay Marine is sponsoring the Circle buoys XOC, F, and G. These buoys will be known as the Svendsen Circle Buoys and will display the Svendsen's Bay Marine logo. So, when you round these buoys say a thank you to their sponsors, Easom Rigging and the Army Corps of Engineers. You can't race without a playing field.
Receive emails when 'Lectronic Latitude is updated.
SUBSCRIBE