Boaters often say, "If you don't like your neighbors or the view, you can always pull up anchor and move." As part-time cruisers for the past seven years, we face moving day quite often. Marina life is convenient and a great place to get spoiled with hot showers and restaurants, but after a few days, we start to get the itch to find a quiet place to drop an anchor.
However, sometimes having the right neighbor makes all the difference. In January 2020, we were assigned a slip in Marina Riviera Nayarit in La Cruz in one of the narrowest channels. Our boat, Luna Sea, a 1974 Cheoy Lee Midshipman full-keel ketch, only takes turning as a suggestion, so we're always challenged getting into and out of tight slips. We considered requesting a different location, but as fate would have it, none was available. And so we found ourselves on dock 9, slip 13 — and couldn't have been luckier.
Richard D., a fixture in the marina, has been living at dock 9, slip 12 on Sourdough, a 36-ft Hallberg-Rassy, for more than a decade. He has perfected the art of being content, and spends most days watching the comings and goings on the dock, smoking an occasional cigarette, and enjoying a good cup of coffee. He is the first to check in each morning for the radio net and is the go-to for information and referrals. The perfect neighbor — especially in a pandemic.
The intent was to keep the boat in the marina for a month and return in March to do more cruising on our way south to Barra de Navidad. Suddenly, the COVID-grip seized the world, and any plans for travel were far from happening. Our boat would have to sit for a while until life settled down. We waited and waited — weeks stretched into months, and before we knew it, more than a year had gone by since our last sighting of Luna Sea.
In April 2020, when it was obvious we wouldn't be traveling any time soon, we checked in with friends in La Cruz who suggested we hire a company to oversee our boat while we were gone. They would coordinate cleaning, bottom-scraping, and any other maintenance issues that might arise. Essentially, they became our boat nanny, and with fairly regular touch-bases, they became my husband's lifeline to his boat.
Even more comforting was knowing that our wonderful marina neighbors were keeping a close watch on our girl. Richard reported to Michael about every repair and cleaning. Knowing he was there 24/7 was such a relief when we were 1,500 miles away.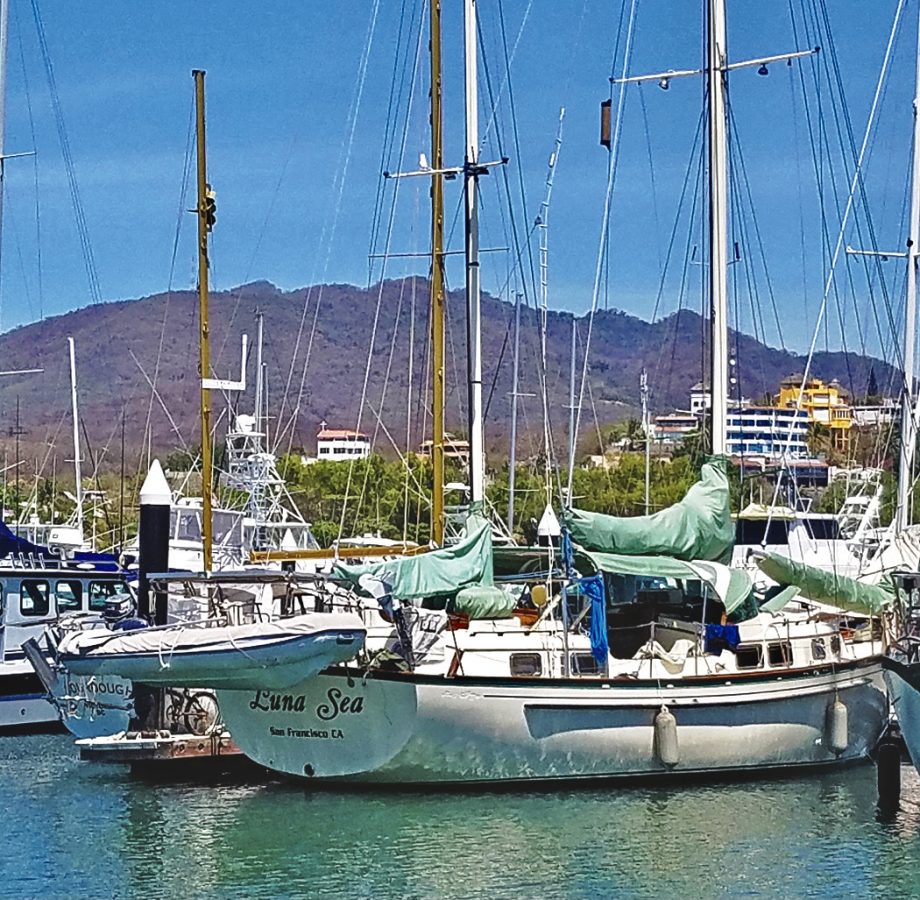 Fifteen months after our last visit, we finally found ourselves fully vaccinated and in a cab heading from the Puerto Vallarta airport toward La Cruz de Huanacaxtle. As we neared the turn to the marina, we both got very quiet and anxious about what we would find in dock 9, slip 13. We passed many "Se Vende" (for sale) signs along the main street of the little town, and saw that some of our favorite restaurants had closed. The marina was alive and bustling — and most everyone donned masks, per the marina requirements.
And then, like spotting a long-lost family member at the airport arrival gate, we caught sight of the familiar sage-green sail covers and made a mad dash toward the gate door. To add to the anxiety level, our dock key didn't seem to work …
Please continue reading at Latitude 38.com.
Receive emails when 'Lectronic Latitude is updated.
SUBSCRIBE