Red Sky at Night, Sailor's Delight
A while ago, a reader asked the Old Farmer's Almanac about red skies: "Does the weather proverb 'Red sky at morning, sailor take warning / Red sky at night, sailor's delight' have any basis in weather fact?"
The experts at the Almanac replied, "The basic idea here is a sound one for most of the United States, where the weather patterns move from west to east. A red color in the sky is the result of sunlight reflecting off clouds. If the sky is red in the morning, the eastern horizon must be clear, and the clouds foretelling a coming storm are in the west, indicating the potential for bad weather. By contrast, a red sky at night can be produced only if the western horizon is clear and the clouds overhead are moving east, or clearing out. So the proverb seems to have some validity."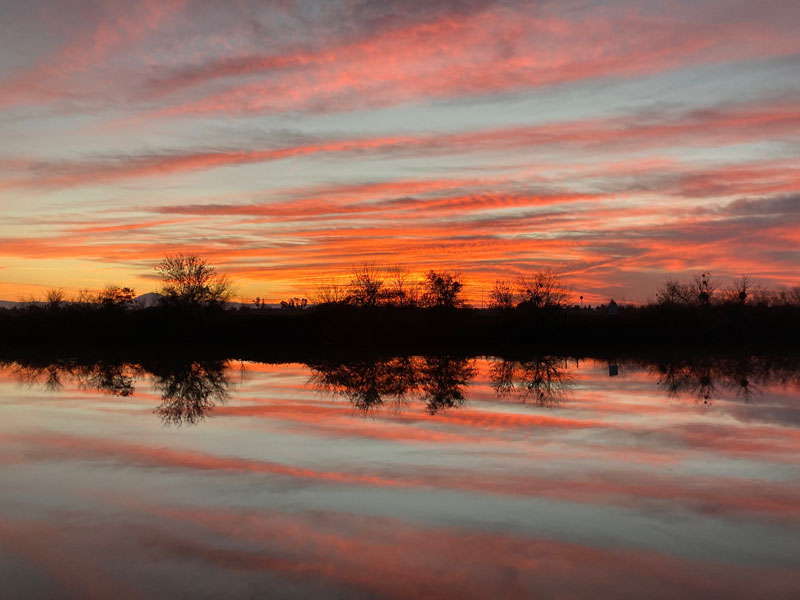 This week, Northern California has been basking under a high-pressure system and the resulting inversion layer. The haze in the sky combined with patchy clouds has produced spectacularly vivid sunsets. Sunrises, by contrast, have failed to stream rosy light through our windows. What do these meteorological phenomena portend for weekend sailing?
We're just dumb writers, not meteorologists or scientists of any kind. But looking at the forecast, we think that tomorrow's breeze on San Francisco Bay will be from the northeast — an odd direction but not surprising in winter. For racers in this weekend's Corinthian Midwinters, the National Weather Service calls for "E wind 7 to 12 kt becoming variable and less than 5 kt. Partly sunny," on Saturday, and "N wind 7 to 9 kt. Mostly sunny," on Sunday.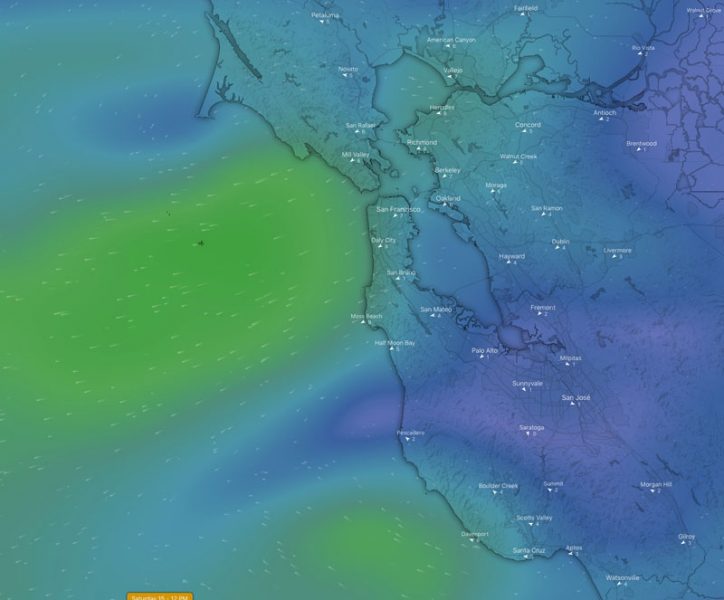 We'll be interested to see if tonight's sunset is as red as last night's, given this Small Craft Advisory from the National Weather Service, as of 8:43 this morning: "A small craft advisory remains in effect from 9 p.m. this evening to 9 a.m. PST Saturday," for San Pablo Bay, Suisun Bay, the West Delta and the San Francisco Bay north of the Bay Bridge. "Conditions will be hazardous to small craft. Inexperienced mariners, especially those operating smaller vessels, should avoid navigating in hazardous conditions." During the summer, experienced San Francisco Bay sailors are accustomed to sailing in Small Craft Advisory conditions.
Meanwhile, huge storm systems elsewhere in the Pacific are swirling west of British Columbia and north of Hawaii.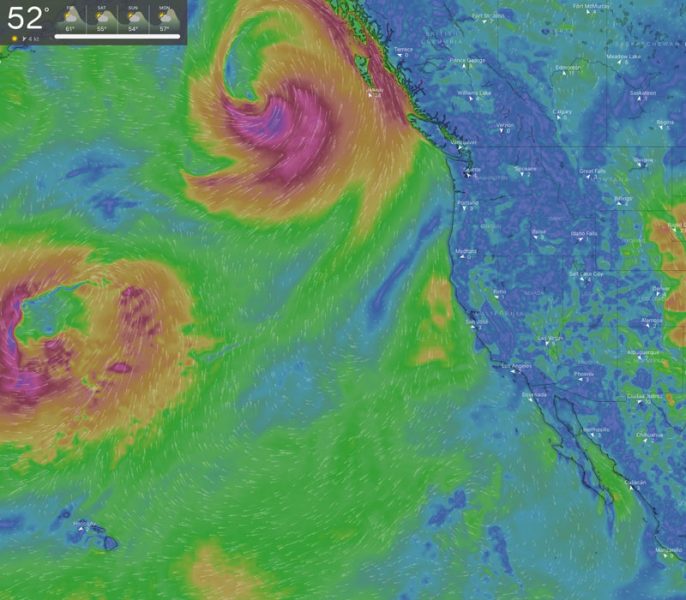 Again, we're not weather scientists, so don't take our word for it. Check your own sources (or find some here) and plan your weekend on the water accordingly.
Receive emails when 'Lectronic Latitude is updated.
SUBSCRIBE