The Red Bra Regatta Turns 10
In November's Racing Sheet we shared the story of the Red Bra Regatta's 10-year-anniversary event.
"For our 10th anniversary of the Red Bra Regatta we saw competitive racing from a solid range of boats," asserts organizer and racer Kim Stuart. "Each year brings an increase in development of skills and gains in confidence. Participation among faster boats has also increased."
South Beach YC hosts the Red Bra Regatta with action in the southern portion of San Francisco Bay. Boats are crewed and helmed by women only. Racers of all skill levels participate, and many favor being able to mix it up and take on positions outside their normal comfort zones.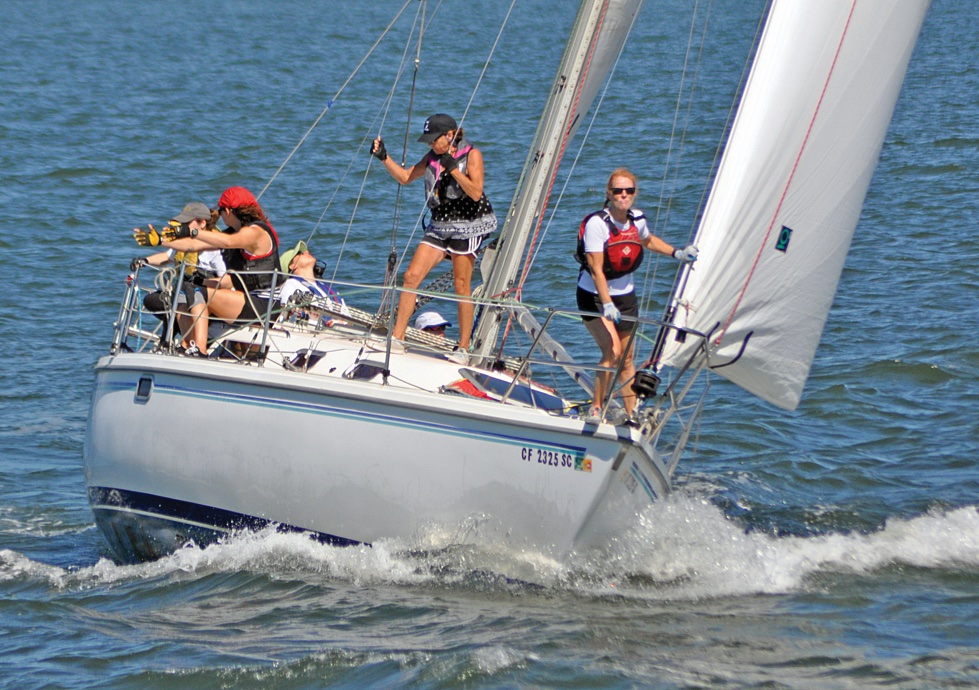 The September 24 event drew 19 crews, each completing two races. In Spinnaker PHRF 99 and above, Robin Van Vliet's J/24 Little Wing flew to finish first with two bullets. "In Race 1, I realized how hard it was to make the line on starboard tack, so naturally I said, 'What the heck, port tack at the pin end it is.' That gave us a great jump ahead. Race 2's strategy was to not be early due to a ripping ebb, plus not call any laylines until we were close; sailing in South Beach adds quite a layer of complexity." Van Vliet's Red Bra crew culled talent from three J/24s plus a Santana 22.
Spinnaker PHRF 98 and below attracted eight to the line. Also earning snake eyes (1,1) was the J/105 Roulette, helmed by Libby Zhang, who reveals that conditions were distinctly different over the day, with winds shifting from an early NNW to a more dominant WNW. A tidal transition also ensued — from flood to ebb. "Early on we saw a westerly wind make its presence in the shape of a big line minus breeze on the course," says Zhang. "Tactician Katie positioned us mid-line at the edge of pressure to give us an on-time start ahead of other boats, plus an option to immediately tack over onto lifted port."
Boats that crossed this hole eventually caught a stronger westerly and sailed fast but paid a big price. Roulette led to the windward mark; however, with winds transitioning, the J/105 fought to make forward progress in light and shifty conditions. "Trailing boats came with a new breeze, so all we could do was keep attentive until wind reached us. Once in, we sailed fast to hold a lead." A 10- to 14-knot WNW and a 1-knot ebb filled for Race 2. It was challenging to make leeward-mark calls with accuracy due to the east-west current differential. As a result, Roulette rounded the mark wide both times. "Our bow and pit team — Sam, Jorly and Stacy — doused the kite admirably in spite of the late calls and hot angles that I threw at them."
Read the full story of all the races and results at Latitude38.com.
Receive emails when 'Lectronic Latitude is updated.
SUBSCRIBE