Randall Reeves Hits Latitude 38, South
Making his way to Cape Horn, Randall Reeves finds himself in the upside down. The San Francisco sailor hit our doppelgänger latitude recently, and sent us a picture and a note: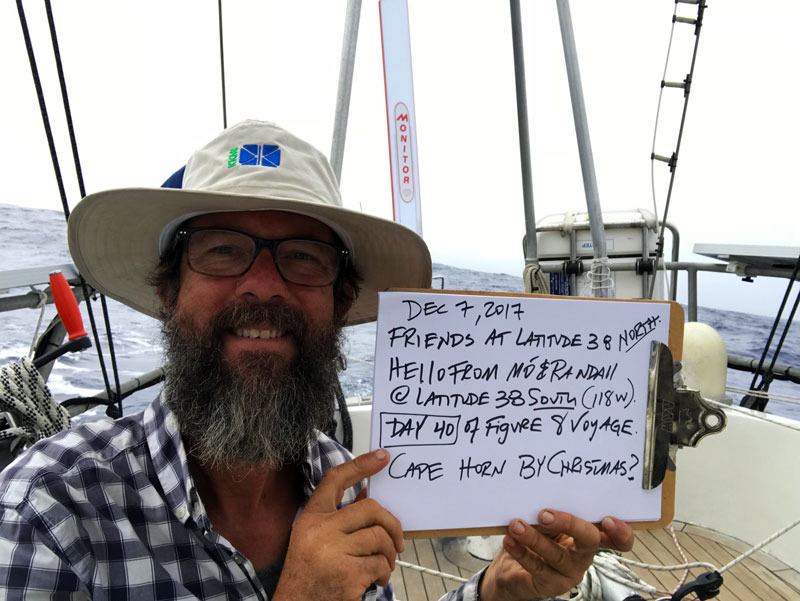 "Greetings from Moli. It seemed appropriate to say hello, now that we are at latitude 38, south! All is well here. We are beginning to enter the Southern Ocean westerlies after a month close hauled on port tack in the southeast trades. It's cooling quickly now; fog and drizzle the last few days. But Moli, this stout bird, is handling it all with comfort."
After leaving the Bay in October, Reeves is in the early stages of his Figure 8 Voyage, where he'll sail around Antarctica, then up the east coasts of North and South America, through the Northwest Passage, and back to San Francisco.
We've been enjoying Reeves' daily dispatches on his blog, which are fun and engaging updates on his trip. "It's been a lot more difficult than I would have given this first leg credit for," Reeves said in a 'vlog' from November 29. " Mentally . . . but also physically. I didn't anticipate that the southeast trades and reaching into them for these last couple of weeks would have been this challenging." Reeves said that with the variable winds and changes in velocity, he spent an unexpected amount of time on deck reefing and un-reefing. "It's been most excellent practice. But I've had enough practice now."
We wish Randall Reeves well, and look forward to checking in with him.
Receive emails when 'Lectronic Latitude is updated.
SUBSCRIBE