A Race Story with a Twist
Earlier this month, the sailboat Kahoots and her crew had just crossed the finish line in the OYRA Race Committee's Choice #1 on August 14 — the sixth race of the 2021 OYRA series — when they came across an unusual sight. Kahoots crew member Dana Maddex-Carlucci was watching the fleet and witnessed Sapphire's spinnaker working itself around the mast. With a camera (or phone) close at hand, Dana was able to grab a few quick shots of the situation as it 'unfolded?'
Kahoots' crew of captain Greg Mitchell, Dana Maddex-Carlucci, Jim Wheeler, John Amen, Parker Davis (guest "bow-dude"), Mark Phillips, Kate Mitchell (captain's daughter) and Hendrik Bruhns witnessed Sapphire's unfortunate incident.
Dana wrote, "We finished with 24 knots of downwind and pulled our spinnaker down. I guess they did a beam reach and got overpowered."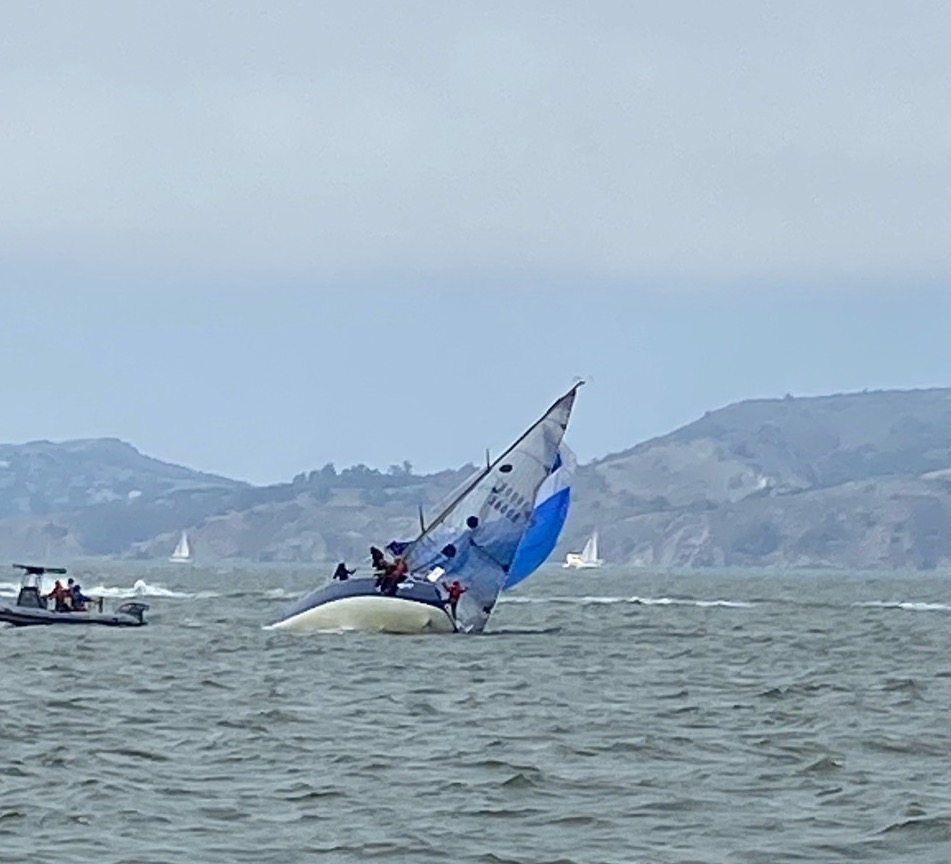 According to skipper Greg Mitchell's description, Sapphire's wrap was right after the finish. "Hard to see in the photos but the foiling kitesurfers were having a regatta, and Sapphire's knockdown drifted them close to their San Francisco line."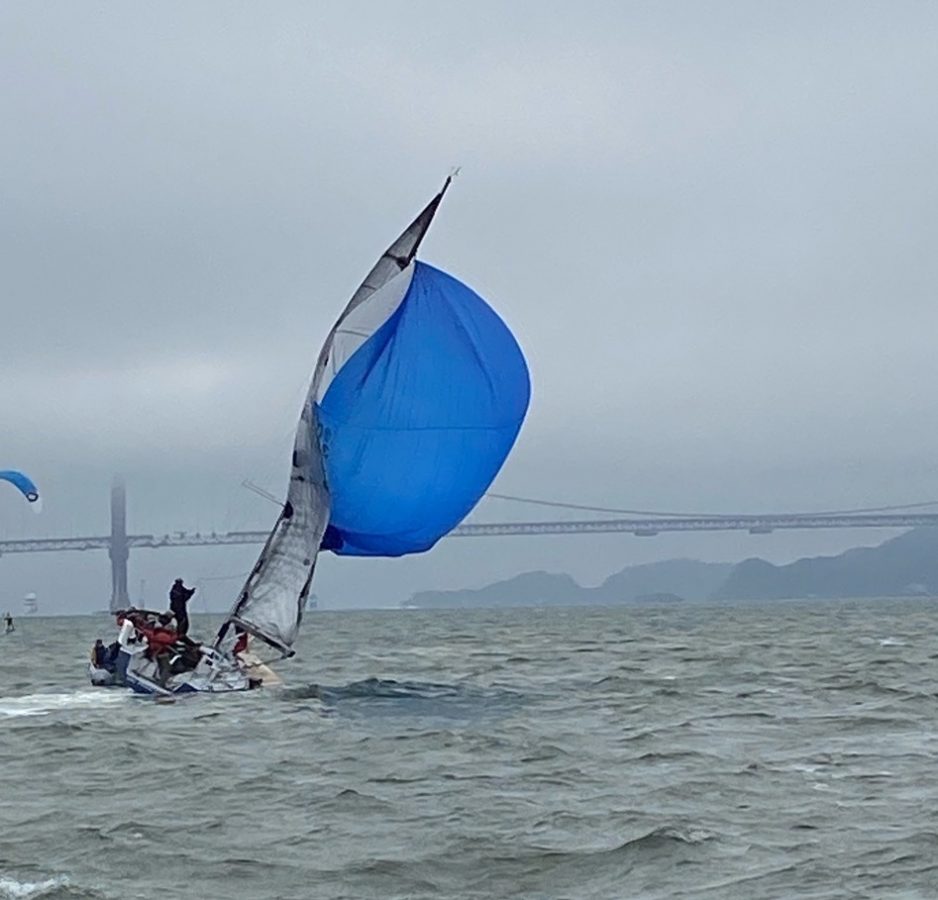 The race course was set to start and and finish in front of the Golden Gate Yacht Club, and Greg reported, "It was an ideal ocean race, with oscillating breeze from the northwest, almost directly upwind of the Gate, at 8-12 knots. A bit overcast, and cool on the way out.
"The ride home was simple: one jibe after the north entrance buoy, and then a jibe for the Gate. We fly assym kites on a traditional pole, so we can square back. The centerline-pole boats had a few more jibes to do. Was that same 8-12 [knots] until Bonita, where it was in the 15s. From the Gate to the finish it was mid- to high 20s."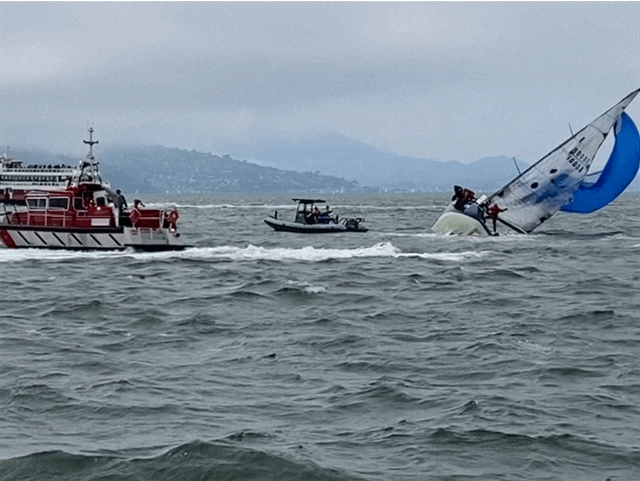 "We were able to dive under them," Greg added, "but then decided to avoid drama, doused the kite, and tacked at Fort Mason for the reach back to Richmond. That's when we went past Sapphire, to weather of Alcatraz and in the vicinity of the kitesurfer startline.
"Sapphire did really well — second on elapsed and first on corrected time. We were about four minutes behind Sapphire, hence the closeups."
"On that specific day, we finished fourth over the line and fourth corrected. As of today, we're leading the OYRA season, but this weekend is a two-race weekend at Drake's Bay, and there are only three points between between first and fourth," Greg added.
Kahoots will be racing with her Pacific Cup crew: Greg, skipper/navigator; Jim Wheeler, trimmer; John Amen, trimmer/pit; Miles Englehart, main; Miles's teenage son Chase Englehart, bow; Mark Phillips, mast. "Kate (our usual pit and pit for Pac Cup) is off at college."
As far as we are aware, no one aboard Sapphire was injured during the incident. We certainly hope the vessel and crew are back up and running, ready for this weekend's race.
You can find more information about the OYRA series on the Yacht Racing Association's website: https://yra.org/yra-racing/oyra-series.
Receive emails when 'Lectronic Latitude is updated.
SUBSCRIBE