Race Notes from the Boat Show
Those of you who read Racing Sheet in Latitude 38 are no doubt familiar with the odds and ends that populate Race Notes. This is an online version — tidbits culled by our racing editor during last week's Pacific Sail and Power Boat Show.
Schmoozing with the SailGP Gang
As noted in 'Lectronic Latitude on Friday, SailGP has an in with the San Francisco Giants. So it should come as no surprise that the helmsman of the US team, Rome Kirby, threw out the first pitch at the home opener on April 5, at the newly rebranded Oracle Park. (Oracle, Larry Ellison, America's Cup, Sail GP foiling 50-ft cats — it's like a game of connect the dots.) But before Rome could head over to the ballpark, he and fellow team member Mac Agnese visited the boat show for a casual meet-and-greet with show-goers on Thursday afternoon. After this, the sailors and SailGP staff went to Golden Gate Yacht Club to give a presentation there.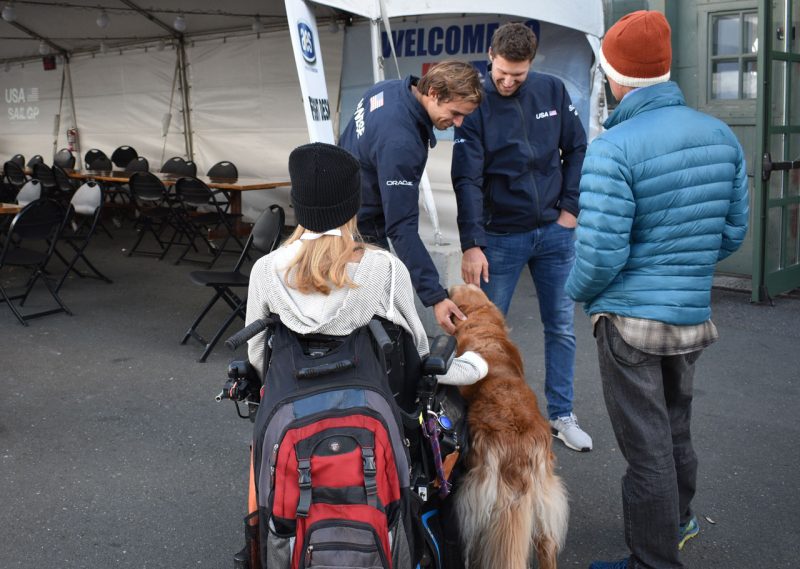 Rome lived in the Bay Area for three years for America's Cup 34. (He remained with Oracle Team USA for America's Cup 35 in Bermuda as well.) He told us that he misses sailing on San Francisco Bay and is eager to return. The crew and support team will assemble in Alameda around April 20 to prepare for San Francisco SailGP on May 4-5.
New Kids on the Dock
Down on G Dock in Marina Bay Yacht Harbor, we found Norman Davant and Pat Nolan of Sail California lounging in the comfy interior of the brand-new J/99, the first one in the United States. The J/99 sat next to the navy blue 2014 J/88 Benny, which has been racing on San Francisco Bay. We wondered what the difference was between the two designs. "The J/99 is a much bigger boat. It's got standing headroom, even for somebody that's taller than me," said Norman with a chuckle. "It's 5'9". You can go do a Friday night race with the crew, go race it doublehanded on Saturday, then on Sunday go daysailing with the family, and stay overnight as well. It's got a full interior and a proper galley and a proper chart table. It's really designed to be a multi-purpose boat."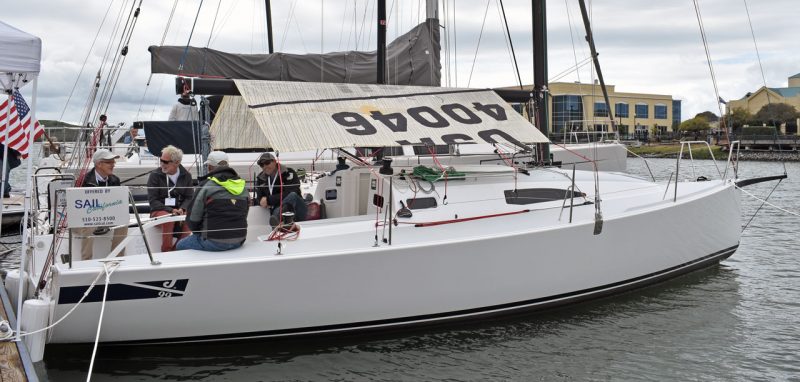 "These days everything is really going toward shorthanded sailing," continued Norm. "You look at Three Bridge, all the inside-the-Bay stuff going on — that's happening worldwide, and so the market is targeting some shorthanded sailing. The cockpit's set up to go doublehanded sailing, but you can still do normally crewed sailing with it as well. The boat is pretty beamy, and it's a big, powerful, 32.5-ft boat. Most people who get on it can't believe it's only 32.5 feet. It's got a planing hull, so in anything over about 16 knots of breeze it should plane, just like the J/88, J/70 and J/111 do."
All of the above J/Boats have asymmetrical spinnakers, but the J/99 has a permanent sprit, not a retractable pole. Sail California owns this one. Pat is planning to do the Great Vallejo Race with it. "Unless we sell it first."
On the end-tie near the J/Boats, a new RS 21 stood ready to go sailing. Our managing editor, Tim Henry, took a ride. "Boy, did we have a blast sailing on the RS 21 Priced to Move at the boat show on Saturday," he says. "Thanks to West Coast Sailing's Chris Brown on shore and skipper Jake Sorosky for the ride. Also along was Stockton sailor Chris Shepherd, who was scouting out a sportboat for a friend he races with."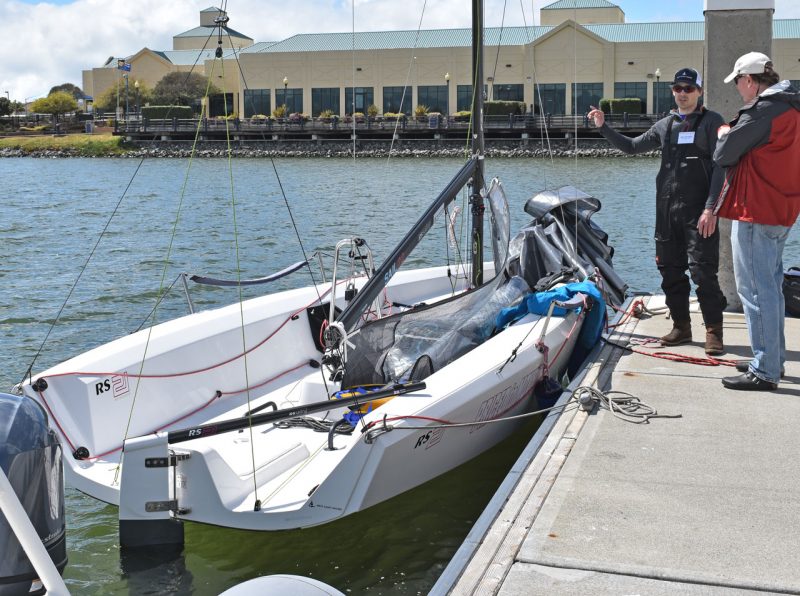 "How did the boat sail? It was the most dinghy-feeling keelboat we've ever been on," comments Tim. "On Saturday, it was pretty windy as we zig-zagged our way past Craneway Pavilion, into Richmond Inner Harbor and past Point Potrero, but the breeze died just as we turned around and popped the asymmetric kite. The RS so wanted to leap out of the water and plane, but it wasn't meant to be. While quick and spry, the RS 21 also felt super-stable, even in the puffy conditions on the way out. We look forward to seeing these boats out on the Bay."
Hidden Treasure: TF10 Foiling Trimarans
Not in the water — and a bit hard to find — were two TF10 foiling trimarans. They were hiding in a corner of the parking lot, and their marketing team had a booth on the wharf at Marina Bay. One of the boats, Celeritas, has already been racing on San Francisco Bay. On the Saturday of the February Corinthian Midwinters, she flew by us so fast we couldn't fumble out our camera in time. Winds were lighter the next day, and she wasn't foiling. Designed by Morrelli & Melvin of Newport Beach and built by DNA Performance Sailing of Holland, the boats are about 36 feet long and intended to be sailed by a crew of four or five, but can also be doublehanded. The amas are retractable for easier storage and transport.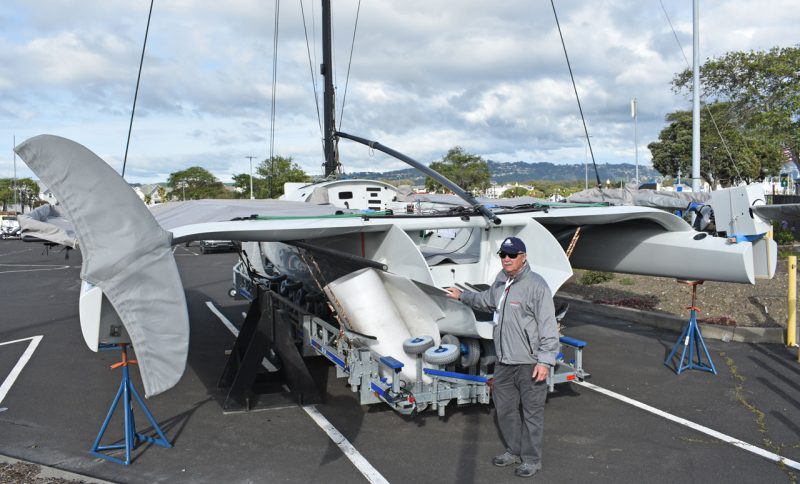 Roy Disney's New Boat
At the TGIF party in Assemble Restaurant we caught up with Scott Easom of Easom Rigging (actually, we had to step outside where it was quieter). The hot tip from Scott was about a new boat that Roy Disney (of Pyewacket fame) purchased. "We'd been looking for a boat to do Transpac, and we tried to charter some iconic boats to do the race because it's an iconic year, the 50th race," said Scott. "We looked at a bunch of boats to charter, including Windward Passage." The famous 72-ft ketch won the Barn Door Trophy and Elapsed Time Trophy in 1971 and was a serious threat throughout that decade. "The owners were not interested in chartering the boat.
"Robbie Haines went down to Australia. We ended up getting a Volvo 70, called Telefónica back in the day, that's been turbo'ed in Australia. It has a much deeper keel at about 18 feet and a taller rig and bigger sails, and it's extremely fast compared to a regular Volvo 70. It was a Juan K boat, and Juan K did some of the modifications to turbo it. It is very fast. It did the Sydney Hobart this year. It's a good strong boat. Finishes right behind the 100-footers, so it's going to be a riot to sail."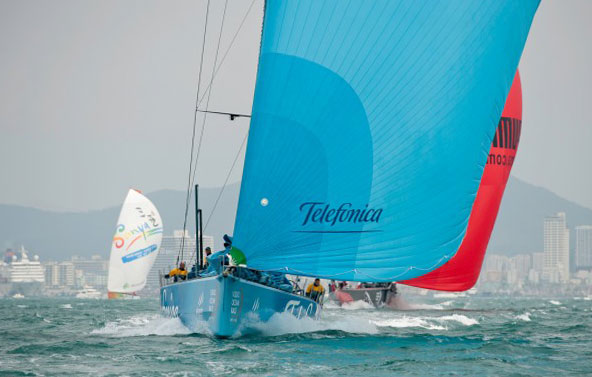 The Spanish-flagged Telefónica finished fourth in the 2011–12 Volvo Ocean Race, skippered by Iker Martínez. "That boat will be put on a ship shortly and will mostly likely arrive in the Port of Oakland right around the third of May. When it arrives here we will put it together and start sailing it. If the ship is delayed, it just changes the whole dynamic. Ships rarely arrive on time. The fact that it's going to come into here is very exciting. I'm supposed to help offload it when it gets here. They're just going to lower it right over the side of the ship into the water. We'll have the mast on the deck, and then we have to get the cradle onto the shore and disassembled. The cradle is 19-20 feet tall, so you can't put it on a flatbed and take it down the highway.
"But we don't know exactly which boat we're going to sail in Transpac right now. The Andrews 70 is such a great old guys' boat. We are an old crew. If you were to figure out our ages, we're way up there. Sleds are the ultimate fast old guys' boat. So Roy will not be selling the Pyewacket. We might be sailing the old boat. It depends on how things come together. Rather than getting into a complete panic about the thing, we have a boat that's perfectly good and very functional and a real threat to win the thing overall.
"With the other boat, we're short on time, we're short on familiarity, and we may decide that it just doesn't make any sense to try to jam it in there. We'll save it; next year there's a great deal of interest in the Tahiti Race, and this would be a really good boat for the Tahiti Race. We're going to have a good trip to Hawaii one way or another this year, and the fact that there's almost 110 boats involved right now, I can't wait to see Transpac Row filled up again like in the old days."
Either boat will make the passage to Hawaii with a crew of 10. "The Volvo 70 has all hydraulic winches, so we don't need grinders; we don't need super-young guys to turn the handles. So 10 people for both boats would be about the right amount."
Look for more reporter's notes from the boat show in the May issue of Latitude 38, to be published on Wednesday, May 1.
Receive emails when 'Lectronic Latitude is updated.
SUBSCRIBE